Top 5 Romantic Wine Getaways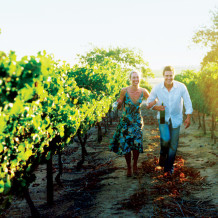 Five getaways that will inspire romance among the vines
by Heather Cassell and Super G
It's hard not to be romantic in wine country. Vineyards simply give off that aura of love, natural beauty, whispered sweet nothings between the rows of plump burgundy and purple hue of grapes. No matter what time in the day – well ok dawn and dusk are a little bit more magical – wine country is just oozing with love.
Girls That Roam can't imagine a better place to get away to for Valentine's Day than heading to wine country in any country. However, we narrowed our selection down to America's wine regions in California to Washington. What can we say, not only do we know the romantic allure of these places by heart, but our breath is constantly taken away no matter how many times we roam through the valleys and vistas.
This Valentine's Day we've selected the following five wine destinations that have captured our hearts possibly for life:
Sonoma, California
One of the most beautiful wine regions in the world, you have your pick of romantic getaways depending on your favorite grape. Sonoma features 16 American Viticultural Areas with Pinot Noirs and Chardonnay near the coast and Cabernet Sauvignon, Sauvignon Blanc, Merlot, Syrah, Zinfandel rolling through the valleys up into the Mayacamas Mountains, which denotes the border between Napa and Sonoma.
Each area has its own charm from postage stamp Americana to rustic country (Guerneville and Sebastopol) to sophisticated wine country (Healdsburg and Sonoma) to seaside splendor (Bodega Bay) or stay in the heart of Sonoma and have access to the entire Sonoma Valley in Santa Rosa.
If that isn't enough to get your heart pounding, consider the grand entryway into Sonoma, crossing the Golden Gate Bridge from San Francisco with its spectacular views of the city and the bay to the right and the Pacific Ocean to the left as you enter Marin. The city and suburbs melt away into pastures filled with cows, goats, and sheep until rows of vines appear rolling over the soft hills as you enter Sonoma. If you want to skip San Francisco traffic fly into Sonoma's small airport over the vineyards. If these two scenic entryways into Sonoma aren't enough to set your heart a flutter, then we can't help you.
Romantic Stays:
Luxury:
Sonoma Coast Villa & Spa (16702 Coast Highway 1; 888-404-2255; SCVilla.com) in Bodega. Tucked away in the Sonoma Valley between the coast and the foothills, this AAA Four Diamond Italian inspired villa is a treat for any couple to experience. Suggested romantic packages: Sonoma Coast Villa Food & Wine Experience for Two (special starting at $1,717.50 per couple) or a Two Day Spa and Dinner Package (starting at $835 per couple).
Midrange:
Boon Hotel + Spa (14711 Armstrong Woods Road; 707-869-2721; ; BoonHotels.com) in Guerneville. If a clean and serene romantic escape into rustic wine country is your thing this is definitely the place for you. Every romantic minimalists will find serenity during a getaway to Sonoma's Russian River at Boon. Enjoy a couples massage at the spa or just laze about in the hot tub or the pool. Also, check out Boon Eat + Drink (16248 Main Street; 707-869-0780; EatAtBoon.com) and Big Bottom Market (16228 Main Street; 707-604-7295; BigBottomMarket.com) for good eats. For packages contact the innkeeper.
Sonoma's Best Market Cafe & Cottages (1190 E. Napa Street; 707-933-0340; ; Sonomas-Best.com), formerly Les Petites Maisons, in Sonoma. This cozy retreat is near the in the heart of historic downtown Sonoma just four blocks from the Plaza. You will be surrounded by some of Sonoma's finest restaurants and wineries or choose to cuddle up in your own cottage all weekend in the soft pillowy beds. Each cute cottage comes with a mini-kitchen and firepits surrounded by gardens that you can overlook with a wine glass in hand sitting in your deck chair. If you want take a jaunt around Sonoma's wine regions. It's a win-win for a romantic weekend no matter how you choose to spend it. For packages contact the innkeeper.
Budget:
Sebastopol Inn (6751 Sebastopol Avenue; 800-653-1082; ; SebastopolInn.com) in Sebastopol. Getaway to affordable elegance in Sebastopol. This postage stamp town balances seclusion with intellectual creativity and a lot of outdoor activities if that's your dream romantic escape. It's only 20 minutes from the Pacific Ocean by car or an hour and a half bike ride to Bodega Bay and offers plenty of opportunities for hiking, kayaking, and more to work off the wine tasting.
Fern Grove Cottages (16650 Highway 116; 888-243-2674; ; FernGrove.com) in Guerneville. Stay near the Russian River in these 1920s craftsman-style cottages that feature whirlpool tubs or wood-burning or gas fireplaces (simply ask which ones do) and free Wi-Fi at this historic resort. Check out the lodge, especially during Saturday's fireside happy hour (4:30 – 5:30 p.m.) to taste the featured wine of the week that is paired with local artisan cheeses and enjoy a continental breakfast in the mornings. In your cottage you will be surrounded by gardens and redwood trees or get out onto into town. Take advantage of the free passport for two featuring 25 of the Russian River's finest wineries or take a stroll to explore downtown Guerneville, its walking distance from the resort. Ask about the Winter Special, where if you book two nights you get your third night free, if you are staying before February 28.
Napa, California
Napa sparkles with elegant romance complemented with fine wines and cuisine making it the perfect Valentine's weekend getaway.
The arid valley's Mediterranean-like climate features 16 subappellations producing Napa's famed Cabernet Sauvignon along with Cabernet Franc, Chardonnay, Merlot, Petite Sirah, Petite Verdot and Malbec, Pinot Gris (also known as Pinot Grigio), Pinot Noir, Sauvignon Blanc, Syrah (also known as Shiraz), and Zinfandel.
The valley is intimate offering lovers special nooks to celebrate their love from natural hot springs in Calistoga to romantic St. Helena to the casual country elegance of Napa City to tony Yountville.
You wouldn't know this driving through the East Bay into Napa. The entryway by car into the valley isn't as dramatic or picturesque as the journey to Sonoma, but by air the experience is worth a thousand words with the vineyards below you as you enter the valley into the Napa Valley Airport. There's also the option of sailing up the Napa River into Napa City from the San Francisco Bay, when water levels are high enough. For the budget route from San Francisco, guests can take BART (Bay Area Rapid Transit) to Richmond and catch the Vine Bus, but honestly a car is needed once you arrive in Napa, unless you hire a tour guide like Absolutely Fabulous Tours, so driving might be the best option.
Romantic Stays:
Luxury:
Get cozy with your main squeeze at the The Harvest Inn (1 Main Street, St.; 707-963-9463; HarvestInn.com) in St. Helena. This romantic resort on the edge of Rutherford and St. Helena will definitely get you in the mood for lasting memories. We suggest getting one of the Vineyard rooms that overlooks Whitehall Lane's vineyards and the Mayacamas Mountains in the distance. The spacious room comes with a red brick rounded fireplace and a private panoramic terrace overlooking the vineyard, not to mention a plush king size bed in a well appointed rustic wine country design. Get the St. Helena Love Story Package, only available throughout February, starting at $393 a night. We promise, you will love and cherish your getaway to the Napa Valley in St. Helena.
Midrange:
Check into a romantic retreat with a heart-shaped tub and gourmet meals that are never the same at The Inn on First (1938 First Street; 707-253-1331; ; TheInnonFirst.com) in Napa. The inn also offers guests the option of booking personalized wine tours that are only available by booking their stay at the inn. Guests can enjoy the convenience of being within walking distance to restaurants, shopping, and tasting rooms in downtown Napa, yet far enough away in a charming Edwardian home to feel like they are in their own world.
Budget:
Not as charming, but in relative reach to enjoy all that downtown Napa has to offer the Best Western Plus Inn At the Vines (100 Soscol Avenue; 800-780-7234; InnattheVines.com) provides an above budget without breaking the bank stay in Napa. Located near the edge of town as visitors enter Napa this chain hotel is comfortable and unexpected for a budget hotel and it offers proximity to everything anyone visiting Napa wants to enjoy.
Monterey, California
Not quite as well know, Monterey offers romantic wine and sea escapes in charming locals including quaint Carmel-by-the-Sea and historic Monterey, but don't forget Big Sur, Carmel Valley, and Pacific Grove to name a couple of perfect corners to tuck away into with your love bug away from the crowds. You will also enjoy Monterey's not as well-known wines. Take a tour with Ag Venture Tours' and learn about the valley's appellation along with its eight subappellations that create Pinot Noir and Chardonnay, which is placing the region on the wine map. In Carmel you can get a sampling of wines with the Carmel Valley Cellar Pass and the Carmel Wine Walk Passport (available at the Carmel Chamber of Commerce located on San Carlos between 5th & 6th) or check out A Taste of Monterey (700 Cannery Row KK; 831-646-5446; ATasteofMonterey.com), a bistro and wine bar overlooking the Monterey Bay on Canary Row, where you can sample the regions wines with a charcuterie and cheese plate.
Romantic Stays:
Luxury:
Be pampered in the AAA Four Diamond standard grandeur of the Portola Hotel & Spa at Monterey Bay (Two Portola Plaza; 800-342-4295; ; PortolaHotel.com) located on the plaza near the wharf in Monterey. This is true luxury from the sweeping entry way and lobby to the well appointed rooms with private balconies to the sounds of the waves of the Monterey Bay against the shore in the distance you will feel special here.
Midrange:
Feel like a senorita at Casa Munras Hotel & Spa (700 Munras Avenue; 831-649-0227; HotelCasaMunras.com) in Monterey. Step back in time to 1824 long before California was California into the Spanish diplomat Don Estéban Munras's hacienda and farm. It was luxury then when he built the estate and it is luxurious now with its spacious Spanish style rooms with fireplaces and a seating area and of course a plush king size bed. Enjoy a relaxing massage at the spa or an intimate dinner at Esteban. Take a walk down into historic Monterey or enjoy a delightful brunch across the street at the wildly popular Wild Plum Cafe & Bakery. You can't go wrong with this historic down home comfort.
Get away in to the hills for a romantic golf getaway at the Quail Lodge & Golf Course (8205 Valley Greens Drive; 831-624-2888; QuailLodge.com) in the Carmel Valley. Enjoy staying at your favorite hole on a Pebble Beach-inspired course in a spacious room equipped with the latest technology and an amazing spa experience within your own room. The showers rain down on you and open up onto a private enclosed patio. There's more than enough room for two after a day out on the green. Enjoy long strolls with quails crossing along the path or take a hike in Garland Park to the peak to overlook the Monterey Bay and Pacific Ocean at sunset. Work up an appetite for healthy inspired meals at Edgar's or take a short drive into Carmel Valley in one direction or Carmel-by-the-Bay in the other direction for unique dining experiences.
Budget:
Stay in comfort with your pocket book at Cannery Row in Monterey at the Holiday Inn Express (443 Wave Street; 888-465-4329; IHG.com/holidayinnexpress/hotels/us/en/monterey/mryex/hoteldetail). Perfectly situated within walking distance to one of Monterey's storied attractions from John Steinbeck's Cannery Row to the Monterey Bay Aquarium and even Celebrity Chef John Pisto's Whaling Station, you can focus on your romance and future together at this hotel. Take a romantic bike ride or stroll along the path between the wharf and Canary Row, pick a lookout spot from the cliffs above the bay, or go on a wine tour.
To really get away deep into wine country, we suggest:
Anderson Valley in Mendocino, California
Experience California's wine country that harkens back to its roots before oenophiles discovered Napa and Sonoma and the regions grew in popularity. Take a journey along twisty mountain roads far, far away from the crowds to an area that relishes simpler times and vintners, like Navarro Vineyard and Winery, who produce organic wines in the Anderson Valley. Here time will slow and you and your love will take in treasured moments as you sip wine, enjoy great food at only a handful of charming and intimate restaurants serving up the best cuisine and wines.
Romantic Stays:
Wake up to a garden filled with doves and roses in the middle of the redwoods at The Madrones (9000 Highway 128; 707-895-2955; TheMadrones.com) in Philo. Located in heart of Mendocino's wine region the Anderson Valley, on the highway to the Pacific Coast with its breathtaking bluffs in Mendocino, The Madrones is a gem of a boutique hotel with four tasting rooms and another winery across the highway, a gourmet pizza place, and antique shop. The rooms are well appointed with quaint views of the redwoods or the rose garden, its intimate, secluded, and simply made for romance. You can enjoy wine tasting at your fingertips or travel through the Anderson Valley, take a tour of Pennyroyal Farm and Farmstead Cheese, or head to the coast for a walk along the bluffs and dinner at Cafe Beaujolais in Mendocino.
Walla Walla, Washington
An oasis in Washington's Columbia Valley vineyards spring up out of nowhere and so does Walla Walla, which makes it a true romantic destination. The western postal stamp of a town is charming and remote surrounded by farmland and 85-vineyards within a small radius. Wine and food lovers will appreciate the experimental style of Walla Walla's wines and fine dining that rivals Napa, Sonoma and even foodie towns like New York and San Francisco. Walla Walla is a pleasant surprise that is sure to charm you and romance you.
Romantic Stays:
Walk right out into Walla Walla's vineyards at Girasol Vineyard & Inn (250 Girasol Lane; 509-956-9743; CasaGirasol.com/cms). Comfort and luxury is the mantra of this intimate boutique inn located in the heart of Washington's wine region. Sleep in plush comfort like kings and queens, but with the warmth of home and cozy up to your special someone. Sip wine on the patio in front of your room and watch the sun set in the vineyards, enjoy a gourmet breakfast and venture out to Walla Walla's best wineries and restaurants. Whatever you choose to do the memories made will stay with you forever.
Stay among the vineyards or in town, you will enjoy luxury whatever your style at this artists hotel Walla Faces Inns (Walla Faces Inns at the Vineyard; 254 Wheat Ridge Lane; 877-301-1181; WallaFaces.com) and Walla Faces Inn at Historic Downtown (214 East Main Street) in Walla Walla. Feel like a million bucks in these spacious accommodations meant for privacy and hushed whispers for your heart's desire.
Book your romantic escape to wine country today with Girls That Roam Travel! Contact Heather Cassell at Girls That Roam Travel in association with Travel Advisors of Los Gatos at 408-354-6531 or 415-517-7239 or .
To contract an original article, purchase reprints or become a media partner, contact .
Comments
comments