Newly Weds Dream Luxury Riviera Maya Honeymoon Ruined By Homophobic 5-Star Resort Staff, Still No Justice
by Heather Cassell
A honeymooning lesbian couple didn't expect the less-than-white-glove experience they received during their stay at a luxury 5-star Riviera Maya resort this summer.
It was supposed to be a blissful affair celebrating their perfect wedding, but a few days into the women's honeymoon the staff realized they were a couple and turned on them, they claim.
Emma Louise Morris, 27, and her wife Jo, 31, married July 1 and a few days later they flew off on their 10-day long dream honeymoon in paradise at the Grand Bahia Principe Tulum Resort.
Jo's full name wasn't disclosed in reports about the incident.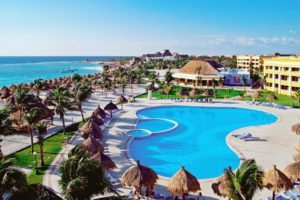 The honeymoon quickly turned from a dream into a nightmare for the Harwich, Essex, United Kingdom couple when one of the staff called Jo a "fucking dyke," when she referred to Emma as her wife.
"The first few days were good, but my wife had used the phrase 'my wife,' when talking about me to various members of staff, this is when everything changed," Emma tells the Daily Mail.
After staff realized the two women were a couple and not just friends on a vacation together the staff ostracized them, the women say.
"We were ignored at the restaurant and we weren't allowed to get our own drinks," says Emma, explaining that the couple would attempt to make contact with waiters by waiving their hands and even speaking with bar and restaurant staff, but were ignored. "They either went to a table that arrived after us or just simply stood at the bar and didn't serve us."
"My wife had to go to the bar to ask for drinks, but was often told she must sit down and wait to be served," Emma continues. "This happened at breakfast, lunch and dinner."
Furthermore, Emma explains that the bar staff at the pool told Jo, an education sales manager, that she couldn't have what she ordered to drink, but had to have "what she was given."
The couple complained immediately to Thomas Cook, a United Kingdom-based travel company, which they booked their honeymoon through. The representative of the travel company told the couple to take pictures of the waiter who called them the homophobic epithet and send it to them. Nothing happened. It didn't stop the ongoing verbal assaults slung at the couple by the hotel staff, reports the Daily Mail.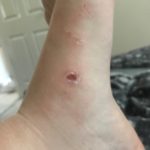 The threats increased when the couple found a smashed ashtray on the balcony after shards cut Jo's foot and they found some of their belongings destroyed, the couple allege.
"We went straight to reception and asked for them to clear it up, as it was their fault and we didn't have anything to clear it up with without cutting ourselves with shards of glass," says Emma about the glass.
The couple say they called managers and staff 13 times for five days for the balcony to be cleaned up. It finally took bringing a manager into their room while the housekeeping staff was nearby to order the maids to clean up the glass, allege the women.
Emma found her GHD hair straighteners broken and hidden under a chair in their room. She insists that she left them in perfect condition before leaving the room.
The couple attempted to speak with managers throughout their entire stay at the resort, but "no one cared," Emma tells Gay Star News.
The experience was so traumatizing the couple hid away in their room rather than enjoying their honeymoon at the resort.
"I feel really hurt to have had our honeymoon ruined. We're just a normal couple who fell in love and had the best day of our lives on our wedding day but this was brought down by our honeymoon," says Emma, noting that she paid more than $3,939 (£3000), "more than double my monthly wage," for the honeymoon.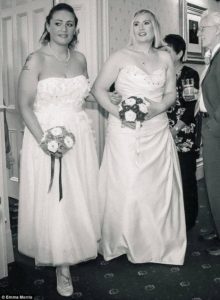 "All we did is refer to each other as 'wife' as we had just got married, surely we should be allowed this small display of affection on our honeymoon?" asked Emma, who never experienced such blatant acts of homophobia in her life.
She says the couple researched the resort and believed that because it hosts same-sex weddings it was LGBTQI-friendly, reports GSN.
The couple filed a complaint with Thomas Cook as soon as they returned to England, but it took the travel company a month to respond to their complaint, says Emma.
The travel company offered to refund the couple $640 (£500) in vouchers or $384 (£300) in cash for their terrible honeymoon.
"'We were told we can only have £300 cash, less than 10 percent of what we paid for our honeymoon," Emma says. "We didn't want to use Thomas Cook again, so asked for cash."
They also filed a complaint with the Association of British Travel Agents and took to Facebook and TripAdvisor to log their complaints about their ruined honeymoon.
"We are genuinely so upset we don't have happy memories from our honeymoon and we can never get that back," Emma tells Daily Mail.
"I can't explain how upsetting it is to feel so shit on my honeymoon," wrote Emma on Facebook. "I felt like if I looked at my wife in the wrong way we would be subject to abuse so we spent a lot of time hid away from people, we spent every evening in our room rather than at the bar or watching entertainment."
A representative from the resort's management team responded a week later stating, "they would be checking 'every point mentioned in your review to make the necessary adjustments as soon as possible,'" Emma says.
A spokesperson from Thomas Cook also followed up regarding the women's ongoing complaint.
"We are always concerned to hear reports of this nature and are investigating the allegations that Ms. Morris has made with the hotel," the unidentified representative tells the Daily Mail. "We will be contacting her again as soon as we have an update and hope to resolve this satisfactorily with her."
The Daily Mail attempted to reach out to Grand Bahia Principe Tulum Resort for a comment, but the media outlet is still waiting for a response, it reports.
Book your LGBTQI Mexican Honeymoon with Girls That Roam Travel. Contact Heather Cassell at Girls That Roam Travel at 415-517-7239 or at .
Heather is a certified travel sales specialist in the Caribbean, Costa Rica, Hawaii, and Mexico and is an expert in LGBTQI and women's travel.
To contract an original article, purchase reprints or become a media partner, contact .
Comments
comments