Thanksgiving Opening for New 'BART to OAK' International Airport Connection
Travelers to the San Francisco Bay Area will give thanks to new "BART to OAK" connection scheduled to open by Thanksgiving
by
San Francisco Bay Area travelers will have a reason to rejoice and give thanks as the Bay Area Rapid Transit is set to open its latest airport connection to Oakland International Airport.
The new "BART to OAK" connection will open November 22, but the public will be able to get a sneak peak at the new station's artwork and free ride at a celebration November 21, at the Coliseum Station from 11 a.m. – 3 p.m., according to a November 7 news release from BART.
The new service will replace the AirBART buses, which will no longer operate as of the opening of the "BART to OAK" connection, according to the release.
The new ride to and from the airport's two terminals and Coliseum BART Station will be quick and easy as trains will transport travelers every 5 minutes weekdays and weekends during peak commute hours (8 a.m. – 8 p.m.). During off-peak hours trains will run every 10 minutes 6 – 8 a.m. and 8 to 10 p.m. and every 20 minutes 5 – 6 a.m. (weekdays only) and 10 p.m. to 12 a.m. On weekends, trains will start running at 6 a.m. on Saturday and 8 a.m. on Sunday. (See schedule below.)
The 3.2-mile rail link will take 8½ to 9 minutes per trip, quite a difference from the AirBART buses, which often took 12 – 20 minutes between the Coliseum BART Station and the airport, depending on the time of day sometimes getting ensnared by traffic, reported the San Francisco Chronicle.
Travelers will be able to catch the new "BART to OAK" trains at a separate station at the south end of the Coliseum BART platform and the airport parking lot, a brief walk from Terminal 1 at Oakland International Airport.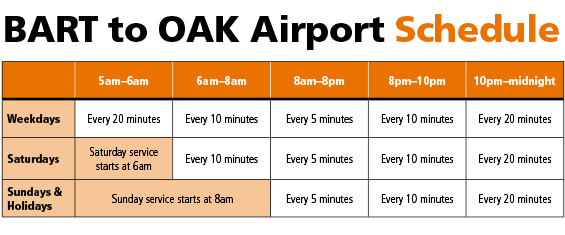 Riders will be able to use a BART ticket or a Clipper Card. One-way fares are estimated to be:
From downtown Oakland stations: $7.85
From Downtown San Francisco stations: $10.05
From Downtown Berkeley station $8.50
From Walnut Creek station $9.70
From Fremont $9.85
From Dublin /Pleasanton station: $9.80
Fare listings can be found at the BART ticket calculator.
Taking Flight, Before Being in the Air
Girls That Roam, which is based in the San Francisco Bay Area, has been watching the testing of the sleek new trains connecting the Coliseum/Oakland International Airport BART Station to the airport in recent months while dropping off and picking up our traveling friends in the East Bay.
Starting the weekend before Thanksgiving travelers at Oakland International Airport will begin being able to feel like they are "gliding through the air," says Grace Crunican, general manager of BART, over the traffic on Highway 880 and 98th Avenue as they travel to and from the Coliseum Station and the Oakland International Airport Station.
Riders will get a 360 degree view from one of the four three-car trains, which operate driverless on a cable propelled system with light-weight and quiet trains, traveling at 30 miles per hour, says Grace.
"The ride and the experience alone are memorable," says Grace.
The "BART to OAK" project team has already won awards for the systems' innovative engineering and forward use of technology, according to the release.
The controversial project broke ground in 2010 and construction cost $484 million. Criticism continued to ensue this summer when critics got wind that the system would cost an estimated $8 million a year to operate, reported the Chronicle. To off-set the financial impact on BART's system, directors of the public transportation system hiked the fare up.
The grand opening celebration will be hosted at the Coliseum Station from 11 a.m. – 3 p.m., November 21. The festivities include commemoratives and local music as well as viewings of the public art at the Coliseum Station and Oakland International Airport. To learn more, visit www.bart.gov/grandopening or to follow the opening celebrations online, visit https://storify.com/sfbart/bart-to-oak.
To book your trip to Oakland, California, contact Heather Cassell at Girls That Roam Travel at Travel Advisors of Los Gatos at 408-354-6531at or .
To contract an original article, purchase reprints or become a media partner, contact .
Comments
comments