Take A Tastey Beach Bike Ride Along Alki Beach With Taste Seattle Food Tours' Newest Tour

Alki Beach is where sun-seekers flock to enjoy a summer day at the beach and take advantage of breath taking panoramic views of the Seattle cityscape and the Olympic Mountains. It's also a vibrant neighborhood with some foodie gems and rich with history and a beach culture all its own.
That's why Felicia Watson and Roen Ako, owners of Taste Seattle Food Tours (206-330-0275; , Taste206.com), launched its new biking foodie tour along Alki Beach. On July 18, culinary tourists hopped on their bikes and stroll along the beach getting to know the Seattle neighborhood.
West Seattle residents and a wife team, Felicia and Roen, are excited to share the unique culture of Seattle's largest neighborhood.
Food tasting tours are a great way to get to know a neighborhood as they are a true sensory and culinary experience. Sampling great cuisine is a given, but you also see amazing sights, hear about interesting historical facts and learn the "back-story" of how local businesses came to be cruising along the Alki bike trail along the shore taking in the smell of the ocean salt-water and tasty neighborhood delights.
Taking the Alki Beach, Bikes and Bites tour provides a taste for Seattle's beach neighborhood while revealing stories of its origins like answering why there is a replica Statue of Liberty on Alki Beach. The tour visits several points of cultural interest like the former site of the Luna Park amusement park, a few of Seattle's oldest residences still standing today and a working lighthouse on Alki Point.
The Alki Beach biking foodie tour is a really fun activity for both visitors and locals alike. It's a perfect way to spend an afternoon and to experience the highlights of the Alki Beach neighborhood. Cruising along the Alki bike trail affords amazing views of Puget Sound, Elliot Bay, the Olympic Mountains, Bainbridge Island and the city of Seattle.
One of the bonuses of this food and biking tour is eating all those delicious bites is guilt-free because you are riding approximately 3 miles each way, working off the calories as you go.
The Tour
Seattle has a wealth of amazing food, and Taste Seattle aims to allow its guests to sample tasting portions, which allows eating at multiple locations to give a broad sampling of the best a neighborhood has to offer.
The two women partner with local, artisanal businesses that offer superior and unique products that showcase Seattle's rich food scene in Alki Beach and Pioneer Square. Eating and biking your way through a neighborhood is a fun and flavorful interactive activity.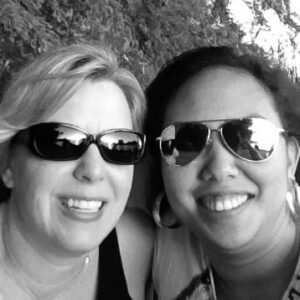 The afternoon is spent sampling your way along the beach on a beach cruiser bicycle (provided as part of the tour in partnership with Alki Kayak Tours (206-953-0237; ; KayakAlki.com) with stops at five eateries. The eating is kicked off at Marination Mobile, voted by ABC's Good Morning America as the best food truck in America. Guests will sample a few examples of this Hawaiian-Korean fusion-style street food that harkens back to Roen's native Hawaii and where the couple married in January as one of the Rainbow State's first couples to marry after the Hawaii Marriage Equality Act made same-sex marriage legal.
Next, it is on to a relative newcomer on the beach, Slices on Alki (2600 Marine Avenue, Southwest; 206-935-0178; SlicesOnAlki.com), a pizzeria owned by a husband and wife team. Slices focuses on carefully selected ingredients (organic whenever possible) and fresh daily house-made sauce and dough that is then hand-tossed in a thin-crust style and paired with a craft micro-brew from neighboring Ampersand Pantry and Café (424 North 85th Street; 206-257-5671; Facebook.com/AmpersandPantryCafe).
The tour continues by checking out Seattle's oldest fast-food restaurant, Alki Spud Fish and Chips (2666 Alki Avenue, Southwest; 206-938-0606; SpudFishandChips.com), which has been on Alki Avenue since 1935 (they are celebrating 80 years next year!). They use the original recipes for their fish and chips, which are still hand-cut and prepared. The tour is capped off with a sweet ending at Salty's on Alki Beach (1936 Harbor Avenue Southwest; 206-937-1600; Saltys.com/seattle). Salty's is a local favorite for special occasions with one of the most impressive views of any restaurant in the area and award-winning cuisine.
"It's been a privilege and a joy to offer Seattle's gorgeous skyline view to our dining guests at Salty's on Alki Beach, so we were especially eager to partner with Felicia and Roen on their new Alki Beach, Bikes and Bites Food Tour. The history of West Seattle is rich with stories and we are honored to be included," says Kathy Kingen, Salty's co-owner along with husband and founder Gerry Kingen.
Stories of the neighborhood come to life in between bites, as guests are guided alongside a knowledgeable tour lead by locals, Felicia and Roen, who offer insight into Alki's colorful past and present incarnations, pointing out hidden gems from quirky public art to a working lighthouse.
Together, the couple shares a passion for great food and guiding both locals and visitors off the "eaten path."
Skip all the long summer lines, planning and fuss and let Taste Seattle Food Tours entertain you for a few hours replete with tasty riches. The new tour is happening now and will run on Friday and Saturdays starting at 11 a.m. through the rest of the summer. Alki Beach is easily accessible from Seattle's waterfront by taking the King County Water Taxi from Pier 50 to Seacrest Park where the tour begins and ends.
For more information about, Taste Seattle Food Tour's and to take its newest Beach, Bikes and Bites tour, visit Taste206.com.
To book your Culinary Adventure in Seattle, contact Heather Cassell at Girls That Roam Travel at Travel Advisors of Los Gatos at 408-354-6531at or .
A version of this story was originally published by Lesbian.com.
Comments
comments