Survival 101: Woman Lost In AZ White Mountains Did Everything Right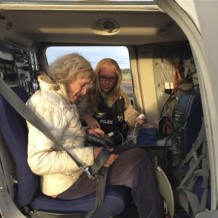 Ann Rogers And Her Trusty Dog Survived On Pond Water And Plants And Sent Up SOS Signals
by Heather Cassell
Ann Rogers and her dog were traveling to visit her grandchildren in Phoenix when her hybrid car ran out of gas and electric power in the White Mountains of eastern Arizona.
She was lost for nine days and missed celebrating her birthday April 4 with her family.
Fortunately, the 72-year old Tuscan woman had food and water in her car, but she ran out within a few days, according to a representative of the Arizona Department of Public Safety. She turned to survival mode subsisting on pond water and plants along with her dog.
"I was eating desert plants. My dog was too, diving into clovers and finding all the places that were the easiest to go," she tells KOLD, a Tucson TV station on Tuesday.
She also created an SOS writing "HELP" out of rocks and sticks on the desert mountain floor, left a note for rescue and search teams directing them to where she was heading, and later started a fire from another location to send up smoke.
"If she didn't do her part, we might still be out there looking for her," says Johnny Holmes, a detective with the tribal game and fish agency. "She partook in her own rescue by giving our guys clues to find and follow where she was."
Ann went missing on March 31. Rescue searchers found her car April 4, three days after the search for her began because her family wasn't aware that she was planning a trip to see them and therefore didn't know she was missing. By the time rescuers found her car, Ann hiked to another location in search of cell phone signals, but wasn't able to find a connection, according to media reports.
Authorities from several different agencies finally found her dog and then emergency flight crew spotted her SOS signal on the ground April 9. She wasn't too far away from the spot. She was nearby at the Fort Apache Reservation and had created another SOS, sending up smoke from the fire she started.
Ann was relieved to see the helicopter waving it down. When it landed and rescuers got to her she sat down and cried, reports the Associated Press.
Representatives of the department report that Rodgers was suffering from exposure, but she was in fair condition and able to walk and boarded the helicopter with little assistance. She was taken to a hospital in Payson, treated and later released.
Authorities don't know how Ann ended up so far off of her path since the drive between Tucson and Phoenix is a straight shot on Interstate 10. That's nowhere near where she was found, they say. However, she did everything right, reports ABC World News.
Ann is doing well and she is already back out hiking in the desert, reports ABC World News.
Book your next trip to Arizona with Girls That Roam Travel. Contact Heather Cassell at Girls That Roam Travel in association with Travel Advisors of Los Gatos at 408-354-6531 or 415-517-7239 or at .
To contract an original article, purchase reprints or become a media partner, contact .
Comments
comments