A Southern Road Trip With Reese Witherspoon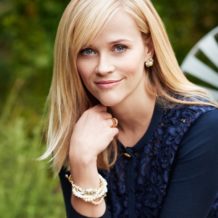 The Academy-Award Winning Actress Gives A Road Trip Tour Of Her Favorite Spots In Throughout the South from Tennessee To West Virginia
by Heather Cassell
It's that Southern warmth and charm that inspires Academy-Award winning Reese Witherspoon to escape the lime light of Los Angeles back to her roots in Tennessee.
Reese, 40, chatted with the New York Times recently about what she loves about the South, why she continues to call Nashville home, and why people should visit.
A few years ago, the Southern Belle bought a house and last year set up shop with Draper James, her fashion, accessory and home goods line inspired by the region right in Nashville, where she grew up.
Draper James is inspired by and merges the namesake of Reese's grandmother Dorothea Draper and her grandfather William James Witherspoon.
Born in New Orleans, Reese's family moved to Nashville when she was just a girl, but she couldn't stay away from the "historic cities, a rich music culture, unbeatable food, and the people, who are always cheerful and greet one another with a hug and a smile," she tells the Times. She visits at least once a month, especially now that her flagship store is located in Nashville and the goods sold there are from the surrounding states, such as the jeans, which are made in Blue Ridge, Georgia.
Reese has some great suggestions for what to do and where to go when traveling through the South and visiting her hometown, Nashville.
Where To Get Your Beauty Sleep
In West Virginia, Reese likes to get a good night's rest at The Greenbrier (300 West Main Street, 844-837-2466, Greenbrier.com), a historic resort styled by the late Dorothy Draper, who was known for her use of bright exuberant colors and large prints in her interior designs, in White Sulphur Springs which is a "feast for the eyes," she says. The walls are covered with beautiful wallpaper so there is beauty wherever you look and it's welcoming to families and large groups providing a bowling alley, the best golf courses, and pools for entertainment and "great service," she says.
Where To Get That Down-Home Southern Grub
You can eat your way around Nashville at Reese's favorite eateries. Reese suggests if you want an amazing kale salad, roasted chicken and spaghetti head to Jonathan Waxman's restaurant, Adele's (1210 McGavock Street, 615-988-9700, AdelesNashville.com). Expect to wait in line for Hattie B's (112 19th Street or 5209 Charlotte Pike, 615-678-4794 / 615-712-7137, Hattieb.com) hot chicken, which is smothered in a secret spice before it's deep fried. You can't go to the South without having BBQ, Reese's favorite pit to hit up is Edley's (908 Main Street or 2706 12th Avenue South, 615-873-4085 / 615-953-2951, EdleysBBQ.com), especially since the fried okra reminds her of her grandmother and Sunday's when she would serve it up to the family, she says. She also makes sure to stop in at Pinewood Social (33 Peabody Street, 615-751-8111, PinewoodSocial.com), which serves up the "best fried chicken and fried broccoli."
On a road trip through the south up to Charleston, South Carolina to Atlanta, Georgia Reese likes to stop in Blue Ridge, an old mining town where her jeans are made, and to grab a cup of coffee at L&L Beanery (260 West Main Street, 706-632-3242, LLBeaneryCoffeeCafe.com), located in an old bank.
In Charleston no matter where you go, you can't go wrong. It's a foodie paradise where "the food all over the city is insane," says Reese.
"You'll find spicy fish and shrimp and grits," she says, which is clearly one of her favorite indulgences.
In Atlanta, Reese has made some new culinary discoveries. She loves the cocktails and cheese sandwiches at JCT Kitchen (1198 Howell Mill Road, #18, 404-355-2252, JCTKitchen.com), the fresh seafood at The Optimist (914 Howell Mill Road, 404-477-6260, TheOptimistRestaurant.com) and her kids and the whole family can enjoy the mini golf course inside the eatery. If burgers are your thing, Reese suggests Yeah! Burger (1168 Howell Mill Road or 1017 North Highland Avenue Northeast, 404-496-4393 or 404-437-7845, YeahBurger.com), which serves up an assortment of burgers with "tasty sides," like one of her favorites, the "crispy brussels sprouts," she says.
Where The Fashionista's Shop
Draper James is located in the an up-and-coming part of town called 12 South where many other boutiques, like Emerson Grace, (2304 12th Avenue South, 615-454-6407, EmersonGraceNashville.com), which sells boutique brands from many different designers, she says.
That doesn't mean that she doesn't return to her old haunts on Charlotte Pike, where there are great thrift stores, she definitely stops in for some vintage fashions.
In Atlanta, Reese likes to stop in at Ann Mashburn (1198 Howell Mill Road, 404-350-7132, AnnMashburn.com), where she finds the "most stylish clothes," for herself and then she can go behind the store and find custom shirts for her husband at Ann's husband's shop, Sid Mashburn, she says.
"You get a true Southern gentleman experience," says Reese.
Where To Get Your Groove On
The whole family can enjoy a day or evening out at these fun spots.
In Nashville, Reese takes her kids out on the town at the Pinewood Social, which sports a pool and bowling alley as well as serving up good grub making it a fun joint for the entire family, she adds.
Nashville's music scene is on Broadway. This is where all of the best bars and music venues, like The Stage (412 Broadway, 615-726-0504, TheStageOnBroadway.com/TheStageOn), Tootsies Orchid Lounge (422 Broadway, 615-726-0463, Tootsies.net), and Robert's Western World (416 Broadway, 615-244-9552, RobertsWesternWorld.com) and the record stores, like Ernest Tubb (417 Broadway, 615-255-7503, ETRecordShop.com) are located.
Jazz Fest in New Orleans isn't to be missed. It's the "place to hear fantastic jazz music." If opera is your thing, Charleston offers visitors a musical and artistic feast with the Spoleto Festival, she suggests.
Southern Tradition
Reese says no one should miss the pageantry of the Kentucky Derby, she says.
"There's such a pageantry to it with people drinking mint juleps, and women all dressed up and men in their bow ties," says Reese.
Then there's the games and good old fashioned tailgating at the University of Mississippi in Oxford.
"Football is serious in the South, and people dress up for games," says Reese. "They set up tents for tailgating and serve really good food and use real silverware."
Book your next trip to the South with Girls That Roam Travel. Contact Heather Cassell at Girls That Roam Travel in association with Travel Advisors of Los Gatos at 415-517-7239 or at .
To contract an original article, purchase reprints or become a media partner, contact .
Comments
comments