Experienced Hotel Manager Corinna Osbourne named general manager of Edgewood Tahoe
by Heather Cassell
Corinna Osborne will take the helm as Edgewood Tahoe's new general manager, executives of Edgewood Companies announced January 29.
Stepping into her new role is a natural fit. Corinna played an integral part of the grand opening of the Lodge at Edgewood Tahoe when she joined the Edgewood Tahoe team in 2016 as the director of hotel operations at the lodge.
"Corinna joined the team about a year before we opened the Lodge and she took on many additional duties that touched on every aspect of the planning, strategy, and employee training required to launch the project," John McLaughlin, president/CEO for Edgewood Companies, said in Monday's news release announcing the promotion. "She also understands Tahoe's unique market and that's essential for developing a strategy for success. It was an easy decision and we have complete confidence in her ability to lead this team."
The LEED-Silver certified Lodge, located at on the Nevada side of the Stateline, opened in June 2017 as the newest addition to the 235-acre lakefront property that features one of Lake Tahoe's best golf courses, which is celebrating its 50th anniversary this year, and three restaurants.
The Lodge features 154 luxury guest rooms, an 8,500 square foot spa and salon, 200-seat bistro restaurant, 3,000 square foot ballroom, premium shopping, and more.
Corinna will oversee all aspects of the property including the resort's food and beverage, restaurants, and golf course in her new role.
She called her promotion an "amazing opportunity," said in the release.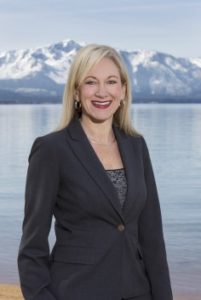 "My passion is in hospitality, the industry where we can create memorable experiences," said Corinna. "Tahoe is my home. Seeing this property come to life is near and dear to my heart."
Her goal is to work with her team to "put this property on the map and bring a new level of luxury to South Lake Tahoe," she said.The Massachusetts native has more than 15 years of experience in the hospitality industry. Prior to joining Edgewood Tahoe, Corinna served as general manager of Horizon Resort and was part of the rebranding and opening for the Hard Rock Hotel and Casino Lake Tahoe where she was the director of non-gaming operations.
Corinna is an accomplished hospitality professional with an extensive background in the hotel and food and beverage industry. She has held notable positions with Harvard University, MontBleu Resort Casino and Spa, and had a successful entrepreneurial premium catering venture that served the greater Lake Tahoe area.
Her vision for Edgewood Lake Tahoe includes creating experiences that go beyond the beauty of the property and deliver on a hospitality promise that offers a luxuriant level of service.
She plans to use the semis century of the storied golf course's festivities as an opportunity to showcase how Edgewood defines luxury and what the company means when it says, "create an experience," she said.
"Edgewood Tahoe encompasses everything one would define as luxury, but we take it to that next level – luxury with comfort. We want our guests to feel at home when they step foot on the property, not just our out of town guests but also our valued locals," Corinna explained talking about the company's investment in its team. "You must go beyond the beautiful buildings and deliver the whole package."
"We are always going to create an experience that is unique and different,"' she added, noting that the company plans to partner with some distinguished event designers.
"It will be an experience that Tahoe has not yet seen," Corinna promised.
Corinna moved to Lake Tahoe in 2001. She lives in South Lake Tahoe, with her two children, Emma, 14, and Gavin, 8. She spends her free time enjoying Lake Tahoe's many outdoor sports. She also plans to run her first marathon in 2018.
Book your next luxury vacation in South Lake Tahoe with Girls That Roam Travel. Contact Heather Cassell at Girls That Roam Travel at 415-517-7239 or at .
To contract an original article, purchase reprints or become a media partner, contact .
Comments
comments