Sizzling Cuba Is Our 11th Destination To Go To In 2016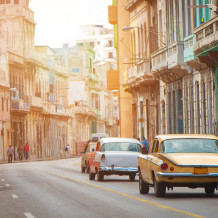 by Super G
We love our Cuban boyfriend. He's hot with a love of life that can't be matched (but he's married with two kids girls … so he's not on the market). We don't care, if he's even a taste of what to expect from Cubans and the spirit of Cuba we are ready to sign up for the adventure.
On December 14, 2014 President Barack Obama lifted the half century old sanctions against Cuba. Throughout 2015 Barack moved to re-establish diplomatic ties and began working with the tourism industry to begin lifting travel restrictions. However, to-date American's still aren't allow to travel to Cuba as "tourists." Americans are still only able to travel to Cuba for only a handful of purposes, including educational, humanitarian, and other reasons.
So what's the fuss about the communist island nation that is only slightly smaller than Kentucky and Tennessee combined? Is it the distant memory of Ernst Hemingway's Havana? Why is Cuba such a hot destination for American travelers?
For starters, visitors will be stepping back in time with the 1950s era cars still occupying Cuba's streets and historic buildings, some that have been preserved and others crumbling edifices. Cuba is a country of art, revolution, dancing in the streets, and just when you think you have grasped the spirit of the country and the people it spins away and transforms into something new to discover.
Walk or drive along the Malecon, the five mile long beach front is one of Havana's most famous attractions for locals and visitors alike. Art and music is the flavor of life for Cubans, visitors can take in their creativity on the streets to the Museo Nacional de Bellas Artes. Tour coffee plantations and cigar factories or hang with the bartender learning how to make tropical cocktails. Dance in the streets with the locals in any of Cuba's cities from Havana to Santiago de Cuba to Trinidad.
Are we there yet? American's can't quite fly freely to Cuba just yet, but we are getting closer. Restrictions on commercial flights to Cuba were lifted on December 17, 2015, but airplanes in America aren't taking off on the runways just yet to Cuba's nine international airports.
However, a little trip to Key West to board an authorized commercial or private boat to Cuba is allowed.
Cold hard American cash is accepted in Cuba, but double check with your bank and credit card company to see if plastic will be accepted. Even then the banks don't have to accept the transaction once you are there. For the most part you have to bring cash and budget wisely. If you want to stash your cash somewhere you can open a temporary bank account at a Cuban bank in Cuba.
Make sure the tokens of your adventures in Cuba don't exceed $400 (only $100 worth of Cuba's famed cigars and alcohol) and that you don't exceed $5,000 when you come home.
Who to Travel With: Locally Sourced Cuba Tours provide a variety of small group tours where guests stay with locals. While not woman-owned, this tour company has a lot of women tour guides to take visitors on tours focused on the arts, architecture, culture, cuisine, history, and the best experience that Cuba has to offer.
Book your next adventure with Girls That Roam Travel. Call Heather Cassell at Girls That Roam Travel at Travel Advisors of Los Gatos at 408-354-6531 or directly at 415-517-7239 or email at .
To contract an original article, purchase reprints or become a media partner, contact .
Comments
comments