Shucks To You! Willi's Seafood and Raw Bar Has The Oysters & Great Food To Boot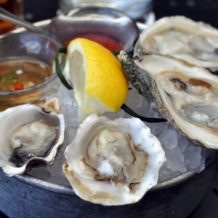 Oysters, Great Food And Wine And A Warm and Welcoming Atmosphere Can All Be Found At Willi's Seafood and Raw Bar In Healdsburg
by Super G
The best spot to get oysters in Healdsburg is at Willi's Seafood & Raw Bar (403 Healdsburg Avenue, 707-433-9191, starkrestaurants.com/willis_seafood.html) in California.
Ms. H. and I bellied up to the bar to watch our expert oyster shucker, Kayla, work her magic on the Beau Soleil, Blue Point, Drakes Bay, Kumamoto, and a bevy of other oysters after a morning of wine tasting.
We quickly got started with a plate of the amazing Blue Point and Kumamoto oysters.
Kayla, who has been shucking oysters at Willi's for five years, made prying open and cleaning out our Kumamoto and Blue Point oysters look like the easiest thing in the world.
No sand and no shell, "Why shuck if not perfect?" asks Kayla.
We followed up our oysters with a feast of Chicken Skewers, the Kobe Beef Crudo, and the warm Maine Lobster roll all washed down with red and sparkling wine.
The Chicken Skewers kicked off our meal following our oysters. They were perfectly marinated accompanied with aji amarillo and mango mustard on a bed of nutty and lemony quinoa that made them super savory. We followed that up with the Kobe Beef Crudo with truffle mayo and pickled shitake mushrooms.
Ah, if heaven is food this dish is one that greats me at the pearly gates. It is a meat candy bar that is completely addictive. I still hear it calling to me every time I'm near Healdsburg.
We completed our feast with the warm Main Lobster that was simply delicious. The perfectly cooked meat melts into the garlic butter and the fennel all wrapped in a white bun that gave it the right amount of crunch with the sweetness. Just mouth-watering good. Ummm. Ummm. Ummm!
We couldn't have asked for a better afternoon of entertainment with Kayla who was friendly and professional as she chatted with us while she continued to expertly shuck the oysters, maintain her bar, and instruct her co-workers on what she needed. We felt completely welcomed in our jeans, tank tops, and flip flops during our summer visit.
The food might have been first class, but the atmosphere was down home and comfortable at Willi's and Raw Bar. It was a perfect place to park ourselves for an hour or so to enjoy lunch before heading out again for more wine tasting in the northern most part of the Sonoma Valley.
THE DIRTY DISH
Willi's Seafood & Raw Bar, 403 Healdsburg Avenue, Healdsburg, California 95448. 707-433-9191. starkrestaurants.com/willis_seafood.html.

TYPE OF RESTAURANT: Sea Food, Oyster Bar, Local Chain

RATING: 3 = Aqua
(0 inedible – 5 simply scrumptious)
AMBIANCE: Casual and fun. Everyone is there to relax and have a good time whether sitting at the bar or one of the tables inside or outside.
SCENE: No pretenses here, you will be served as long as you have a t-shirt, shorts, and flip flops on. Everyone is friendly.
SERVICE: Welcome to our house, that is the type of service you receive at this restaurant. It's warm and friendly from the moment you step in to the moment you leave. You can't ask for a more warm, welcoming, and casual experience.

NOISE LEVEL: It can get noisy, but not loud enough where you can't hold a conversation with your partner or friends.

RECOMMENDED DISHES: The oysters during oyster season and don't miss the Kobe Beef Crudo. I'll say it again it was a beef candy bar. The flavors come together in shear perfection in your mouth. It's an experience that is hard to describe other than you need to order it to understand.
SIP: You are in wine country. The wine list is amazing, but they also offer up great cocktails and beers.
CHECK, PLEASE: $$$ = $20 – $30
(price of average dinner/lunch/breakfast/brunch bill for an individual dinner)

THE EAT: Great oysters and food overall in a relaxing warm and friendly atmosphere in wine country. What more can you ask for?

WORTH THE NIGHT OUT?: This was delicious!
To book your trip to California's Sonoma Valley, contact Heather Cassell at Girls That Roam Travel at Travel Advisors of Los Gatos at 415-517-7239 or 408-354-6531 or at .
To contract an original article, purchase reprints or become a media partner, contact .
Comments
comments