Sensational California Experience At Lexington House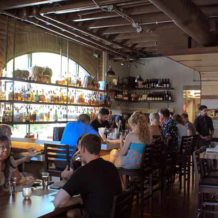 by Super G
Modern Northern California cuisine meets classic inspired cocktails in a welcoming atmosphere at The Lexington House (40 North Santa Cruz Avenue, 408-354-1600, thelexlg.com) in Los Gatos, California.
The intimate California chic restaurant is welcoming with its high ceilings, minimalist layout, and wide window showcasing its local spirits framed by its driftwood interior creating a spacious and arid atmosphere.
Guests are welcome to dine outside at the patio that is slightly set back from the sidewalk or inside at the tables or at the bar.
The restaurant is popular among locals, so much so it's usually difficult to get a seat no matter what night you go. Babes has often walked by as people overflowed out the door onto the patio and part of the sidewalk it was so crowded and Girls That Roam's previous attempts to get into the restaurant haven't worked out.
Recently, on a hot summer night, Babes and I got lucky, when we didn't want to cook, we randomly drove to Los Gatos to see if there was any space. Two seats at the bar were available.
The Lexington House opened in 2013 with the goal to highlight modern Northern California cuisine and cocktails tapping into local farms and breweries, distilleries, and wineries.
The unique menu is seasonally inspired and ingredients are locally sourced at the bounty offered at local farms as well as breweries, distilleries, and wineries.
We started the evening sipping Napa wines: a 2012 Bordeaux Blend by Precision Wine Company and a 2014 Fisticuffs Cabernet Sauvignon by Pavi Wines.
The wines were full of flavor and smooth and paired well with our entrees, the Forbidden Risotto and Fogline Chicken "Tartine."
While we debated the menu and what to order, we were served the house made bread, a beautiful onion focaccia served with soft herb butter. Like the menu the bread changes with the season. Normally, bread isn't worth mentioning but this bread and butter was delicious. Definitely ask for it if it doesn't come to your table.
It was a tossup for the starters and the entrees. I'm sure Babes would have preferred the Calamari Fritto Misto with Lemon, Artichoke Hearts and Tartar Sauce, but since we were sharing, she acquiesced to the Butter Lettuce "Caesar" with Nicoise Olives, Crostini, and Parmesan Cheese.
It wasn't a bad choice. The salad was refreshing and filled with flavor as the fresh lettuce was lightly dressed and the crostini were decorated by an anchovy. It was all topped off by large shavings of parmesan cheese.
The bread and salad were only teasers to the entrees, which were phenomenal. The food is not only a piece of art on a plate when it's served to you, it's so delectable you will eat it all. Be prepared to put dab at the corners of your mouth and put your napkin down with a loud sigh of satisfaction because the well-proportioned servings satiate your hunger leaving you completely satisfied from the taste buds to your stomach.
I was torn between the Pan Seared Pork Chop with Bitter Greens and Peach Pan Sauce and the Forbidden Risotto with a melody of Spring Vegetables and Meyer Lemon-Herb Ricotta. It was an unusual predicament for me, as normally I wouldn't even consider a vegetarian dish, but I allowed the Forbidden Risotto to entice me and I wasn't sorry. I got to have some of Babe's Fogline Chicken "Tartine" with Porcini Confit, Fingerling Potatoes and Burrata, which was equally amazing.
The Forbidden Risotto was cooked perfectly al dente the Lemon-Herb Ricotta cut through the slight creaminess of both the cheese and the risotto and the peas and rainbow beans provided a nice crunch to the dish.
Babe's chicken was perfectly crispy on the outside and moist and flavorful on the inside, however next to it was the fingerling potatoes, porcini confit, and burrata that was beautiful arranged for the melody it made inside our mouths.
Babes and I skipped desert, but we expect it would have been just as exquisite as the rest of our meal.
It was well worth the multiple attempts for the experience of dining at the Lexington House. We only hope to return again soon.
THE DIRTY DISH
The Lexington House, 40 North Santa Cruz Ave, Los Gatos, California 95030. 408-354-1600. Email. thelexlg.com. 
TYPE OF RESTAURANT: Locally-owned, California Cuisine 
RATING: 4 = black
(0 inedible – 5 simply scrumptious)
AMBIANCE: This is a hip intimate gathering place with indoor and street side seating.
SCENE: It's constantly buzzing and ringing with the sound of ice being thrashed around in mixers and glasses chiming as friends drink the elixir created by the mixologists behind the bar as diners of all ages enjoy the chef's latest creations.
SERVICE: Guests are greeted warmly and welcomed into the restaurant the moment they arrive. The bartenders are friendly and attentive as if they know you, but respect people's space when dining at the bar. You never have to wait too long for your food or to have your plates cleared, everything flows effortlessly, naturally in a timely way. 
NOISE LEVEL: The restaurant was full, but not once did we feel like we couldn't carry on with our conversation at a normal tone. 
RECOMMENDED DISHES: Dishes change regularly at this restaurant, but no matter what your order when you dine here, it will be delicious.
SIP: A great small selection of local wines, spirits, and craft brews.
CHECK, PLEASE: $$$$ = Over $30
(price of average dinner/lunch/breakfast/brunch bill for an individual dinner) 
THE EAT: Everything was perfect about Lexington House from the atmosphere, food, to the service. Overall it was a great experience, one that makes us want to return again soon. 
WORTH THE NIGHT OUT?: This was delicious!
Book your next Silicon Valley experience with Girls That Roam Travel at 415-517-7239 or .
To contract an original article, purchase reprints or become a media partner, contact .
Comments
comments