San Francisco's Public Transit System Goes High Tech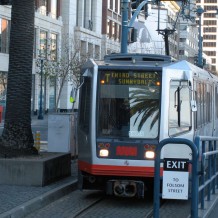 San Francisco's Public Transportation System, MUNI, Gets An App Of Its Own
It's about time! Technology is finally reaching the public sector: transportation, in the technology capital of the world. San Franciscans and visitors will get around the City by the Bay using their smartphones with the new MuniMobile.
San Francisco Mayor Edwin "Ed" M. Lee announced the launch of the new MUNI mobile app with the San Francisco Municipal Transportation Agency, which oversees the city's public transportation system, Monday in a joint press release from SFMTA and GlobeSherpa, which partnered with the city's transportation agency.
"In a continuing effort to advance MUNI forward, the SFMTA sought a hand-held easy-to-use smartphone application that makes boarding more efficient and ultimately quickens commute times," says Ed Reiskin, director of transportation at SFMTA, pointing out that more than half of riders are still using cash and others use the Clipper Card in the November 16 release. "Our confidence in MuniMobile is buoyed by the positive rider feedback during Beta testing – this literally puts riding in-the-hands of Muni riders."
Select 300 MUNI riders tested the beta-version of the mobile app at the beginning of the year.
Nat Parker, CEO and co-founder at GlobeSherpa, called the MUNI app a "win-win for riders and the SFMTA."
"San Francisco is using technology and innovation to create a world-class customer experience for all Muni riders," agrees Ed. "We are making Muni more reliable, safer, cleaner and ready to the meet the demands of a growing City and a growing ridership and MuniMobile will now make it easier to board and ride Muni for our hundreds of thousands of riders every day."
The MuniMobile app design offers a dynamic animated ticket for visual authentication. The animated ticket includes a moving customized San Francisco cityscape – that changes color while activated to avoid unauthorized duplications. Riders simply tap the screen to show the operator the authentic ticket. The dynamic animated ticket also supports quick response codes offering greater fare detail to transit fare inspectors.
The Muni mobile payment app will include the following features:
Ability to purchase, store, and use single or multiple Muni fares on one mobile device
Allow passengers to pay single-ride fares, cable car ride, and one-day, three-day, and seven-day passport
Industry-leading security to protect personal information and payments
Multi-language support
Responsive eCommerce website for online ticket purchases
Monthly Clipper passes are not available on MuniMobile at this time. Transfers will still be available for cash fares.
The MuniMobile payment application will initially be available only for iOS and Android operating systems.
MUNI riders will be able to download the MuniMobile app on most smartphones and securely purchase their fare for a single bus, rail or cable car ride as well as in increments of 1-day, 3-day, and 7-day passports. MuniMobile is also available for SF Access Paratransit tickets.
Each phone will act as one ticket associated with the owner of the phone, which will be considered an individual account that won't be transferable and riders won't be able to pay for more than one rider's pass using the same phone.
Each MuniMobile account allows users to retrieve their data and available funds if their hand-held device is lost, stolen or destroyed.
SFMTA partnered with GlobeSherpa for its proven mobile ticketing systems delivered to Los Angeles Department of Transportation, Virginia Railway Express and TriMet in Portland, Oregon, says SFMTA Board Chairman Tom Nolan.
SFMTA operates the nation's eighth largest transit system, with over 700,000 average daily boardings on 75 transit lines that provide service to every neighborhood.
MuniMobile ambassadors have been deployed to support app downloads and provide user support throughout the Muni system. For more information please visit: SFMTA.com/MuniMobile.
To book your trip to San Francisco, contact Heather Cassell at Girls That Roam Travel at Travel Advisors of Los Gatos at 408-354-6531at or .
To contract an original article, purchase reprints or become a media partner, contact .
Comments
comments