Queer History Caught On Film In 'Daily and Transcendent' Exhibit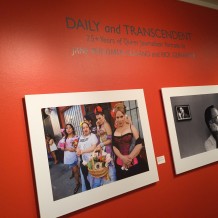 San Francisco Gay And Lesbian Photojournalists Exhibit More Than A Quarter Century Of Capturing The LGBTQ Movement In Action
San Francisco's queer community is getting a look at itself through the lens of two photojournalists at the "Daily and Transcendent: 25+ years of Photojournalistic Portraits Exhibit" currently on display at the San Francisco Public Library's Jewett Gallery.
The exhibit opened November 1 and is on display free to the public in the Jewett Gallery at the San Francisco Public Library's Main Branch until January 3.
An estimated 100 guests turned out for the exhibit's opening reception November 2, according to photojournalists Jane Philomen Cleland and Rick Gerharter, whose works are being shown.
San Franciscans and visitors to the city will get another opportunity to learn more about the stories behind the photographs along with life as a photojournalist and capturing history in its making on December 2 at the panel discussion "Daily and Transcendent: Creating a Visual History of San Francisco's Queer Community."
Photojournalists Jane, a 56-year-old lesbian, and Rick, a 63-year old gay man, selected 27 photos each out of thousands that they've taken of San Francisco's lesbian, gay, bisexual, transgender and queer community for more than 25 years for the exhibit.
For more than a quarter century Jane and Rick have snapped some of the most historic and quotidian moments of the people who made up San Francisco's LGBTQ community, movement and the historic moments at the center of the "Gay Mecca" for the Bay Area Reporter, the Bay Area's LGBTQ and other queer publications.
"Our careers are really parallel and we have very different styles and very complementary styles," says Rick, about their photographs. "I think that it works really well."
The photographer's goals were to display body of work spanning a number of years covering the LGBTQ community that was reflective of where the community is today.
Each of the 54 photos on display hold a significant place in the photographers' as well as the general public's memory as their contribution to the cannon of photojournalism and history.
Jane and Rick's portraits grow from each of their personal visual imaginations and the historic events they've witnessed through the lens of their cameras. Their photographic eyes have captured the anger and passion of a community awakening during the height of the fight against AIDS and the rage of Queer Nation and ACT-UP and the ongoing resistance to Reagan-era homophobia to the years of the San Francisco Pride Parade and Celebration, the Dyke and Trans Marches, and marriage equality.
"Even in the face of violence, discrimination, health crises and hate, these individuals have persevered. They have made multiple, significant contributions that has created a better world for us all," Rick wrote in his artist's statement.
"Jane and I have created this visual history of a time and a place and that constitutes a body of work, it constitutes a documentary project," says Rick.
Snapping History
History is a driving force for Jane and Rick that spurs them on in the quest to capture a community in action and the people who inspire the movement.
"It's very important to me because I believe in the power of history to inform and the power of art, beauty, [and] culture to inspire, even transform," says Jane.
Rick agrees.
"That has always been a big part of what inspires me and keeps me slugging along is creating this historical document of a time and a place," he says. "I feel really lucky to have been able to document a period of time of what was happening in the gay scene was kind of what was happening in San Francisco.
Diversity is also a key element to the work, Jane adds.
Diversity is a part of that transformation and something she says is, "baked into the body of my work."
Bisexual historian and heath writer Liz Highleyman, who will be moderating the panel discussion in December, agreed.
"Both Rick and Jane also photograph 'regular people,' helping us get a sense of how non-celebrity members of the community play a role in historical events," she says.
One of those events captured a young Rachel Maddow, who is now a political commentator on MSNBC's the Rachel Maddow Show. At the time Rick photographed her, Rachel was the first out lesbian to be a Rhodes Scholar.
"She's real gangly, she must be quite tall," says Rick, who is inspired by his strong sense of history to photograph current events. "She's sitting cross-legged without shoes on in a chair with her arms folded and behind her theirs wainscoting coating, a strip at an angle and she's at an angle."
"I like that photo a lot I really do," says Rick, who had a difficult time thinking of any one photo that was his favorite or stood out to him.
Liz pointed out the importance of photojournalism in capturing the community's history.
"It's valuable to take a longer retrospective look at the work of long-time LGBT photographers and journalists," says Liz, who has worked alongside Jane and Rick covering health issues for the B.A.R. "We typically regard news coverage as a snapshot of current events, but looked at over the course of a career, these photographers' work can say a lot about our history as a community."
Rick hopes people viewing Jane's and his photographs will remember the people in the photos, nearly half who have passed in Rick's experience, and that audiences will appreciate the work, the "essential work that we do documenting visually a community [and a] history."
Self-Discovery
Like Rick, Jane had trouble selecting a favorite portrait too. Instead she discovered something about herself and her photography. She always thought of herself as an action photographer, but she discovered that she was also a portrait photographer through the process of creating the exhibit.
"Honestly, I didn't think of myself as a portrait photographer. I am much more of an 'action' photographer. But working on this project focused me on portraits, and now I am feeling much stronger on the topic," Jane says.
Liz agreed from a journalist's view.
"This retrospective of their work also gives me a new perspective on my own career as a journalist," says Liz.
The show was four years in the making from the moment Jane and Rick approached the library with their proposal for the exhibit. The Jewett Gallery at the San Francisco Public Library was the ideal space for the exhibit in the photographers' minds, Rick says.
"I think that space is, for our type of work, our type of documentary journalistic work, I think it's the best venue in the city," he says.
The exhibit is sponsored by the James C. Hormel Gay and Lesbian Center and the Friends of the San Francisco Public Library. For more information, visit the library's website at www.sfpl.org.
Jane and Rick will participate in a panel discussion "Daily and Transcendent: Creating a Visual History of San Francisco's Queer Community," on December 2, 6 – 7:30 p.m., at the San Francisco Public Library, Main Branch (100 Larkin Street). They will be joined by lesbian photographer Cathy Cade and gay journalist Tim Kinston to discuss . The panel will be moderated by bisexual historian Liz Highleyman. The discussion is open free to the public.

Full Disclosure: Heather Cassell, publisher and editor of Girls That Roam, has worked alongside Jane and Rick on stories for the Bay Area Reporter for nearly a decade.
To book your trip to San Francisco, contact Heather Cassell at Girls That Roam Travel at Travel Advisors of Los Gatos at 408-354-6531at or .
To contract an original article, purchase reprints or become a media partner, contact .
Comments
comments