Tour Guide Died Along With Her Guests And Pilots In The Fatal New Year's Eve Costa Rica Plane Crash
by Heather Cassell
American adventure tour guide Amanda Geissler was living her dream when her single-engine airplane slammed into the side of a mountain long in Costa Rica New Year's Eve.
There were no survivors. Two American families and two pilots Juan Manuel Retana and Emma Ramos perished with Amanda in the Nature Air crash December 31.
The plane was one of two charter flights that departed with Backroads' guests and another trip leader returned to San Jose, Costa Rica's capital city from Punta Islita safely.
It was the last part of the families' holiday adventure. They were flying to San Jose from Guanacaste, a popular tourist destination on the Pacific side of Costa Rica, where Sunday's plane crashed, to fly home.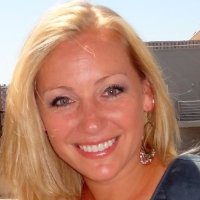 Live Life To The Fullest
The 33-year old was a new guide for Backroads, a Berkeley, California-based adventure travel company which touts itself as "the world's #1 active travel company," on its website.
Amanda was passionate about life and adventure. She was excited to lead the holiday adventure to Costa Rica, which included seeing an active volcano and a 400-foot waterfall, her family told the New York Daily News.
The company has guided tours to Costa Rica for 25 years.
It was the fourth tour she led that year since she started working for Backroads in May 2017. During her brief six-month tenure with the company she led tours to Croatia, Spain, and Portugal, Backwoods spokeswoman Liz Einbinder wrote in an email to the East Bay Times.
"Amanda was a first-year trip leader at Backroads, but despite her short tenure, she built strong bonds and community among both fellow leaders and guests alike," Liz wrote. "As one of our guests offered, 'Amanda's spirit and energy were simply refreshing.'"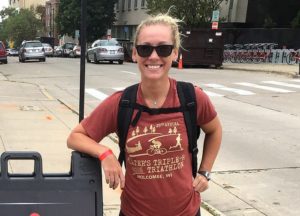 Amanda was a "rising star" at Backroads, according to a Backroads statement to the media.
"We are all deeply saddened at this tragic loss," Backroads representatives stated offering their prayers to the families' losses by this tragedy.
Grieving family and friends expressed their profound loss posting on Facebook and some spoke to the media.
"Words cannot express what I have felt since hearing the news this morning about what happened to one of the most incredible people I have had the pleasure of calling my friend, Amanda Geissler," wrote KJ Jarvis on Facebook.
"She was the one I could always count on to hit up a yoga class, bike while watching 'The Bachelor,' make dinner, watch countless episodes of 'Sex and the City,' or drink endless glasses of wine," she continued. "Her energy and love for life was infectious."
Amanda's family shocked by their loss and grieving remembered the lively young woman from Wisconsin.
"Her passion for life and adventurous spirit allowed her to truly live and experience more in her 33 years of life than many have the opportunity to," her family said in a statement to the media.
"Amanda lived her life with no regrets and inspired so many others to consider the same," they wrote about her love for the outdoors, "setting goals and crushing them," and how much she adored her family and friends.
Amanda was an athlete. At the University of Wisconsin-Stout, she was a point guard on the basketball team who helped lead that team to three regional conference titles from 2003 to 2007, when she graduated, reported the Milwaukee Journal-Sentinel. After graduation, she competed in the Ironman Triathlon and ran a marathon, reported People Magazine.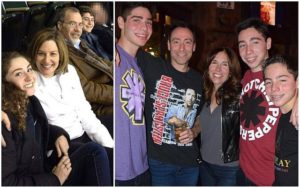 The tour company's guests who also perished in the crash were nearly as adventurous as Amanda. The two families, the Steinberg's – Bruce and Irene and their three sons Matthew, William and Zachary – from Scarsdale, New York, right outside of New York City, and the Weiss' – doctors Mitchell and Leslie and their two children Ari and Hannah – from Belleair, Florida were also beloved in their communities like Amanda.
The pilot, Juan, was the cousin of the former president of Costa Rica Laura Chinchilla (2010 – 2014) who tweeted about her family's loss.
Crash And Investigation
The plane took off from Punta Islita Airport at 12:10 p.m. Sunday on heading toward San Jose, which is about 150 miles from the Northern Pacific coast of Costa Rica. Ten minutes later officials received reports of a crash around 12:20 p.m., reported CNN.
Winds earlier in the day delayed the plane's arrival forcing it to stop at a different airport before landing in Punta Islita, according to aviation authorities.
Emergency responders found the smoldering wreckage and the burned remains of the passengers shortly after reports of a plane crash came in.
"We are extremely heartbroken over this horrific loss of life and are working with the local authorities to understand the cause of the crash," representatives of Backroads said. "We have our entire Costa Rica team and a member of our executive team on the ground to assist in this tragedy."
Costa Rican President Luis Guillermo Solis Rivera also expressed his regrets about the tragedy in a statement on Facebook Sunday evening.
"The government of Costa Rica deeply regrets the death of 10 American passengers and two Costa Rican pilots in the aircraft crash," Luis wrote.
"We express our condolences to all those affected by this tragedy," a spokeswoman for the United States State Department stated in an email to the New York Times about the plane crash.
She said that the department was working with aviation authorities in Costa Rica. Investigators from the US were expected to start their work today (Wednesday), reported the East Bay Times.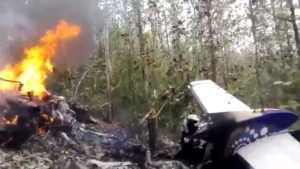 The cause of the crash is under investigation Costa Rica Civil Aviation Director Enio Cubillo told reporters at a press conference Monday.
Enio told reporters that Juan was a "very experienced" pilot.
The plane was up-to-date with its certifications and passed inspection in November, according to the agency.
The cause of the crash is still unknown. However, mechanical issues and weather conditions are being included in the investigation into the crash, reported the Tico Times.
"No possibility can be left out for certain," Michael Soto, deputy director of Costa Rica's Judicial Investigation agency, told NBC Chicago. "We have two aspects: The principle one would be some weather condition and if there was a mechanical issue."
This was the second plane crash for the eco-friendly airline that claims to be the first carbon-neutral airline in the world, reported the New York Times. In September, an American and another passenger died and an American was injured in a different plane crash. The travelers were flying in the same type of single-engine Cessna plane when it went down into a river in Guanacaste.
The Cessna 208B Grand Caravan registered as TI-BEI is a private aircraft that is popular for carrying passengers or cargo. More than 2,500 have been built since it first flew off the runway in 1984, reported the New York Times citing the Aviation Safety Network.
The airplane was part of Nature Air's fleet. Representatives of Nature Air couldn't be reached by multiple media outlets.
Book your next romantic getaway to the Caribbean with Girls That Roam Travel. Contact Heather Cassell at Girls That Roam Travel at 415-517-7239 or at .
To contract an original article, purchase reprints or become a media partner, contact .
Comments
comments