Park And Fly To Europe Free At Oakland International Airport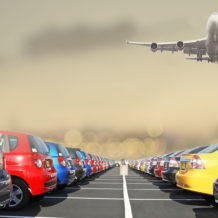 Oakland International Airport Promotes New Flights To Europe With Free Parking Offer
by Heather Cassell
It might be a great time to fly to Europe. Summer vacation is right around the corner.
There's another reason, at least for gallivanting residents of the San Francisco Bay Area, Oakland International Airport just announced free parking to travelers taking off across the Atlantic Ocean.
Starting May 29 through August 15, travelers flying round-trip nonstop to Barcelona, Copenhagen, London, Oslo, Stockholm and to Azores will get five days of free airport parking in the daily lot.
Azores is an archipelago in the mid-Atlantic which is an autonomous region of Portugal.
The offer makes that European trip a little bit more enticing. Even travelers hopping around Europe can take advantage of this parking deal, just as long as they return to Oakland and they book the airlines and routes currently being offered, according to media reports.
Free parking is all about promoting Oakland International Airport's new European routes to Azores aboard Azores Airlines, London's second route via London-Gatwick flying British Airways, Barcelona's new airline Level Airlines, and Norwegian Air flights that go to Barcelona, Copenhagen, Oslo, Stockholm and London-Gatwick as well.
Oakland airport is busy. The second most popular airport in the San Francisco Bay Area, its seen a big increase in its domestic and international travel to the East Bay.
The airport has responded by unveiling its new passenger lounge for travelers. The airport is also working on a $35 million expansion to its international arrivals building. It's estimated the expansion will double the airports international flight capacity, reports the Mercury News. This is in addition to the airport's ongoing $200 million renovation to Terminal 1, which started in 2008 as a part of the airport's efforts to update and modernize.
To take advantage of the offer, travelers need to fill out the form to receive the coupon for free parking at Oakland Airport for your European trip, www.OaklandAirport.com/ParkFree. Once registered, travelers should download and print the coupon. At the airport parking lot, travelers should hand the coupon along with their parking ticket and printed flight itinerary to the cashier.
Book your next European vacation with Girls That Roam Travel. Contact Heather Cassell at Girls That Roam Travel at 415-517-7239 or at . 
To contract an original article, purchase reprints or become a media partner, contact .
Comments
comments