Panwala Elected First Female AAHOA Officer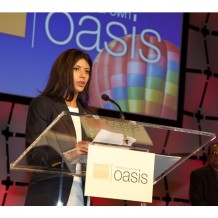 Jagruti Panwala makes history being elected to the AAHOA after contested vote
by Heather Cassell
Jagruti Panwala was elected as the first-ever officer to the Asian American Hotel Owners Association after a contested election for the role of secretary on the board of the world's largest hotel association April 1.
It is the first time a woman has ever been elected to the 36-member all-volunteer hotelier board in the nearly 30-year old organization, according to the Friday's news release from the association.
The election sets her up to make history again to become the first ever female chairwoman of the organization in 2020.
"It was time – definitely time [for a woman to serve]," says Jagruti, following beating out two male counterparts in the historic election at the end of the association's convention in Nashville, Tennessee.
Officers hold each post for one year after being elected secretary. She will serve as secretary for 2016-2017. Officers progress from secretary to treasurer to vice chair to chair on a yearly basis.
"It's my honor," says Jagruti, flanked by delighted supporters and friends. "I am so proud, and it is such an honor that they had enough confidence in me to choose me as AAHOA Secretary."
The Ivyland, Pennsylvania resident has served as female director at large – eastern division at the association.
The annual conference broke records drawing more than 5,000 members and vendors for three days of networking, entertainment, and education.
"It's a great day to be an AAHOA member," says Chip Rogers, AAHOA president and CEO. "I thank AAHOA voters for their participation in this election and I congratulate Ms. Panwala on running a successful campaign."
Other newly elected board members included Navnit "Nick" Patel, director at large; Rashmikant "Haji" Patel, North Carolina regional director; and Nishant "Neal" Patel, young professional director at large. Central Midwest Regional Director Priyesh Patel was reelected unopposed to serve another three-year term.
There are more than 15,000 small business owners who are members of AAHOA, which was founded in 1989.
Book you're next adventure contact Heather Cassell at Girls That Roam Travel in association with Travel Advisors of Los Gatos at 408-354-6531 or 415-517-7239 or at .
To contract an original article, purchase reprints or become a media partner, contact .
Comments
comments