Girl Roamer Nicole Discovers Orlando Is More Than It's Larger Than Life Amusement Parks
by Nicole Clausing
I think it was when the 10-foot alligator jumped at me—an honest-to-goodness, non-animatronic, definitely not singing It's a Small World alligator—that it really hit me: Orlando is for real.
With a population that hasn't quite broken 250,000 yet, it's hardly the biggest city in the nation (It's actually ranked #79, just trailing Chula Vista, California). It's not even the biggest city in Florida (It's the fifth-largest, beating the unsung Miami suburb of Hialeah by about the number of people who ride Space Mountain before lunch every day.)
But Orlando looms large in the national conscience, attracting an outsized number of visitors every year—depending on who's counting, it's sometimes ranked as the most-visited U.S. city, and it's always right there in the conversation with New York and Los Angeles.
What makes Orlando different from those places, though, is that while people visit New York for its sightseeing and cultural offerings, and are attracted to LA by an expectation of tasting the sunny lifestyle that is so much a part of the city's character, Orlando is best known for what's most unreal about it. The majority of the nearly 50 million people who visit Orlando annually come for the theme parks, not necessarily even setting foot within the limits of the city proper.
On a visit to the Sunshine State, I got to wondering what all those Mouse chasers might be missing. Is there a real city at the spot on the map marked "Orlando?" And if so, would it be as G-rated and tattoo-free as Main St., USA, or would it have some personality? The answers to these two questions, as I discovered during a week spent mostly outside of the parks are, respectively: yes; and; whoa Nellie, yes. Orlando had enough quirk and sense of adventure to repeatedly surprise and delight a Bay Area broad such as myself over the course of seven days.
Exploring Orlando's Neighborhoods
One nice surprise about Orlando is that like most great cities, it's full of neighborhoods with distinctive personality. I discovered a number of them while having unexpected culinary adventures in and around the city.
Thornton Park
First up was Thornton Park, where I took in $4 happy hour cocktails and snacked on fried alligator at the Wildside Bar and Grille (700 East Washington Street, 407-872-8665, WildsideBBQ.com). Thornton Park neighborhood is an anything-goes kind of place where the people-watching, as my server tells me, "is impeccable, to say the least." The area is just east of downtown, and bustles with foot traffic. Streets paved with brick give the place a slightly European feel, but the vibe is more Amsterdam-funky than proper Parisian, even though there is a wine and art walk every 2nd Thursday of the month.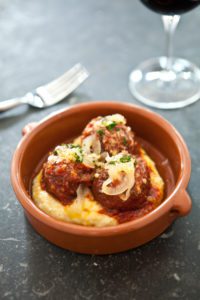 Winter Park
Not a neighborhood, but actually a separate suburb of Orlando, is Winter Park, an upscale gourmet haven where fine wine almost literally runs in the taps. Well, not really, but on Park Avenue, The Wine Room (270 Park Avenue South, Winter Park, 407-696-9463, TheWineRoomOnline.com) has more than 150 different bottles of wine suspended in Enomatic wine dispensing machines—these contraptions keep vino fresh after opening and allow patrons to sample small tastes of unusual vintages that most restaurants would balk at selling by the glass.
I had the most exquisite meal of my visit just up the street at Prato (124 North Park Avenue, Winter Park, 407-262-0050, , Prato-WP.com), an innovative nouveau Italian restaurant with a strong commitment to supporting local farms. Perfect Neapolitan pizzas are a staple, but the kitchen also does incredibly innovative things with unusual ingredients like fresh chickpeas, celery root, and pluots. I regret that I had but one dinnertime to give to Winter Park, because several nearby restaurants caught my eye, including Prato's sister restaurant, Luma on Park (290 South Park Avenue, Winter Park, 407-599-4111, , LumaOnPark.com). I can't vouch for the food (too full to try), but I was quite impressed by the 7,000-bottle wine cellar, which erupts up out of the basement to a height of two stories and illuminates the whole restaurant.
Slightly lower budget than Winter Park, but maybe even more fun is Church Street Station, in downtown Orlando. This historic neighborhood has low-rise brick buildings fronted by wrought-iron railings that give the area a French-Quarter feel. Adding to that impression is a growing number of restaurants and bars, making this a fine place to experience Orlando nightlife. I ate no less than three meals here, each delicious, and each accompanied by some excellent hooch, or at least the promise of such. At Ceviche (125 West Church Street, 321-281-8140, Ceviche.com), I had excellent tapas and killer sangria in a beautiful space that incorporates plenty of warm, dark wood and high ceilings. At Hamburger Mary's (Church Street Station, 110 W Church Street, 321-319-0600, hamburgermarys.com/Orlando) I enjoyed a hearty Southern brunch of biscuits and gravy. I managed to stay away from the cocktails, which are already flowing before noon most weekends, but they were tempting, with names like the Ab Fab Cosmo, the Bossy Bottom Margarita, and Long "Guy" Land Iced Tea.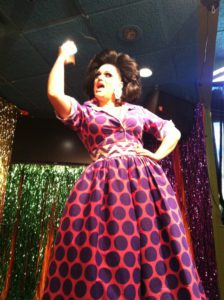 If all that sounds a little campy, well, it is (A drag show was going on during my visit.) But like the Wildside Bar and Grille, and like Downtown—in fact, like much of Orlando, the place isn't specifically gay, just inclusive. The day I was there, fellow diners included everyone from tank-top clad possible Abercrombie & Fitch models to a long table full of Red Hat Society ladies.
Orlando, I was discovering, is the kind of place where you might find something remarkable in the unlikeliest places. One drab strip mall in the Milk District, for example, contained not one, but two treasures: One was Pom Pom's Teahouse and Sandwicheria (67 North Bumby Avenue, 407-894-0865, PomPomsTeahouse.com), a delightfully warm, funky café serving enormous dollops of breaded, pan-Asian tinged comfort food. The second was something I thought had gone the way of the dodo, or the band R.E.M.: a true record store, called Retro Records (59 North Bumby Avenue, 407-898-2484, ,  retrorecordsorlando.com). Some CDs are sold, but the owner's heart is clearly in the crates of vintage vinyl and piles of Kiss-themed lunchboxes, Michael Jackson posters, and other detritus of the '70s and '80s designed to delight pop-culture fans, especially those of the Generation-X persuasion.
Central Florida's Wild Side
Having just begun to wrap my head around the idea that the city of Orlando is a real place with real attractions, I soon found out something else that destroyed some preconceived notions: The surrounding area turns out to be an unheralded outdoor paradise. If you think of Florida as seasonally hot and sticky, and year-round flat as a pancake, you're not wrong. But the region's wetlands have a shimmering, moss-draped beauty that doesn't take long to warm up to. (Nothing takes long to warm up in this part of the world, where even in January, the mercury spurts into the 70s and people live whole lives without ever seeing a snowflake.)
A great place to discover Florida's understated natural beauty is at the Three Lakes Wildlife Management Area (1231 Prairie Lakes Road, 352-732-1225, http://myfwc.com/viewing/recreation/wmas/lead/three-lakes) in nearby Kenansville, about 50 miles south of Orlando. Had we been so inclined, my wife and I could have hunted and fished to our hearts' delight, but we'd come to this slab of dry prairie for bird watching, and we were not disappointed. We drove a loop through the preserve, and without leaving our car, added three species to our life lists of birds spotted. And not just any birds. Bald eagles circled the skies, red-shouldered hawks roosted on utility poles, and sandhill cranes serenely promenaded among grazing cattle. We didn't see any of the deer or Florida panthers said to prow these parts, but we hardly missed them when our national emblem was perched in a tree less than 100 yards away.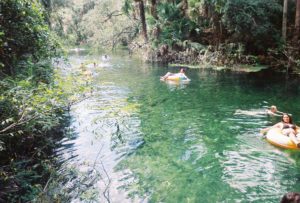 I also ventured to Blue Spring State Park (2100 W French Avenue, 386-775-3663, floridastateparks.org/park/Blue-Spring) in Orange City, about a 45-minute drive north of the city. The park's 2,600 acres include a stretch of the St. Johns River and the namesake Blue Spring, a startlingly clear body of water that runs at a constant 72 degrees Fahrenheit. The area is best known as a refuge for manatees, which are aquatic mammals the size of a VW microbus. None were evident the day I visited (peak season is mid-November through mid-March), but it was hard to be too disappointed. Providing some consolation was the fact that during the course of a three-hour cruise on the river, I gleefully added four new bird species to my life list. For another thing, the languid beauty of the place is nearly intoxicating. The boat glides on iced tea-colored water past stately Cyprus trees hung with Spanish moss bunting. There are few houses or any signs of civilization within the park, and it's easy to relax into a vision of what Florida was like before European contact.
And then there are the alligators. We spotted many early on, ranging from foot-long babies to a seven-footer. As the day got warmer, they seemed to retreat into the shadows, or maybe I just got too hot and sleepy to see them. But later, just at the point when the heat and the buzzing flies had rendered me so relaxed that I thought I might start speaking with a southern accent, that's when we saw the 10-footer. It was lounging motionless on the bank, and then, in a snapping, explosive leap, it jumped into the water and disappeared, 600 pounds of lizard gone in the blink of an eye. Our boat rode high enough in the water that we were never in danger, but the display of reptilian power was alarming and awe-inspiring at the same time. I've seen theme-park rides that simulate a lot of things, from pirate boardings to alien attacks, but none so far that can re-create the feeling you get when you see a living dinosaur leaping in your direction.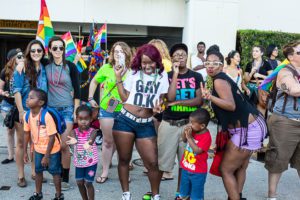 The City Beautiful Lights up the Night
Orlando had another surprise in store for me: After traveling out to Blue Spring, I realized you don't have to leave the city to experience nature. Locals have nicknamed their town "The City Beautiful," and the moniker is no empty civic-booster invention. The city has done its best to incorporate plenty of green into the metro area. Smack in the middle of the city, for example, is Lake Eola Park (512 E Washington Street, 407-246-4484, cityoforlando.net/parks/lake-eola-park), which includes a 23-acre shallow lake with a colorful fountain that serves as an unofficial symbol of the city. You can rent swan boats for an afternoon paddle on the lake, relax on the grassy banks (I picked up four more life-listers in a short hour of doing just that), or walk the well-paved perimeter. Every Independence Day, the city gathers to watch fireworks over the lake.
If you miss those fireworks, you get another chance in October, when the city makes a major event of celebrating gay pride at Orlando Pride. I was lucky enough to experience that during my visit, and witnessed weekend-capping pyrotechnics lighting up the glassy waters of the lake. By this time, I wasn't surprised that this southern city was embracing its gay community. What really knocked me out was the fact that these weren't just good fireworks. These were great fireworks, maybe the best I've ever seen—better than displays I'd seen at Disney World, and better than any show I could remember seeing in the San Francisco Bay Area.
But that's Orlando for you: surprisingly evolved, unexpectedly sophisticated, and shining its light brightly, no matter the size of the audience.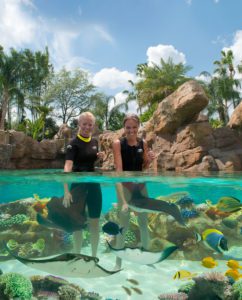 Sidebar: Orlando's Theme Parks
We're not for a second suggesting that you go to Orlando and completely skip what put Central Florida on the map. By all means, take in a park or seven. The biggies are listed below. Some can be done in a day, and others, most notably the Walt Disney World Resort, come with their own hotels and expect you to stay a while.
Address: 3111 World Dr., Lake Buena Vista, Florida.
What's New: Opening within the last five years, Under the Sea: Journey of the Little Mermaid. This gentle Magic Kingdom ride recreates key moments from the eponymous film.
Address: 6000 Universal Blvd, Orlando, Florida.
What's New: Just opened in June, 2013, Transformers: The Ride–3D is a mind-bending, stomach-flipping experience adding 3-D projection technology to a traditional dark ride.
Address: 7007 SeaWorld Drive, Orlando, Florida.
What's New: In May, 2013, fans of flightless birds began flocking to Antarctica: Empire of the Penguin. A two-parter, the attraction at first features projection screens showing scenes of Antarctica, and culminates in a walk through a live penguin habitat chilled down to below freezing.
Address: 6000 Discovery Cove Way, Orlando, Florida.
What's New: The Park's Grand Reef opened in early 2013, allowing visitors to wade, swim, and snorkel among tropical fish and large, but harmless rays.
Address: One Legoland Way, Winter Haven, Florida.
What's New: A new mini water park within the main park allows kids to wade, splash in a wave pool, or build their own rafts and float 1,000 feet downriver.
Address: 14501S. Orange Blossom Trail, Orlando, Florida.
What's New: Gatorland doesn't change as quickly as some parks, but visitors are still excited about the 1,200-foot-long Screamin' Gator Zip Line, opened in 2011.
Address: 4655 Vineland Road, Orlando, Florida.
What's New: The 2,000 seat Church of All Nations opened in 2012, featuring passion plays and live tapings of the Praise the Lord show.
To book your next trip to Orlando, contact Girls That Roam Travel at 415-517-7239 at .
To contract an original article, purchase reprints or become a media partner, contact .
Comments
comments