Firehouse No. 1 Gastropub Hits Home Runs Out Of The Ball Park On Date Night For Foodies And Sports Enthusiasts
by Super G
Babes and I have our go-to restaurants in nearly every city around the San Francisco Bay Area, but having a regular restaurant in a thriving restaurant scene threatens getting into a dining rut.
Some foodies might label getting into a dining rut coming in as a close first or second to getting into a relationship rut. Sometimes, a dinning rut can be difficult to get out of because you try a restaurant and it doesn't pan out as well as you thought sending you right back to your trusted spots on your culinary hit list. Sometimes you score a winner that gets added to your "must return to" list.
The culinary rut overall robs diners of potentially missing out on new emerging restaurants or restaurants that have been right under your nose, but you didn't try because you were too busy revisiting tried and true favorites.
That's what happened to us until I revolted recently. On our weekly date night, I dared to venture out and suggest something new. Babes was up for it. We hadn't explored San Pedro Square in San Jose, California beyond the San Pedro Square Market, so, I made a reservation at the Firehouse No. 1 Gastropub (69 North San Pedro Street, 408-287-6969, , firehouse1.com).
I'm happy to report we weren't disappointed, actually, Babes, was excited to discover a small lively scene similar to Campbell's historic downtown and Willow Glen neighborhood, which has been the closest thing to rival San Francisco's trendy restaurant rows and neighborhoods, we've discovered in the South Bay. She kept saying maybe there's hope in sleepy Silicon Valley with the negotiations of the Google complex near San Jose's train station and the pitch to Amazon to build its second headquarters in the heart of the valley. (Needless to say, the five-year non-transition – we split time between my house and her flat she in the city – to the South Bay has been rough. She's been torn by the weather, peacefulness, and being able to slip into her spot in the driveway in Central San Jose as she makes new friends against the excitement of restaurants, events, community and everything that's available in San Francisco at her fingertips that was her life for nearly 20 years. I, however, spent 15 years in the South Bay before transitioning to San Francisco and then Oakland, so it's sort of been a homecoming for me. I digress …)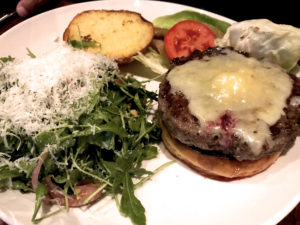 We found a winner for dinner and entertainment at the Firehouse No. 1 Gastropub.
The restaurant has been in the area for about 12 years, I was told, but it has clearly been kept up-to-date to attract hipster techies and business types who share stools and tables alongside sports buffs. The interior is sophisticated but relaxed with sports playing on multiple screens around the bar and even in the dining area throughout the intimate pub creating a modern socially inviting atmosphere. The space is small, reminiscent of more urban settings where you get up close and friendly with your fellow patrons and maybe make new friends. The food is just as sophisticated and laid back, after all, it is a gastropub.
Babes and I enjoyed the Marinated Beets Salad. If you like beets, you'll love this salad because it's all about the beets. Beautiful red and gold marinated perfectly. The small orange segments and orange vinaigrette add a nice zing to the salad, but it never takes away from the beets, it just adds a subtle little something extra.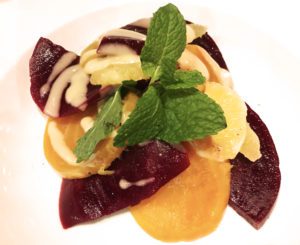 After a healthy start to our meal, I sunk my teeth into the Firehouse Cheeseburger. The half-pound of 100 percent ground chuck was perfectly cooked medium with the white cheddar dripping over the sides served on a soft toasted bun that was fluffy and soft, but strong enough to hold the meat and the oil as its juices and the oil from the cheese soaked into the bread. The butter leaf lettuce, sautéed onions, and tomatoes were served on the side, so I could generously add what I wanted or didn't want. The tomatoes weren't in season, so they weren't as flavorful as they would be at another time of the year, according to Babes, who eats all tomatoes for me. I opted for the arugula salad over fries, which was equally as good as the Marinated Beets Salad. Overall, this burger makes it very close to our top five best burgers we've ever had.
Babes ordered the Pan Roasted 38 North Chicken Breast, on a slight bone rather than a full bone-in chicken breast. It was full of flavor and juicy topped off with a delightfully simple salt and pepper rub that was delicious leaving the skin with a nice light natural crunch. The dish was in perfect harmony with the chicken laying in a bed of sweet potato puree snuggled up with purple cauliflower and broccolini, that was steamed through. For someone who doesn't like broccolini, this broccolini, not mentioned on the menu, but was a part of the dish was so tender and sweet rather than al dente and bitter, it was perfect. Everything on the plate was brought together by the mushroom chicken jus.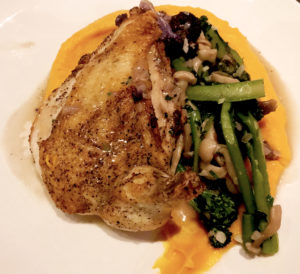 We enjoyed dinner with California wines from a couple of the counties affected by October's wildfires. Babes enjoyed a glass of Mendocino County's Paul Dolan Vineyard's Pinot Noir from its 2013 vintage and I enjoyed Lake County's Brassfield Estate Winery's Cabernet from its 2014 vintage.
We skipped dessert but listened to our options, which included a chocolate mousse cake that sounded enticing. We will have to return to check that out.
All the while, I was able to keep tabs on the football games without once ruining our date night.
Firehouse No. 1 Gastropub serves brunch, lunch, and dinner as well as a decent selection of craft beer, cocktails, and wine. It's definitely worth checking out if not once, but again and perhaps again for a casual and enjoyable time – date night or just a fun night out.
THE DIRTY DISH
Firehouse No. 1 Gastropub, 69 North San Pedro Street, San Jose, California 95110. 408-287-6969. dale@firehouse1.com. firehouse1.com. 
TYPE OF RESTAURANT: Locally-owned, Gastropub 
RATING: 3 = Aqua
(0 inedible – 5 simply scrumptious)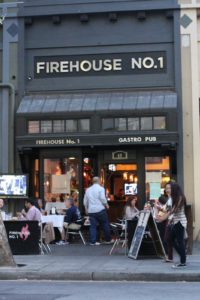 AMBIANCE: Join the crowd, the hipster gastropub is a hit among young techies, business types and sports fans desiring a taste of urban life in San Pedro Square in the heart of old town San Jose.
SCENE: A mixed crowd, mostly techies and urban professionals sporting suits to jeans and t-shirts.
SERVICE: Attentive, despite the crowded atmosphere, and friendly, but not overbearing. Orders were taken, and the food was served relatively quickly, but not rushed by any means. 
NOISE LEVEL: Oddly enough, despite being packed, sitting at the tables in the dining area it wasn't very loud at all. A decent conversation could be had. 
RECOMMENDED DISHES: The chicken and the burger, but the menu is enticing enough to warrant a return dining experience for culinary exploration.
SIP: The wines were well selected and not necessarily from well-known wineries and vineyards, yet were local. Both wines were good.
CHECK, PLEASE: $$ = $25 – $50
(price of average dinner/lunch/breakfast/brunch bill for an individual meal without tip) 
THE EAT: It's a fun atmosphere with good food and drinks. You can't ask for more than that at the very least for an average night out on the town. 
WORTH THE NIGHT OUT?: This was delicious!
To book your next adventure in Silicon Valley, contact Heather Cassell at Girls That Roam Travel in association with Travel Advisors of Los Gatos at 415-517-7239 or at .
To contract an original article, purchase reprints or become a media partner, contact .
Comments
comments