US National Parks Are Number 10 On Our List Of Places To See In 2016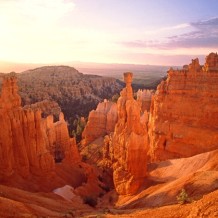 United States National Parks – Pick On Any Of Them – You Won't Be Disappointed
by Super G
US national parks are celebrating 100 years since the system was officially indoctrinated by Congress as protected lands. Today, there are 59 national parks across the US. Girls That Roam has been to a few of these parks and they are a spectacular part of our heritage.
Where To Go:
Bryce Canyon and Zion National Parks: Less than two hours apart these two national Utah parks offer outdoor adventures two unique experiences. Bryce Canyon offers travelers a spectacular view that can't be seen anywhere else with its crimson-colored hoodoos that are spire-shaped rock formations. Guests to the park can explore the park by ATVing, hiking, and horseback. Nearby Zion National Park offers guests ATVing, hiking, and horseback riding along the river that runs through the lush valley between the sharp red cliffs as well as golfing, dining, museums, and shopping.
Grand Canyon: The Grand Canyon cuts into Arizona allowing the Colorado River to run through it. In the Grand Canyon West, an easy two hour drive from Las Vegas, Nevada, visitors can check out the skywalk that suspends travelers over the canyon or go on one of the many hiking and horseback riding tours offered by the Hualapai Tribe, which is mostly run by women on the tribal council.
Grand Teton and Yellowstone National Parks: Just two and a half hours apart these two Wyoming parks offer a bevy of outdoor adventures including camping, bird watching, fishing, hiking, horseback riding, mountain biking, paddle canoeing, swimming and skiing at Grand Teton. Teton Mountain towers above the valley known as Jackson Hole at Grand Teton providing an awe inspiring view Yosemite-worthy. Yellowstone is known for Old Faithful, its most famous geyser, and for being the first National Park established in the US in 1872. The park set atop a volcanic hot spot creating natural hot springs and geysers that gush, just not as big as Old Faithful. Yellowstone spreads across Wyoming and Montana with its deep canyons that welcome the alpine rivers that run through it nurturing its lush forests. The park is where the bison roam along with the antelope, bears, elk, and wolves that make up one of the "last, nearly intact ecosystems in the Earth's temperate zone," according to the park's website.
Yosemite National Park: Women helped establish Yosemite, located in our home state California, but Ansel Adams and other nature photographers captured the world's attention with this park's natural beauty. Like the Grand Teton and Yellowstone parks, Yosemite, which turned 150 in October, offers travelers a multitude of outdoor adventures to luxury accommodations in a spectacular setting. It must be hard being naturally beautiful.
Who to Travel With: All of the US national parks offer federal employee run tours and self-guided tours and activities.
Book your next adventure with Girls That Roam Travel. Call Heather Cassell at Girls That Roam Travel at Travel Advisors of Los Gatos at 408-354-6531 or directly at 415-517-7239 or email at .
To contract an original article, purchase reprints or become a media partner, contact .
Comments
comments