There's Only One David, But Variations Of The Famous Statue Are Florence's Signature Treasure Hunt
by Nicole Clausing
I'm all for traveling spontaneously. I do believe that it's possible to schedule all the excitement and discovery out of travel. Sometimes you just need to put that guidebook aside and jettison the planned-to-the-minute itinerary and just see where the day takes you.
Visiting Michelangelo's David, though, is not one of those situations—certainly not if you're visiting during the height of Florence's summer tourist crush, as I am, and possibly not ever.
I discover this one day in June as I'm trying to navigate an impossible scrum of people in front of the Galleria dell'Accademia (60 via Ricasoli, 39-041-520-0345, uffizi.com/accademia-gallery-florence.asp), the museum where David is kept. I'm dashing between the ticket office and the main entrance to the museum, dodging street art vendors clogging the roadway and threading my way through walls of humans who are supposedly standing in queues but who aren't going anywhere and lack any visible linear structure.
And I'm one of the lucky ones—I've bought my tickets early. I can supposedly just walk right up to the entrance and bypass the crowds, but it turns out to not be quite that simple. It all works out in the end, and is fully worth the trouble, but here's how it is ideally done.
Advance Tickets for the Galleria dell'Accademia
During the popular summer months, you can always make the decision to visit Galleria dell'Accademia spontaneously but wait times to get in can stretch to hours. Those are hours of your vacation—and your life—that you can never get back. You could have spent them sipping vino at a café, or strolling across the Ponte Vecchio, occasionally patting your pocket to make sure you still had your ticket vouchers with you, but instead, you're spending that time standing in the hot Tuscan sun in confusing lines that sometimes spill into the street, exposing you to street hustlers and Kamikaze Vespas.
The key, then, is to sacrifice a bit of spontaneity and buy your tickets in advance. Go to the Uffizi/Accademia website or you can get the Firenzecard. This can be done on a smartphone but take care of this task in front of a full-size screen if you can. You should be able to pick your date and time.
Once you complete your purchase, you're ahead of the vast majority of tourists hoping to ogle the supernaturally beautiful marble boy. But there's one more important step that you have to remember to take on the day you visit the Accademia: You don't have to print your tickets ahead of time. In fact, you won't receive a real ticket, just an emailed voucher. Print the vouchers if you can. If not, have the voucher PDF visible on your smartphone screen, and a few minutes before your entry time, go to the Accademia ticket office, which is directly across the street from the Accademia entrance. They will give you a paper ticket. Walk back across the street, go directly to the entrance and show your timed ticket, and you'll be able to waltz right past those teeming hordes who didn't plan ahead. (On my visit, I accidentally skip the ticket-office step and waste precious minutes standing in an unnecessary line and then getting turned away at the entrance, necessitating some scrambling to make everything right before my reservation time.)
Meeting David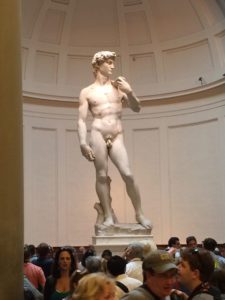 Once inside, the memory of scurrying around falls away. David is what I've come to see, and unlike some museums (I'm looking at you, Vatican), the main attraction is easy to find. You can see him from the atrium, all 17 feet of him towering above the crowds in his own room. You're allowed to peruse the Accademia collection in any order you'd like, and like most visitors, I make a beeline for the world's most famous shepherd boy.
He's magnificent. I've seen pictures, of course, and think I know what to expect, but I'm unprepared. In person, the sculpture is so life-like and so detailed that it's almost impossible to believe that this work of art started as a chunk of rock. He has veins and toenails and an Adam's apple and almost seems to breathe. His expression seems to change, too. From the front, David's dramatically turned face looks defiant, like he's confident of the place he's about to take in history. But when I move 45 degrees to look David in the eye (or try, anyway; on his pedestal, he's almost 12 feet taller than I am), he looks more apprehensive—he has exactly the expression you might expect from a naked guy trying to take down a giant with a child's toy. 
Come for David, Stay for the Botticelli
This remarkable piece of art is not all there is to see in the museum. It's not even the only Michelangelo on display. There are some other dramatic works by the master including Quattro Prigionieri, four figures struggling to escape from the stone from which they are sculpted. There's a small but important collection of paintings by many artists, including Botticelli, that trace the form's development from stiff, two-dimensional Romanesque representations of figures to the rich detailed portraiture of the renaissance. Excellent descriptions in English help those of us who didn't pay as much attention in art history class as we should have.
Piazza della Signoria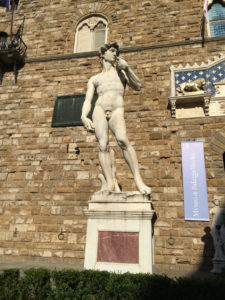 Say you don't take my advice and find yourself shut out of Accademia. Or maybe you have some desire to see David, but not 10 euro's worth of desire. You do have other options.
Explaining why involves a bit of David arcana: Michelangelo's masterpiece did not always reside in the Galleria dell'Accademia. Believe it or not, the piece, finished in 1504, stood outside for more than 350 years. When it finally moved indoors in 1873, there must have been some who felt badly that the people could no longer view the artwork for free anymore. So, a full-size replica was made, and placed in the original location. This spot is easy to find, next to the Palazzo Vecchio in the Piazza della Signoria. It's very close to the Ponte Vecchio and the Duomo; you almost can't miss it if you stroll around the city at all.
Is it the masterwork that Michelangelo's original is? Of course not. But it is impressive, you don't need an appointment to see it, and the price is right.
Piazzale Michelangelo
Harder to find, but worth the journey, is the David replica in Piazzale Michelangelo (Michelangelo Square). The square is high on a hill in the Oltrarno neighborhood, on the southern edge of town. You can drive up along Viale Michelangelo if you're unfortunate enough to have a car in the city. (Seriously, skip it. Florence is one of the great walking cities.) Better to hike up from the Piazza Giuseppe Poggi, near the Arno's left bank, or take the number 13 bus from the city center.
Your reward for the ascent is paid out in views of the city. From this elevation, you can see the whole Oltrarno neighborhood with its medieval streets and centuries-old artists' workshops. You can also see the whole city center, with all the major landmarks—Duomo, Uffizi, Santa Croce church—all looking close enough to touch.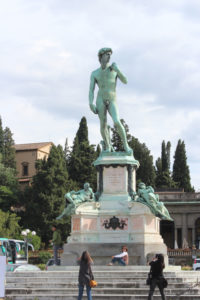 And you also get to see another replica of David. This one's made of bronze and is a little worse for the wear than the others, having been subject to the indignities of weather, pollution, and bird visitation since 1873. (The same year, coincidentally, that the original came in out of the elements.)
Surrounded by tourists and trinket vendors and oxidized to a greenish tinge, this David lacks a little bit of the grandeur that the original and Palazzo Vecchio versions possess. But up here in the Piazzale Michelangelo, admiring postcard views of Tuscany, I hardly feel like I have the right to ask for anything more, visually speaking.
And when I think about it, this tenacious David, who has fought the Goliaths of time, acid rain, and pigeon poop for 150 years, strikes me as a fine avatar for the brave Biblical figure. He's also a worthy symbol of feisty little Florence, which during the Middle Ages maintained republic status by fighting off giants like the Duchy of Milan and the historically colossal Medici family for centuries. In Florence, David isn't just a great work of art or a Bible story. He's a hero and an inspiration, and I'm glad I've found the time to drop in on him as many times as I have on my trip to Florence.
Book your next adventure in Florence, Italy with Girls That Roam Travel. Contact Heather Cassell at Girls That Roam Travel at 415-517-7239 or at .
To contract an original article, purchase reprints or become a media partner, contact .
Comments
comments