Mexican Soul Food A Hit In San Diego's South Park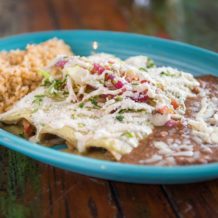 Neighborhood Restauranteurs Lauren Passero and Kate Grimes Have Cooked Up Another Hit Restaurant, Del Sur Mexican Cantina
by Heather Cassell
Life has been good for restauranteurs Lauren Passero and Kate Grimes in San Diego's South Park neighborhood.
The duo has created a series of neighborhood restaurants that have become a destination for locals and visitors.
Last month the women officially opened their third restaurant, Del Sur Mexican Cantina (2310 30th Street, 619-501-0643, delsurmexicancantina.com), the neighborhood's first sit-down Mexican restaurant serving up what Executive Chef Sergio Garcia calls "Mexican soul food," to great fan-fare.
What's coming out of the kitchen isn't the typical Mexican cuisine. The dishes are reinterpretations of his grandmother's traditional Mexican offerings that have been modernized while remaining true to Mexican culture, according to media reports. Diners can expect to find atypical Mexican gastronomical offerings on the menu, such as dishes with plantains and Mexican squash as well as healthier fare and vegan options, according to media reports.
Guests can wash down the good food with a cold brew from the restaurants wide selection of local and Mexican craft beers as well as a variety of tequila and mescal-based cocktails created by Elizabeth Murciano, who leads cocktail creation.
The restaurant also serves brunch Fridays, Saturdays, and Sundays.
The women also own The Haven Pizzeria (4051 Adams Avenue, 619-281-1904, thehavenpizzeria.com) and Kensington Café (4141 Adams Avenue, 619-640-0494, kensingtoncafesd.com), which opened eight and a half years ago, quality neighborhood restaurants that are welcoming with comfortable atmospheres and great food that keep diners young and old returning.
"We're not trying to be the coolest place in town," Lauren tells Adams Avenue News. "We want it to be warm and welcoming with a nice neighborhood feel and sense of community. That's how we've always structured things."
It helps that South Park has a "really strong sense of community," she tells North Park News, adding that she's happy to see a shift taking hold and other restaurants opening in the neighborhood.
The love of community and restaurants took root in Lauren's youth.
Lauren started her career in the restaurant business as a hostess and waitress in El Paso, Texas. She continued serving diners working her way through college where she earned her degree in advertising in Boulder, Colorado, reported North Park News.
She stepped out into the professional world for a while, but realized that she loved and missed the restaurant industry.
From that realization, she knew she had to own her own restaurant. She moved to San Diego and settled in South Park 15 years ago.
"I always loved that feeling of home away from home. When we started opening restaurants, I think that I just wanted to recreate that feeling," says Lauren, who is married and the mother of two girls.
Book your next getaway to fun, sun, and sand in San Diego with Girls That Roam Travel. Contact Heather Cassell at Girls That Roam Travel at 415-517-7239 or at .
To contract an original article, purchase reprints or become a media partner, contact .
Comments
comments