Singer-Songwriter Melissa Etheridge Goes On A Musical Journey To Cuba
by Heather Cassell
It's a dream come true for musician Melissa Etheridge. Later this month Melissa will journey to Havana, Cuba.
The mysterious and forbidden island nation in the Caribbean has intrigued the 55-year old artist since childhood, she tells the New York Times.
The mystery will be solved for Melissa and some of her fans who will be joining her when they undertake a trip of a lifetime for a four-day music camp, Melissa Etheridge's M.E. in Havana, June 22 – 26. During the trip fans will enjoy a variety of intimate experiences – including a music workshop led by Melissa – and performances by the singer-songwriter.
The journey to the Caribbean nation will also be an educational experience for Melissa and her fans. Tours of artists' galleries and museums and cultural institutions are on the itinerary. Guests will be introduced to leading Cuban visual artists and the best musicians Cuba offers with concerts every other night and meet with leading Cuban women's rights activists and artists. Tours of Havana by foot and vehicle, including a joy ride in a classic convertible, historical architectural tours, cigar and rum tastings, Rhumba and Salsa dance parties are among some of the offerings in the itinerary.
The price tag of the four-day Cuban getaway with Melissa starts at $3,300 per person.
Melissa jumped on the opportunity when Music & Arts Live approached her to do the trip.
"I want to meet as many locals as possible and hit lots of clubs at night to listen to the vibrant local music," Melissa tells the Times about what she wants to do during her trip to Cuba. "I'm looking forward to the food, especially plantains, rice and beans, and Cuban-style fish. I wish I had extra days to explore the country more, but I have concerts scheduled right after."
Melissa tours most of the year, so it's a special treat for her when she returns home to Los Angeles to spend time with her children – Bailey, 20-year old girl, Beckett, 18-year old boy, and twins Miller and Johnnie Rose, 10, a boy and girl respectively – and to garden, she says.
This summer they plan to travel through the Northeast ending their summer vacation in Michigan, she says.
First, she's off to Havana, Cuba with her band.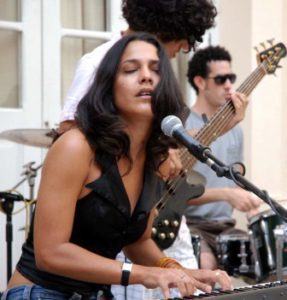 Melissa is excited about performing at the Teatro Nacional de Cuba (translated it is The National Theater of Cuba) and a smaller, more intimate concert at the cultural center Fabrica de Arte Cubano. She will also perform with leading Cuban musicians and singers, such as Canelas, Haydée Milanés, William Vivanco and Obini Bata, she tells the Times.
"I want to sing some of their Cuban songs with them, but in English since I don't know Spanish. Also, I want them to sing some of my songs with me like "I'm the Only One" and "Bring Me Some Water," she says.
Melissa is also looking forward to teaching music through several music workshops and visiting schools.
"My band and I are taking lots of instruments down there, including guitars, drums, basses and strings, and leaving them at these schools so young Cuban children have a chance to nurture their interest in music," says Melissa.
She will also meet with LGBTQI Cubans during her trip.
"I imagine that this community may be struggling to be accepted," says Melissa, who is openly lesbian. She understands the LGBTQI Cuban community has a strong presence just like in other country. "When I meet with people who are part of this community, I'll answer any questions they have and also encourage them to be comfortable in their own skin."
The trip is planned in partnership with Melissa and Music & Arts Live, reports the Times.
A similar fan camp in Cuba will be hosted by musician Rufus Wainwright in September.
Singer-songwriter Ben Folds hosted the first Cuba fan camp last month.
Book your next trip to Cuba with Girls That Roam Travel. Contact Heather Cassell at Girls That Roam Travel at 415-517-7239 or at .
To contract an original article, purchase reprints or become a media partner, contact .
Comments
comments