LPAC Hosts Night of Celebrities and Comedy at Levity & Justice For All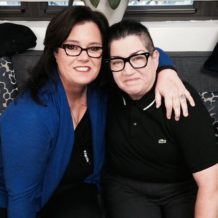 The Political Satire Will Be Burning at LPAC's First-Ever Celebrity Comedian Gala Jammed Packed with the Today's Hottest Lesbian Comics
by Heather Cassell
Tonight a powerhouse of lesbian entertainers are coming out and they are packing a powerful political punch to this election season at LPAC's first-ever celebrity comedian gala benefit, Levity & Justice For All, in New York.
Rosie O'Donnell, Lea DeLaria, Kate Clinton, and Cameron Esposito and friends tennis legend Billie Jean King and special musical guest BETTY are headlining the special event, June 16.
Kate will host the evening that will also include Judy Gold, Rhea Butcher, Marsha Warfield, Karen Williams, Marga Gomez, and Jes Tom to poke jabs at the candidates and provide their two cents about where this election season has been and is heading.
"Anytime that you get 1,500 queer women and lesbians in a room laughing and talking politics good things are going to happen," says Beth Shipp, executive director of LPAC, who is excited about tonight's show.
However, even Beth is pleasantly surprised and thrilled by this evening's lineup of the cream of the crop lesbian comedians and BETTY.
"I'm trying really hard not to fan girl about [it], but it's really hard when they post something on Facebook and say that they are going to be performing at Levity & Justice. I kind of just get like little butterflies in the stomach and get very excited about how awesome this show is going to be," Beth says.
She sees the show as something that is "going to pull together the politics and humor that is evident in our community on a daily basis and make this into something that is really kind of the pinnacle for 2016 as far as political activism in a new and different way."
These women have a lot to get off of their chests about the United State's political affairs and they are doing it to raise money for LPAC, the nation's only lesbian super Political Action Committee, and it's being hosted in the perfect venue at New York's The Town Hall.
Kate points out that historically The Town Hall has been a progressive space for nearly a century where many of the early suffragettes spoke.
"It's got a great history and great bones," says Kate, who is excited to perform with her comedic gal pals tonight.
LPAC is hoping to raise half a million from tonight's event to help continue LPAC's political education campaigns and organizing and mobilizing efforts to support LPAC endorsed candidates.
Tickets are still available for tonight's gala.
It won't be all satirical jabs at presumptive Republican presidential candidate Donald Trump in his own backyard. The night will also celebrate queer women and inspire them to get involved with the 2016 election, says Beth.
The event kicks off New York's Pride Week and happens shortly prior to the 2016 national political conventions in July, with the Democratic Political Convention in Philadelphia, Pennsylvania, July 25 – 28, and the Republican Political Convention in Cleveland, Ohio, July 18 – 21.
Political Hunger
"I've found over this last year that lesbian and queer women are really looking for a place to talk and be about politics that is their own right," says Beth. "We are making sure that LPAC gives them the vehicle to do that."
Beth points out that queer women have always been on the political frontlines for social justice movements, but have also been "kicked to the curb" when it comes to recognizing their political contributions.
"We've always been involved in politics. We've always been on the frontline," she points to the AIDS epidemic and reproductive rights movement as examples. "When it's been social justice fights, there have been lesbians on the frontline forever. Yet, when you look at the history of those movements we are often forgotten and not counted in those victories."
Due to being invisibilized by some leaders of other political and social justice movements and the fact that decisions about women's lives were being made by "a bunch of old white guys," LPAC was formed, says Beth.
Kate agrees pointing to lesbian fads that have come and gone such as "lesbian chic" and "celesbians."
"I feel like there has been an invisiblizing of lesbians," she says. "We need to claim our space."
I'm hoping that yes that it's going to be very successful and that we can start using this as a springboard to build community in other places across the country as well.
"The whole reason that LPAC was founded frankly there were a group of lesbian feminists who were tired of walking into rooms where decisions were being made about our bodies, our lives, our destiny … by a bunch of old white guys."
So, LPAC is putting queer women's dollars into progressive campaigns with four major goals: ensure Hillary wins the White House, flip the Senate to support Hillary once she's in office, support lesbian, gay, bisexual transgender and queer candidates running in local to national offices, and continue to building a queer women's political community.
LPAC was the first LGBTQ group to endorse Hillary Clinton in April 2015.
"We have some really amazing candidates that are running from the State House to the White House," says Beth, who believes that LPAC sets pretty high standards for candidates to meet to get the group's endorsement.
"We hold our candidates to a pretty high standard," she says. "They don't need to just vote the right way, they need to be outspoken champions on the issues that matter to LPAC and our members, which are obviously LGBT rights, but also women's equality and social justice."
LPAC has raised $2.1 million dollars from more than 1,500 donors across 48 states and the District of Columbia. LPAC has invested $900,000 directly in more than 40 races and independent expenditure campaigns throughout the country, and used the balance of its funds to organize, convene, network and build the political power of LGBTQ women.
Need for Community
Levity & Justice For All is only one piece of how LPAC is building a queer women's political community, says Beth. Throughout this election season house parties will be hosted in various cities across the country to bring politically minded queer women together, says Beth.
Community is what is needed, especially following the worst gun massacre in U.S. history at a gay nightclub Pulse in Orlando, Florida that left 49 dead and 53 injured on June 11.
"We feel it is important to stand with Orlando, and with our LGBTQ family across America," says Beth in a statement June 13. "We will show that love is more powerful than hate; we will demonstrate that laughter can fight back against bigotry. Our community will come together in the shadow of pain, as we have been forced to do before, in order to celebrate who we are and who we love."
Kate agrees.
"I think the whole world hates a happy woman and two of them together is really annoying to them," she says. "So, I think that we still have a really great opportunity to be change agents and agitators and I'm all for that."
Beth hopes that Levity & Justice will serve as a springboard to build community across the country.
Alison Bechdel, MacArthur Genius winner and author of Fun Home, designed the original poster for the event.
LPAC's board includes: Billie, a long-time supporter and honorary co-chair of LPAC, alongside benefit chairs Karen Dixon (Washington, DC), Laura Ricketts (Chicago, IL), Joy Tomchin (New York, NY), and Urvashi Vaid (New York, NY) and other board members Ana Cruz (Tampa, Florida), Diane Felicio (Jamaica Plain, Massachusetts), Dawn Laguens (Washington, District of Columbia), Pamela "PJ" Layng (West Palm Beach, Florida), Joyce Newstat (San Francisco, California), Michelle Peak (Dallas, Texas), Alix Ritchie (Fort Lauderdale, Florida), and Hilary Rosen (Washington, District of Columbia).
Levity & Justice for All begins at 7:30 p.m., June 16, at The Town Hall, 123 West 43rd Street, New York. Tickets are available for balcony $27 – $62 and orchestra $102. For more information, contact Patricia Evert at .
Book your next trip to New York with Girls That Roam Travel. Contact Heather Cassell at Girls That Roam Travel in association with Travel Advisors of Los Gatos at 415-517-7239 or at .
To contract an original article, purchase reprints or become a media partner, contact .
Comments
comments