Say So Long To the US Visa Passport Inserts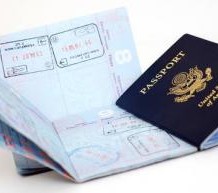 US Does Away With Adding Visa Passport Page Inserts As Of January 2016
Need more visa pages to insert into your passport? Get them before December 31 or you will have to apply for a new passport starting at the beginning of the New Year.
The United States State Department announced that it will no longer add visa pages into US passports beginning January 1, 2016, according to a news release November 19.
US travelers will now be able to choose between a 28-page or a 52-page passport book when applying or renewing at no additional cost.
In the recent past, US passport holders had the option to pay to add 24-page visa inserts to their passports when they filled up with entry or exit visa stamps.
In October 2014, the state department began issuing 52-page passports to all applicants outside the US at no additional charge.
The change is to "enhance the security of the passport and to abide by international passport standards," according to the release.
For more information on how or where to apply, please visit Travel.State.Gov/ApplyEarly or call the National Passport Information Center toll-free at 1-877-487-2778/1-888-874-7793 (TTY/TTD).
To book your next trip abroad, contact Heather Cassell at Girls That Roam Travel at Travel Advisors of Los Gatos at 408-354-6531at or .
To contract an original article, purchase reprints or become a media partner, contact .
Comments
comments