Kellie Hines Talks About Life In Golf And Women On The Green In Hawaii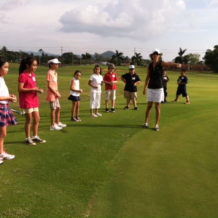 Girls That Roam's Super G Talks To Kellie Hines Former General Manager Of Puakea Golf Course About Being Hawaii's First Woman To Head A Golf Course And Women On The Green From Leisure To Pro In Paradise

by Super G
It was a great day out on the green in Kauai, not because it was a particularly good day to play golf. It was actually a soggy day as it rained and the clouds continued to lift off of the course on Kauai, Hawaii.
Hey, I was golfing in Hawaii and not only that, I was golfing with a lady expert, Kellie Hines, who was general manager of Puakea Golf Course (4150 Nuhou Street, 808-245-8756, PuakeaGolf.com) in Lihue. In November, she moved onto another Lihue golf course to become head golf professional at Hokuala Ocean Course, formerly the Kauai Lagoons Golf Club – Kiele Course, at Timbers Resorts (3351 Ho'Olaulea Way, 808-241-6000, TimbersResorts.com/locations/beach/Hokuala).
However, she's was more than the head honchita at Puakea Golf Course. She pretty much built the golf course starting out with 10 holes in 1997, when she opened the course, and building it up to an 18-hole course by 2003. Following that accomplishment, she took a seven year break in 2004 to spend time with her family, owned a health food store, and then returned to the course in 2011, she says. She then worked with the chef at the Ho'okipa Café at the course to introduce healthier menu options for guests.
Now she's repeating her success crafting a golf course by aiding with the renovations of the Hokuala Ocean Course, formerly known as Kauai Lagoons Golf Club – Kiele Course. The course is one of the professional courses designed by Jack Nicklaus. It closed in April for renovations to its front nine greens and bunkers and is scheduled to reopen November 1, reported The Garden Island.
"It's just such a great job to be outdoors to see great beautiful views all day long, even when it's raining," says Kellie, 54, who has more than 35 years experience in the business of golf. "Again it's just meeting these people. I just had great, great bosses. I think that their passion and the love of the game just kind of rolled over to me. It's such a great job. I love my job."
Golf: A Family Affair
Kellie, a sixth generation native of the Garden Island, started out in the golf business working with her father when he was superintendent at the Kauai Lagoons, when it was the Kauai Surf Golf Course, she tells Girls That Roam.
"My parents were avid — well they were crazy golfers," says Kellie, who didn't really pick up the game until she was 18-years old. "My whole family golfed."
They also instilled in her the "aloha spirit" from an early age.
"I think that's where I got my gift of being full of the aloha and hospitality," says Kellie. "Just meeting these people and they always have friends through life through golf."
She started working for her father at the golf course when she was 16-years old. She stuck by his side for a few years before moving into the pro golf shop. Then her brother, who is a professional golfer, wanted her to tag along on the golf circuit, so she started caddying him. It was then that she started picking up the game as the guys showed her how to play. It was sort of kismet.
She went on from there caddying for Lori Castillo, who is a member of one of Hawaii's golf families, and working the golf circuit at golf courses in Palm Springs and at Pebble Beach.
Now her eldest daughter attended university on a golf scholarship and she's hoping her two other daughters and son will also pick up the clubs.
Paradise's Women On The Green
There weren't very many women playing golf at the time, but she did meet a handful of girls like her who had picked up the game.
"There were these awesome young women that played golf, so of course we all became friends," says Kellie. "It was just a handful of girls that played back then, but they were just fabulous golfers, just fabulous golfers."
Kellie didn't describe her family as a golf family, at least not in the league of the Castillo, the Kops, and the Rego families. They produced golfers.
Brenda Rego won nearly every women's tournament on Oahu before going on to tour with the Ladies Professional Golf Association, reported the Honolulu Advisor. She went onto being an assistant pro after becoming a Professional Golf Association member in 1990. In 2008, she became the only women's head gold professional in Hawaii when she was hired by the Wailea Old Blue Golf Club on Maui.
Brenda was one of five women who are Aloha Section PGA members, which include: Jeri Douglas, Renee Lee, assistant pro at Makena; Lynne Sharman, tournament director of the Hawaii State Junior Golf Association; and Chie Shimada-Hearn. Kellie rounds out the members, although she resigned from the local PGA for a while, but they reinstated her amateur status, she says.
Lori toured on the Ladies Asian Tour and spent three seasons touring on the Ladies European Tour, where in 1984 she was the Wirral Coldy Classic champion, according to her Hawaii Athletics biography. In 1996 she was honored as co-champion of the Ladies Professional Golf Association Big Skins Game in Ka'anapali, Maui, Hawaii. She is a five-time winner of the Hawaii State Open women's golf tournament, two-time winner of the Hawaii State Women's Match Play Championship.
"I caddied for her and she won a golf tournament, so there has been a handful of women, young women in the golf in Hawaii, but not very many on the business side of it when I first started," says Kellie. "I think that there is just a handful of us in the state."
Currently, Lori is the longest tenured women's gold coach at the Rainbow Wahine golf program's history. She recently completed her eight season with the program. Like her father, Ron, who was also a coach in the Rainbow Wahine golf program (1976-80), she's now coaching future women golf champions, such as Ka'ili Britos, Raquel Ek, Eimi Koga, and Izzy Leung.
This year, under her coaching, Eimi won the 2016 Hobble Creek Fall Classic. In recent years Izzy was named University of Hawaii medalist, was the 2014 Oregon State Invitational winner, and earned a pair of second-team all-Big West honors. Ka'ili Britos was named the 2010 WAC Freshman of the Year as well as a four-time WGCA All-American Scholar and Raquel Ek was a two-time all-Big West honorable mention.
However, back in 1996, when Kellie became director of the Puakea Golf Course, she was the only woman director of golf in the state of Hawaii, she believes, but that's changing as more women not only have picked up clubs for leisure, but are also getting serious about the game.
Golfing For Women
The Puakea Golf Course isn't exactly easy. It's hilly, so it helps build endurance, but it's also beautiful. I enjoyed the challenge as Kellie and I played and walked the course.
"It is a challenging golf course for all caliber of golfers," admits Kellie. "It's not a very easy golf course. You are still challenged, but … it's playable. It's still a fun golf course, so you don't feel like you are getting beaten up out there."
The challenge of the course doesn't discourage women golfers. They actually rise to the challenge to raise money for victims of domestic violence with the YWCA Never Forget Sandy G. Golf Tournament at the course. The annual golf tournament now in its eight year continues to grow bigger and bigger with more than 100 participants. Proceeds from the event benefit Kauai's YWCA programs that work to end violence against women and children.
This year's golf tournament begins at 6:30 a.m. with the shot gun starting at 7:30 a.m. on Sunday, August 7 at the Puakea Golf Course.
In mid-2014 women launched the Island Wahine golf club where up to 20 women come out monthly to play at Puakea Golf Course. They even have a dish named after them at the café, the Island Wahine grilled salmon. That group is in addition to a handful of women, about four to eight, who play with Kellie every Wednesday, she says.
The course also offers a Women's Clinic for women to help improve their golf game.
"It's just so much fun with the ladies to get out there. It's a blast! I love it," says Kellie. "We try to get out there as much as we can to go out and play and then we go back into our café [for] food and drinks and just [tell each other stories] and enjoy each other."
That's just the beginning. Kellie has been eyeing bringing a professional women's golf tournament to Kauai.
This year, Kauai is hosting an amateur women's golf tournament, September 10 and 11, at the Wailua Golf Course in Lihue.
"It's easier to get women to come out and play," says Kellie talking about how women are up for getting together to make new friends and play together. "It's about friendships. You get to develop new friendships and having another woman to go out and play golf with."
To book your golf adventure to Kauai, contact Heather Cassell at Girls That Roam Travel at Travel Advisors of Los Gatos at 408-354-6531at .
To contract an original article, purchase reprints or become a media partner, contact .
Comments
comments