Katrina Leung to Lead Expansion of ITB Asia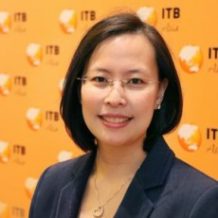 by Heather Cassell
Taking the helm of ITB Asia as the travel shows newly appointed executive director Katrina Leung will be responsible for continuing the organization's growth within Asia and strengthen the travel show's position as a key platform for the Asian travel market as the organization's new leader.
Katrina was appointed to her new role as executive director November 1.
She replaced outgoing head Nino Gruettke immediately after the close of the seventh installment of ITB Asia, a three-day travel show produced by Messe Berlin (Singapore) Pte Ltd and sponsored by the Singapore Exhibition and Convention Bureau, in Singapore.
Katrina will be responsible for spearheading ITB Asia and developing Messe Berlin's regional business in Asia. It's a good time for Katrina to be heading up the organization. This year was a record year for the show that attracted nearly 9,650 attendees from 108 countries to network with 750 exhibitors from 76 countries and 850 buyers from 62 countries. The show experienced a 6% increase from the previous year, according to the October 30 news release.
"We have come a long way since our first show in 2008. This year's attendee numbers are at an all time high and our strongest representation of buyers are from China followed by India, making up around 23% of the total number," says Nino. "We know that our visitors want a one-stop shop which is why we seek to put together Asia's most international travel trade show so the world can meet in three days here."
The seventh installment of ITB Asia came to a close today at the Sands Expo and Convention Center, Marina Bay Sands, Singapore. The event recorded close to 750 exhibitors from 76 countries and 850 buyers from 62 countries. The show also attracted almost 9650 attendees from 108 countries across the three days, a 6% increase over last year.
Katrina's role is to continue that growth and legacy at ITB Asia.
"Katrina's primary role is to continue to grow ITB Asia within this region and strengthen the show's positioning as the key platform to network and gain insights on the Asian travel industry," says Dr. Martin Buck, vice president at Messe Berlin in Singapore.
"She joins us with a wealth of experience within Asia which will help further develop our business and geographic reach," he continues. "With her in depth knowledge of the conference industry, we're confident that she will also further build up this integral part of the show over the next few years."
Katrina comes to ITB Asia after being country managing director of conference organizer at Terrapinn Asia. Prior to that, she was in charge of a broad range of industries including capital markets and finance, biomedical, power and electricity, enterprise technology, transport and logistics and real estate.
Katrina holds a bachelor's degree in Business Management with a minor in International Business from Ateneo de Manila University in the Philippines, where she was a university scholar.
ITB Asia is a partner event of TravelRave 2014, a mega travel and tourism festival week organized by the Singapore Tourism Board.
Book your next adventure with Girls That Roam Travel. Contact Heather Cassell at 415-517-7239 or .
Girls That Roam Travel is in association with Travel Advisors of Los Gatos.
To contract an original article, purchase reprints or become a media partner, contact .
Comments
comments