Tel Aviv's Hottest Women-Owned Restaurant's Chef Noa Levi Crafts The Best Of The Mediterranean And Middle East In The Artsy Florentin Neighborhood
by Heather Cassell
Joz ve Loz Restaurant (Gvulot Street 5, +972 3-560-6385, , jozveloz.com) has been on Girls That Roam's list to dine at since my first visit to Tel Aviv.
Unfortunately, my only free night was on Shabbat, so the restaurant was closed. The good news is, six years later I returned to Tel Aviv and this time I wasn't going to leave without dining at this hot spot.
Hot, Joz ve Loz is, but I wouldn't expect anything less from the women behind this destination restaurant, especially in its new location. The restaurant moved to the Florentin, an artsy and edgy emerging neighborhood in the southern part of Tel Aviv, March 2015.
It is well worth the adventure journeying away from the action of Tel Aviv's fashionable northern neighborhoods to dine at Joz ve Loz.
For more than 15 years, Joz ve Loz has been the frequent site of literary readings, live music, and other artists and intellectuals as well as good drinks and food whipped up for the last six years by the restaurant's Chef Noa Levi.
It's a reputation that the restaurateurs, radio broadcaster Orit Revivo and filmmaker Alma Fogiel, retained from Jerusalem with their first restaurant, Marakkiya (translated The Soup Joint). Marakkiya was also a gathering place for intellectuals and artists before the restauranteurs moved to Tel Aviv in 2004, according to the restaurant's Facebook page.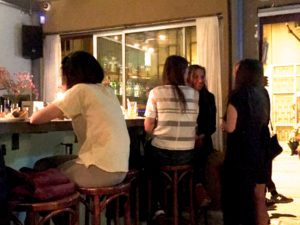 Fans have no trouble finding the bohemian restaurant located in a narrow dead-end ally in what Girls That Roam's cab driver suggested wasn't the best neighborhood. The buildings around the restaurant are questionable, but stepping through the threshold of Joz ve Loz is like stepping into another world.
We were instantly transported to a lively otherworldly charming and eclectic environment filled with people who were fiercely alive and enjoying life while sitting around tables that upon first glance might seem to be mismatched, but were decoratively pleasing to the eye.
Guests are greeted by the bar when they first step through the door. Waiters glide between the narrow pathways between round, square, and rectangular tables that are tucked into its own spot creating a sanctuary for diners between pillars, especially once the sun goes down, the main dining room are dimly lit, and the restaurant fills up.
At the back of the restaurant, there's a charming garden with outdoor seating for dining under the stars.
On the second floor, there is an event room and just above that on another floor a resident artist has her studio, Noa tells us.
Super G and I arrived at the beginning of the evening when the kitchen and the restaurant was calmly preparing for the night. Soon we were examining the menu and so charmed by Noa, that we opened our table to welcome whatever she brought to our table. Twilight soon turned into night in Tel Aviv as we continued to drink and dine on the delightful and delicious small dishes Noa continued to bring to our table. We noticed as it got darker how quickly the restaurant came to life. Friends greeted friends at the bar, girlfriends kissed and snuggled over their meals at tables in the yard, and diners inside simply enjoyed a relaxing meal as the music softly played overhead.
Joz ve Loz is instantly charming and the fragrance wafting from Noa's kitchen is enchanting.
Girls That Roam highly recommends making a reservation.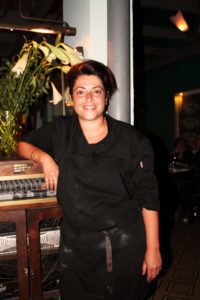 Simmering Passion
Noa's life in restaurants started when she was 12-years old waitressing and bartending. It was the closest she could get to the kitchen. Noa's Moroccan mother was a phenomenal cook, but her mother wouldn't allow Noa into the mysteries of her domain unless it was to assist with preparation of chilis and small things that her mother didn't want to do, she says.
It wasn't until the 35-year old chef moved to northern Israel that she began to discover her passion for creating dishes by cooking for herself.
"I started cooking for myself and I loved it," says Noa. "I just loved it, the taste the textures, and the combinations … I loved everything about it. It excited me very much."
She took that excitement for food to her friends, experimenting and serving them up to her happy taste testers.
"I started getting a lot of compliments," she says, but she knew something was missing. There were certain things that she didn't know how to do technically that challenged her in the kitchen.
"After a few years I had, not a crisis, but an emptiness," she says about feeling lost during that period-of-time in her life. "I didn't know what to do I was very, very lost."
Two of her friends suggested that she go to professional cooking school.
"Two friends of mine told me, 'You really like to cook. Why not just go to school and learn how to do it, like in a restaurant,'" she says.
Noa took them up on their idea. She returned home to Eilat, a southeast city in Israel where she grew up with her older brother, and enrolled in a basic cooking school. She was around 26-years old at the time, she says, somewhat late to start on a journey to become a chef, but it was exactly the right time for her.
She graduated and started working at a local restaurant.
She also reunited with a high school friend during that time. The two women fell in love and traveled the world before settling in Tel Aviv.
That's when she landed at lesbian-owned Joz ve Loz.
"I cannot see myself working in any other restaurant," says Noa, a bisexual woman. "This is my home, my family."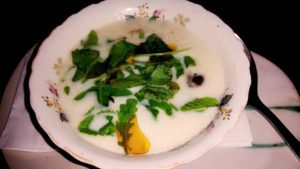 Tastes of The Mediterranean
Noa's menu mimics a tasting menu rather than offering main courses (although she does offer main courses if diners want). The menu also isn't the same from day-to-day.
"It's very eclectic … but in a good way I think," she says. "We love every dish and stand behind it. I would like people to just come and try everything."
Noa takes inspiration from her travels around the world – Australia, Croatia, France, India, Italy, Thailand and many more – and what's available at the market to create her mouth-watering dishes, she says.
However, the city that holds the path to her stomach and those of her guests is Istanbul, Turkey.
"I was just blown away. My head exploded for sure," says Noa her eyes widening as she got excited talking about the food in Istanbul. "They take their food really seriously. Turkish food is so rich. You have so many flavors."
She also realized something else during her trip five years ago.
"I realized I was cooking Turkish food and I didn't even know that," she says about the experience that invigorated her even more when she returned to Joz ve Loz's kitchen. "They have lots of technique and it's so fresh and it's me. That's what I really love to do."
Book your next adventure to Tel Aviv with Girls That Roam Travel. Contact Heather Cassell at Girls That Roam Travel at 415-517-7239 or at .
To contract an original article, purchase reprints or become a media partner, contact .
Comments
comments