by Super G
It's simply charming. That was the first thought that flashed through my mind when Girls That Roam walked up to Jake's Palm Springs (664 North Palm Canyon Drive; 760-327-4400; ; JakesPalmSprings.com) in Palm Springs, California, for lunch.
People were enjoying meals outside on the patio as well as inside in the open courtyard and in the small indoor seating area. The restaurant was pretty full on this typically warm and sunny Palm Springs spring day. In spite of it being crowded, we were seated rather quickly at a table inside near the window looking out onto the street patio and the shops along the Uptown Design District.
It was very clear to us that Jake's was the place to be. Jake's is a hip American bistro that serves up and caters delicious all American fair on the healthier side of dining for brunch, lunch and dinner.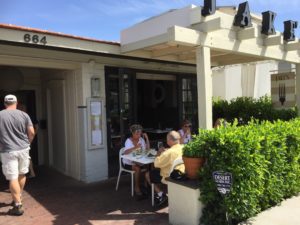 While the space was intimate, Girls That Roam publishers Heather Cassell and Super G were comfortable as we dined on our fish tacos and the Monte Cubano Sandwich. Girls That Roam's editor Heather ordered the Fish Tacos, which two small soft flour tortillas came in fully stuffed with lightly breaded sautéed Mahi Mahi with avocado, shredded green cabbage, fresh pico de gallo and chipotle sauce and a side green salad. Chief Technology Officer Super G, ordered the Monte Cubano Sandwich, without being topped with the egg. This sandwich is a poultry lovers delight filled with fresh roasted turkey and black forest ham accompanied by pickles, Dijon garlic aioli and Swiss cheese on egg dipped brioche bread that is lightly sautéed.
Both dishes were a messy delight. The fish tacos were prefect with each bite filled with spicy flavor from the chipotle sauce with a nice crunch provided by the lightly breaded sautéed Mahi Mahi and shredded green cabbage. It was a refreshing dish that was perfectly filling, but not overfilling. The Monte Cubano Sandwich was savory and rich that begged for each chewing moment to pause and enjoy the flavors.
THE DIRTY DISH
Jake's Palm Springs, 664 N Palm Canyon Dr, Palm Springs, CA 92262. 760-327-4400. . JakesPalmSprings.com.

TYPE OF RESTAURANT: American Bistro, California Cuisine

RATING: 3 = Aqua
(0 inedible – 5 simply scrumptious)
AMBIANCE: Casual and fun with a lot of different atmospheres for every type of diner from courtyard to street side patio to indoor dining.
SCENE: This is a fun and casual place to eat serving up chef-forward food that is purely Californian cuisine.
SERVICE: You couldn't ask for more helpful and delightful service in an intimate atmosphere that could pose challenges at times. The hostess and servers were friendly and always had smiles on their faces.

NOISE LEVEL: In spite of the cozy space, the noise level was normal. Conversations were going on without disrupting their neighbors as diners enjoyed the fresh food.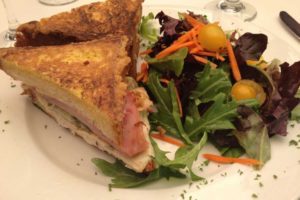 RECOMMENDED DISHES: The Fish Taco's were the first to capture Heather's fancy, but even I, Super G, had a difficult time choosing what to have from this eclectic mouthwatering menu of casual California cuisine. She finally settled on the Monte Cubano Sandwich.
SIP: The wine list offers a taste of the world from classic French and Italian wines to new world creations from New Zealand and Oregon and of course a wide selection of high quality wines from Napa, Sonoma and the California Central Coast featuring Cabernets, Chardonnays, Merlots, Pinot Noirs, Sauvignons, Zinfandels, and more as well as a select cocktail list.
CHECK, PLEASE: $$ = $10 – $20
(price of average dinner/lunch/breakfast/brunch bill for an individual dinner)

THE EAT: Delicious Fish Tacos that were refreshing and hit the spot perfectly and the Monte Cubano Sandwich.

WORTH THE NIGHT OUT?: This was delicious!
Head to sun and fun in Palm Springs, contact Heather Cassell at Girls That Roam Travel at Travel Advisors of Los Gatos at 408-354-6531at .
To contract an original article, purchase reprints or become a media partner, contact .
Comments
comments