by
Food bloggers and foodies followed Bravo TV's Top Chef alum out lesbian chef Preeti Mistry like she was the ungettable catch for years. They followed her pop up restaurant that showed up in San Francisco neighborhoods like SoMa and the Mission and checked in regularly about the restaurant's official opening.
To their delight, they got their wish March 1, when Juhu Beach Club (5179 Telegraph Ave., 510-652-7350, , JuhuBeachClub.com) opened in Oakland's Temescal, a hip and trendy boho neighborhood. Since opening it's been a hit as the neighborhood's only Indian restaurant and participating in new food tours featuring the culinary neighborhood's delights.
Juhu Beach Club, named after a famed Mumbai beach, was a long time in coming for Preeti. The 36-year-old's first restaurant venture with her family and partner of nearly 18 years Ann Nadeau, 39, experienced some fits and starts after a successful run as a pop up restaurant around San Francisco. But finding a permanent home for Preeti's culinary vision of her take on Indian street food was a challenge.
Similar to Preeti's journey to opening her first brick and mortar restaurant, Juhu Beach Club is not your traditional chicken tikka masala or kati roll Indian restaurant.
Ann, who co-owns Juhu Beach Club and is the global managing director at the Great Place to Work Institute, created the interior design while Preeti fashioned the menu.
"There is nothing that we are trying to do in any traditional way," says Preeti. "The menu items are my creations, my inspiration."
The pink wallpaper with monkeys hark back to Mumbai, India where her family originated and the photographs of her parents journey artfully placed on the walls create a living room effect that is cheerful, warm and friendly.
The color pink is a popular color in India, enjoyed by both men and women, but in Juhu Beach Club it takes on a queer role representing both Indian tastes and Western impressions of the color representing the feminine.
"I'm kind of excited, the fact that it's seen as feminine," says Preeti, about the breakaway from the traditional dark wood and leather that dominates restaurant interiors. "Yes, its fucking pink. Deal with that."
Just as much as the walls tell the story of Preeti's family migration from Mumbai to Trinidad to London to Pittsburg and Ohio and finally to California, so does the menu.
The menu includes Desi Jacks, a sweet, salty, spicy popcorn with peanuts and pistachios, as one of the appetizers; Curryleaf Coriander Shrimp as a main course, and Masala Fries is one of the popular side dishes. The food is affordable starting at $4 for an appetizer up to $15 for an entrée.
"It is an evolution and it is Indian. There is nothing that is undeniably Indian about the food and the flavors," says Preeti. "It's an evolution of something and it speaks to the people who are influenced by other things. People are influenced by things in India and they create new dishes and that's authentic and so is this."
"It's my authentic expression and it's also the experience of a lot of young people who are second generation immigrants," she continues.
Preeti's focus is on creating a value driven "amazing and awesome" restaurant where "people have a good time and the food is great and creative," she says, about Juhu Beach Club, which is catching on with Oakland residents after the first wave of excitement around its opening.
She also opens Juhu Beach Club to local food tasting tours, such as Bites on Broadway and Edible Excursions' Temescal Tastes, where locals and visitors to Oakland sample her Indian street food offerings on select Fridays (Bites Off Broadway) and every Sunday (Edible Excursions).
Simmering to perfection
Born in London and raised on the East Coast, Preeti landed in San Francisco in 1996 at the tender age of 19. It was in the City by the Bay where she honed her culinary skills learned at Le Cordon Bleu in London working in the kitchens of the De Young Museum and Google as a part of the Bon Appetite Management Company. That experience landed her on Top Chef in 2006.
She was one of the first chefs of the Season 6 to be given the chopping knife, but she charged on after her elimination from the show with testing Juhu Beach Club as a pop up restaurant around San Francisco.
A former die-hard San Franciscan, she originally planned on bringing the club full-time to the city, but things weren't working out and Oakland continued to beckon. She finally, threw in the kitchen towel after a frustrating two-year process, amicably she parted ways with her then business partner and answered the call from Oaktown, local's affectionate nickname for the port town.
By that time, Ann and she had decamped from their trendy loft in the city to a four-bedroom craftsman house in the Temescal neighborhood in Oakland. It was an opportunity the couple couldn't pass up, she says about gaining their community back and having more space. Many of their friends had made the move across the bay a long time ago, she says, recalling comments from friends, "It's about damn time," and "Like duh."
"I didn't lose the city. I'm in the city all of the time. I gained Oakland and Berkeley," and the good weather and ethnic and economic diversity, she says about the move to Oakland in 2011.
"Our entire community is here," she says, asking, "Why in the hell did we wait so long?"
"Especially, being a queer woman of color I feel like even more so my community is here," continues Preeti.
Aside from the good weather, Oakland is brimming with women chefs and restaurateurs and people are starting to take notice.
Recently, during an interview about women in the culinary industry in Oakland, Preeti pointed out that half of the women on the reporter's list were women of color.
While she experienced some challenges with opening up Juhu Beach Club in Oakland, it was nowhere near the obstacles faced in San Francisco. This time she had her heart set on the Uptown area of Oakland that has emerged as a queer hot spot. But hard lessons learned during her San Francisco venture helped her to let that wish go and open her eyes to the opportunities presented to her when everything fell into place when the former SR24 space became an option. It was move-in ready with just a few décor changes and a swap out of one or two new machines and Juhu Beach Club was ready for business, she says.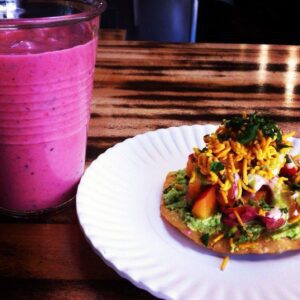 Oakland rising
Now she feels fortunate that her partner and she moved when they did as Oakland is experiencing a new Renaissance.
Talking with her servers she said that some of them are trying to escape the city to move to Oakland. She also has observed that many young people are bypassing San Francisco and moving directly to Oakland.
Young people are saying, "I'm trying to move to Oakland. That's where everything is happening that's where all of the cool people are," she says recalling a conversation with one of her servers.
It's a shift from her generation where San Francisco, like Chicago, Los Angeles and New York, were the destinations to establish yourself, queer and career minded young singles.
It's a trend that appears to be gaining traction, especially with cost of living and weather being better in Oakland with easy access to San Francisco with seven BART stops. People are discovering they can have it all in Oakland.
Preeti's only lament is that San Francisco still has a plethora of culinary choices that Oakland hasn't obtained yet. She only hopes more good restaurants open in Oakland.
Getting to Juhu Beach Club
Public Transit/Bike /Foot:
Get on BART heading toward Pittsburg / Bay Point or Richmond and get off at MacArthur Street Station. Exit the BART station and walk north under the Grove Shafter Freeway toward 40th Street. Depending on how fast you walk it could take 15 minutes or more to get to Juhu Beach Club on foot. Make a right on 40th Street heading east toward Telegraph Avenue. Make a left on Telegraph Avenue and walk about nearly 12 blocks. When you reach the split at Shattuck and Telegraph Avenues, stay on Telegraph. Juhu Beach Club is in a small shopping center on the left hand side of Telegraph between 51st and 52nd Streets.
Car:
San Francisco:
Take I-80 across the Bay Bridge to I-580 E toward California 24/Hayward/Stockton. Keep going until you see the California 24 exit. Take the California 24 E exit toward Berkeley/Walnut Creek. Stay toward the right at the fork and follow the signs to 51stt Street. Turn right on 52nd Street toward Telegraph Avenue. Turn left on Telegraph Avenue and find parking either in the small strip mall parking lot or on the street.
South East Bay:
Take I-880 N toward Oakland/San Jose. Keep right and continue onto I-980 E toward California 24/Walnut Creek. Take the Claremont Avenue exit. Turn right on Claremont Avenue. Turn left onto Telegraph Avenue and find parking either in the small strip mall parking lot or on the street.
North East Bay:
Take California 24 W to the Telegraph Avenue exit toward I-580/West Grand Avenue. Turn left onto Telegraph Avenue and find parking either in the small strip mall parking lot or on the street.
For more information, visit www.juhubeachclub.com.
A version of this story appeared in the Bay Area Reporter.
Comments
comments