Jewish Descendants Have A Birthright Trip To Israel To Get Intouch With Their Heritage, Why Not Black People From The African Diaspora?
by Heather Cassell
An idea brought two women together for one cause: Empower blacks by sending them on their own birthright to Africa.
Chicago artist Ashley Johnson, 33, and former Goldman Sachs Associate Walla Elsheikh, 38, were inspired to launch Birthright Africa by their Jewish friends who raved about their birthright trips to Israel, they told the New Yorker.
Both women wondered why something like that didn't exist for blacks in the African diaspora.
Walla, who grew up in Uganda, Sudan, and Sweden because her father had been a Sudanese diplomat, registered the domain Birthright Africa in 2005. However, the idea didn't take shape for another decade until Ashley contacted her through Facebook.
Curious if a birthright trip existed for black Americans Ashley Googled "birthright" and "Africa" and found the domain registration for Birthright Africa.
The two women began corresponding with each other discussing the idea of a birthright trip for black descendants from Africa and traveled to Ghana in October 2016.
"Ghana is really seen as the gateway to Africa," said Walla.
Sankofa, a Ghanaian principle that touts, "In order to know where you are going, you have to know where you're from," is the foundation of Birthright Africa.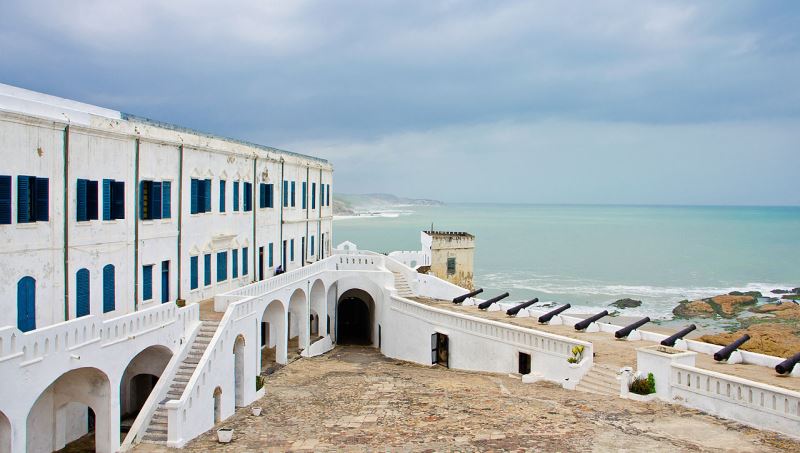 During their trip, they met with local entrepreneurs and visited historical sites, such as the notorious Cape Coast Castle, which served as the center of the transatlantic slave trade, with its "door of no return," to W.E.B. Du Bois' last home in Accra, Ghana's capital city.
Ashley, who co-founded and is now the program director of the organization, moved to Langma, Ghana, last year, to oversee the ground operations.
Walla, a co-founder, remained in New York where she's been fundraising and identifying organizations, such as Black Male Initiative, to select candidates and tap into its network to fundraise support Birthright Africa's trips.
Black Male Initiative is a program of City University that supports accesses to higher education for students from underrepresented communities.
The fundraising event brought out a popular TV psychologist Jeff Gardere, better known as Dr. Jeff, who emceed the event, and Democrat New York District 79 Assemblyman Michael Blake.
The program, which was introduced to students during a fundraising gala recently, garnered some interest from the prospective applicants.
"I have a potential internship with Deloitte this summer," said Jaleel Thomas, a young man from Chicago. "But if you say, 'Hey, Jaleel, I want you here in Ghana for ten days,' I will make it happen."
Devon Simmons also expressed interest.
He is the first graduate of CUNY's Prison-to-College Pipeline and is currently a criminal-justice student at John Jay.
Devon expressed interest in the program's international opportunities, he told the magazine.
"I just came back from study abroad in Cape Town, doing some research in regards to incarceration over there," he said. "Next stop is Cuba, this summer."
Walla's other goal is to demystify misperceptions of Africa that are prevalent in American's mind's eye of the continent as so eloquently (not) stated by President Donald Trump who recently referred to Haiti and some African nations as "shithole" countries.
"Some of the scholars who made the trip were so into this myth" fueled by the negative image of Africa presented to Americans. Making the trip "changed their life trajectory," Walla told the magazine.
Ashley agreed, adding, "So it's that much more relevant to dispel. Particularly for people of African descent. Because it really hits your soul," she said.
"We are not pushing a political agenda. But it's inherently political to educate and empower black people," she continued.
The organization, to date, has secured funding for a trip for seven young black Americans to venture out on the first free 10-day birthright trip to Africa, reported the magazine. All potential participants, 18- to 30-years old, are enrolled in the BMI program and are eligible to apply to Birthright Africa.
Prior to departing on their birthright to Africa, participants in the program will journey to downtown Manhattan to visit the African Burial Ground National Monument and Washington, DC to visit the National Museum of African American History and Culture.
The dates for the first trip haven't been announced as of press time.
Book your next trip to Africa with Girls That Roam Travel. Contact Heather Cassell at Girls That Roam Travel at 415-517-7239 or at .
To contract an original article, purchase reprints or become a media partner, contact .
Comments
comments