Hotel Zeppelin Re-Envisions San Francisco's Storied Past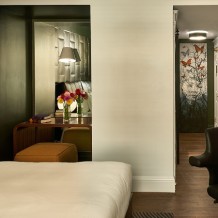 The Hotel Celebrates Beatniks To The Age of Aquarius' Flower Children In A Stylish New Boutique Hotel
by Heather Cassell
Inspired by San Francisco's counterculture reputation, visitors can get an updated taste of the City by the Bay's storied past of beatniks, flower children, radicals and of course sex, drugs, and rock and roll in the chic new Hotel Zeppelin (545 Post Street; 415-563-0303; ; ViceroyHotelsAndResorts.com/en/Zeppelin) that opened March 4.
Located in San Francisco's Theater District sandwiched between the Tenderloin and Union Square, Dawson Design Associates transformed the former Prescott Hotel's 196 guest rooms, including 20 suites, into a hipster's celebration of the city's revolutionary past.
Hotel Zeppelin stylistically pays homage to the city's gritty past re-envisioning it into boho chic for the 21st century to inspire future "revolutionaries, dreamers and visionaries, guests who are rule-breakers with a little spark of mischief, who aren't satisfied with what is, but yearn for what could be," with according to Friday's news release from Pebblebrook Hotel Trust and the Viceroy Hotel Group announcing the hotel's opening.
"With careful consideration poured into each and every detail, Hotel Zeppelin is the ultimate celebration of San Francisco's long and storied counter-culture tradition," says Antonio Flores, general manager of Hotel Zeppelin, in the release. "Our provocative design and rebellious nature promotes the non-conformist experience San Francisco has been patiently waiting for."
Guests' experience begins sipping coffee, wine or craft beer at the street level café, bar and lounge and munching on small bites created by "some of the city's best artisans," according to the release. The walls literally speak with the past spontaneously coming to life through "unexpected design accents" such as utilizing back light exposed poetry. The subtle textured hints expand upon the hotel's "playfully psychedelic heartbeat" of a bygone era that harks back in time before Amazon's Kindle and Barnes and Noble's massive bookstores. A time when the community gathered in community bookstores and cafes to listen to the day's revolutionary thought leaders – activists, beatniks, feminists, folk singers, writer's  poets to literary giants.
Community is brought back through the game room, which has become popular among boutique hotels and Starwood's version, Aloft, for the millennial travelers but upgraded for the tech crowd. Hotel Zeppelin's gameroom, Peace, provides guests an "edgy" and "energetic" retreat paying homage to superheroes with skeeball, shuffleboard, quick-shot basketball wall, and an oversized electronic Bingo board that is synced with a dynamic sound system and close to communal areas that double as event and group meeting spaces.
San Francisco brands such as Sightglass Coffee, Dynamo Donuts, Martone Cycling, custom staff jewelry by Parme Marin, staff outfitting by Huf & STRKE MVMNT and more have partnered with Hotel Zeppelin to bring a taste of today's San Francisco to guests.
Guests will know what is going on around town with Hotel Zeppelin's partner Scout, an app that allows guests to connect with the hotel's concierge from anywhere at any time via the app or SMS text.
The hotel is the fourth partnership between Pebblebrook Hotel Trust and the Viceroy Hotel Group, which operates the new boutique hotel and the team's other San Francisco venture, Hotel Zetta, in the SoMa district.
Get nostalgic about 1960s/1970s San Francisco by booking your stay at Hotel Zeppelin with Heather Cassell at Girls That Roam Travel in association with Travel Advisors of Los Gatos at 408-354-6531 or 415-517-7239 or at .
To contract an original article, purchase reprints or become a media partner, contact .
Comments
comments