Hipster Luxury At The W Bali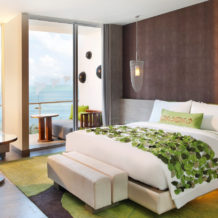 The W Bali Is A Hipster Paradise Capitalizing On The Sea And Its Trendy Location
by Liyana Jamil, GlamourousTraveller.com
The W Hotels and Resorts is renowned the world over for its ultra luxurious feel catering to young and hip travelers attracted to the social scene at the hotel's bars and nightclubs that feature some of the hottest DJs around the world.
The W Bali Seminyak (Jl. Petitenget, Kerobokan, 877-946-8357 or +62 361 3000106, wretreatbali.com) in Seminyak, Bali in Indonesia isn't any different. It's "playful yet composed," the Telegraph recently noted.
The beachfront resort offers guests a variety of areas to get their groove on – including the hotel's Sound Suite, a private recording studio and mixing room decked out with the latest equipment – and to retreat to with its lounges, spa, and or to one of its 229 rooms, suites, and villas.
The Room
The hotel's suites – garden view and ocean view – are a serene equalizer large and luxurious featuring the same the detailed design and amenities for gatherings with friends or to relax in solitude or with your main squeeze.
My room burst with colorful accents popping against the neutral background. I found that the room was large enough that it comfortably fit the bed and the L-shaped sofa that my friends, who were with me on a girlfriend getaway, and I enjoyed lazing around on as we hung out. The room even featured a small balcony.
Everything was well appointed and thought out. The room featured a high-quality Bose sound system, iPod docking station, a large flat-screen TV, mini bar, and ironing facilities to prep our clothes for a day or night out on the town.
The beds were heavenly allowing me to sink right into its embrace.
The bathroom was just as divine with its individual rain shower complete with a ceiling cover that pulled away by remote to expose the moonlit shower with an awesome rain shower jet and a separate full-size bathtub. It was also completely stocked with Bliss products (what a girl loves!). The yummy bubble gum smelling facial wash was the best.
The only downfall to the bathroom is there wasn't a door for privacy. This is especially important since the bathroom is the first thing that greets guests as they enter the room. If only a girl could get a little privacy, especially when traveling with the girls. A sliding wall-length door would be a solution to provide a little separation when a little privacy is needed. As the bathroom is designed right now, your partner or friend has to run through covering their eyes if you or someone else is in the bathroom naked just to open the door.
Dining & Dancing
The W features two restaurants, Starfish Bloo and Fire, which both serve some of the best Sunday brunch buffets on the island in addition to its nightly menus featuring seafood and a the finest meats from around the world, respectively. Each restaurant is an experience from the aesthetics to the flavors, according to professional foodies.
However, the hotel restaurants have competition being near well known restaurants Merah Putih, Sarong, and Potato Head.
Back at the W Bali, there are plenty of options for an after dinner cocktail and to work off that delicious meal at six bars and lounges including 1 Below, Cellar, Chill Bar, Ice Bar, W Lounge, and WooBar.
My friends and I particularly enjoyed WooBar. A smaller scale bar and terrace lounge that faces the sea and flanks the large swimming pool. The furniture is perfectly appointed and was wonderfully comfortable with plush yet cozy round sofas to lean back on and enjoy the plantain crisps that come with anything you drink.
The bar also has a small club setting built into the lower ground that struck a good balance between being intimate and still cool enough to have a good time on a good dance floor.
Beach & Pool Time
Seminyak isn't known for its amazing beaches, which is why choosing a hotel with a good pool area is key. Its an oxymoron, I know, I mean why go all the way to a beach paradise if you're not going to actually enjoy the beach? But that's where the W Bali excels.
Any one of the four pools overlooks the sea with the water lapping at the sand. Lounging around the atmosphere gives you the feeling of being by the sea with its sea breeze, and sound of waves crashing without the sand between your toes.
If you want to feel the sand between your toes, all you have to do is take a brief walk from the pool.
Then again the hotel gives you every reason not to leave the pool. It's perhaps where to be. The sole purpose of the pool is for lounging and decadence. Guests get pampered by pool butlers bringing you whatever you want from drinks to ice-creams. As a guest, you are entitled to a free five to 10 minute massage as a little teaser to the spa offerings the hotel offers.
Or get fashionable. W Bali's terraced swimming pools also double as stages for music and fashion events to entertain you.
The pool area was truly incredible with a shallow pool that is enough to splash around in with your friends and the pool toys – floating cushions and bean bags – that you can jump onto and laze around the entire pool.
Fit & Relax
If the dance floor isn't enough to work off indulging during your stay at the W Bali, the hotel offers a 24 hour fitness center that features state-of-the-art equipment. We weren't at the W Bali to work up a sweat, but to produce as little as possible by relaxing.
One of the best ways to relax is at the AWAY Spa or any one of the awesome spas in front of the hotel as well as a large Lulu Yasmine shop that stays open until 10 p.m.
Location
The W Bali is located on the upmarket Seminyak area in the heart of one of Bali's most popular tourist areas.
Location wise, the W Bali is well placed with an easy 15 – 20 minute walk from the hotel entrance to the middle of Seminyak. Some may think it's slightly out of the way, but I personally thought it was a perfect location. The hotel is 164 feet (50 meters) walking distance to well known restaurants and upmarket bars to cheap-and-cheerful snack joints as well as art galleries and market stalls.
The W Bali's trendy location is hard to beat and for surfers it's only a short taxi ride away from Canggu, a surf-haven.
However, while I had a wonderful time and really liked the hotel, I can't exactly agree that the price, $370 a night without an ocean view room, fully compensates for the good time, especially with the competition charging a significant amount less.
Because of that, I can't automatically throw this into my travel arsenal every time I head down to Bali.
THE FLUFF 
W Bali Seminyak, Jl. Petitenget, Kerobokan, Seminyak, Bali, 80361, Indonesia. 877-946-8357 or +62 361 3000106, wretreatbali.com.
RATING: 3 = Aqua
(5 best – 0 worst: color code: 5 = midnight blue; 4 = black; 3 = Aqua; 2 = orange; 1 = gold; and 0 = green)
TYPE OF LODGING: Luxury Resort 
CHECK OUT: $$$$ = Over $350
(Lowest price for a single night in a standard room during high-season) 
SWEET DREAMS: The pools are done right, so much so its one of the hotel's highlights, and the location is a delightful surprise for visitors.
WORTH THE SLEEP?: zz = Had a good time, but I've slept better
(z = Not worth the overnight; zz = Had a good time, but I've slept better; zzz = Like being at home; zzzz = This was divine!)
VIBE: High energy and hip with plenty of bars to match the trendy neighborhood it calls home.
SCENE: Casual and trendy with a youthful vibe.
LOCATION: Perfectly situated in a trendy neighborhood filled with bars, restaurants, art galleries, market stands, and shops as well as an easy cab ride to a local surfer haven.
ROOM: The rooms were awesome with a lot of focus on details while being spacious and comfortable and had a balcony.
BATHROOM: Large with a bathtub and shower, that has a remote that allowed the ceiling cover to pull away for a moonlit shower. Downside, the there isn't much privacy for being a bathroom as it's a main thoroughfare to the front door.
AMENITIES: Private balcony, air conditioning, rainforest shower, 350-count Egyptian cotton linens, Wi-Fi, BOSE sound system, iPod docking station, TV, mini bar, laundry service, pool butlers, and Bliss Products.
To book your stay at The W Bali, contact Heather Cassell at Girls That Roam Travel at 415-517-7239 at .
To contract an original article, purchase reprints or become a media partner, contact .
Comments
comments