Green & Free Is The Fashion During Rainbow Fashion Week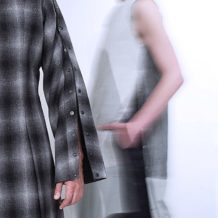 The Third Annual Rainbow Fashion Week Celebrates Style From Your Pooch to Haute Culture During An Eight Day Eco-Friendly Queer Extravaganza
by Heather Cassell
Fashionistas of all stripes will delight this week with a dazzling palette of colors, patterns, prints and styles that will set the tone for the fall looks at the third annual Rainbow Fashion Week, June 17-24.
Upward of more than 25,000 fashion-forward enthusiasts will enjoy designs from celebrity couturiers to emerging designers.
Some of the celebrity designers whose looks will sashay down the runways include Bravo's fashion competition series produced by Rihanna Styled to Rock's Andre Soriano and The Real Housewives of Atlanta Dwight Eubanks. Attendees will also be introduced to emerging designers like Nik Kacy of Nik Kacy Footwear and Finn Leong, among many others during the weeklong style event themed, "Art of Fashion in Not Your Average Fashion Shows."
Of course E. Jaguard "Jag" Beckford, founder and producer of Rainbow Fashion Week will also show off her latest designs from her own label, JagandCo, which specializes in "male identified" clothing for women.
Her show the House of Jag and Co. themed "Transition" will honor up to nine models that transitioned from young studs to transgender men since the first time they walked down the runway showing JagandCo.'s fashions in its first show, says Jag, who works with a team of 14 people to produce the event.
"I'm presenting pretty much my classic paperboy suit that is the staple of what it is that I do and what I do best," says Jag, who will also present some new patterns and styles.
Attendees will enjoy more than 10 different events and runways featuring styles from 44 designers will be on display during the weeklong queer fashion show that is also billed as the first-ever the first-ever carbon neutral fashion week. Some of this year's themed runways include "Rainbow Pets,"  "Rainbow Tots," "Trans''ition," "Urban Knights," "Inside The Celebrity Closet," and events like "Hair du Soleil," which is a showcase of the top 'do designers in town, "Kids Who Tech," and "PhotoViews: Body Art," to name a few.
The eight-day queer fashion show continues to showcase the hottest queer designers, photographers, models, make-up artist, stylist, merchants, retail buyers and is "An Official New York City Pre-Pride Fashion Event" endorsed by Mayor Bill DeBlasio, according to the May 5 news release.
Each show will feature an average of four designers and will show off not only the styles on the runway, but the art and talent of the entire production of the show from the set to the choreography to hair and makeup, according to Jag.
A variety of performers will also provide about 30 minutes of entertainment between the runways, says Jag.
"We are growing each year and that shows that people are starting to pay attention to what it is that we are doing," says Jag.
Girls That Roam sat down to chat with Jag and two designers Los Angeles-based Nik and New York-based Finn about Rainbow Fashion Week and what attendees should expect to see this week, the event's social responsibility vision, and supporting boutique queer designers as they build their brand.
A Fashionable Change
Jag, a Harlem native in New York, was inspired by her mother, who passed away in 2009, to follow her passion for fashion.
"Do what you enjoy, life is kind of short," Jag says her mother told her during her final days. "So, I just took a leap and worked for about a year to get a collection together."
That collection became her clothing line JagandCo., a collection of designs for women who are more gender fluid or more male identified in their style, in 2013.
It was a hit. She received a lot of media attention and her designs made it to the red carpet with director Steven Spielberg, some National Football League players, she says.
When she launched the company she "pretty much retired," from her 15 year stint as an entertainment attorney, she says. She worked with big name music companies like Sony and producing music festivals for Rachelle Farrell, Stan Getz, Stevie Ray Vaughn, Etta James, BB King and even worked with Nancy Wilson, according to her biography at JagandCo.
Rainbow Fashion Week grew out of Jag's experience developing her own label. She realized the challenges of brining a label to market and growing it into a brand. It was then that the former entertainment lawyer decided to create a fashion show that would not only show off designer's latest creations, but provide a platform for the community to become aware of the designers, have a social justice mission, and eventually help designers grow.
Funding the project using her personal capital as well as her experience producing the largest outdoor concert at Independence Square Accra, Ghana and Ghana's very first "official" theatre stage play called "Romantic Nonsense," according to her biography.
Jag had a specific vision for Rainbow Fashion Week that she has resonated with designers, stylists, artists, and anyone who attends or works for the fashion show.
Designer To Designer
Jag's commitment to the designers to the production crew isn't missed on the people who work with her, especially the unknown designers who are trying to get their name out to the public.
"I'm so ecstatic that I literally was in disbelief," says Nik, a 41-year old queer transgender man, from Los Angeles, California, who is grateful for the opportunity.
Rainbow Fashion Week isn't Nik's first fashion show, they have participated in other fashion shows, such as Celebrate Your Body in San Francisco and Superbutch for Toronto Fashion Week. Nik will also present their fall footwear designs at Queer Fashion Week in Oakland, California in September.
A former New Yorker who now calls Los Angeles home, they started designing their men's styled footwear for women a year ago. Nik, who was a producer for print and online videos for advertising for the past 15 years and doesn't have a shoe designing background, says they are "just thrilled to reveal my collection in my city."
They hopes his family, friends, and former classmates come to his show at Rainbow Fashion Week to check out what they have been doing for the past year.
"I have been a shoe lover my whole life, so, I kind of just took what I've always wanted but I could never find in my size and designed all of the things that I've always wanted to wear," Nik says about the shoes that are more classic by design.
The response to Nik's shoe line has been tremendous, they says about the social media posts and emails they receives daily.
"I will get posts [and] … emails [from] people who are just still after wearing it over and over are just so excited that they have a pair of shoes that number one, that they love, number two, that they think is such high quality, and number three that they just feel is comfortable for them."
Nik's design has created shoes that are more unisex in design, but are for women and transgender men.
They plans to reveal their latest formal wear during Rainbow Fashion Week.
Nik is currently working on a more feminine of center footwear line that may or may not be revealed this week.
Finn, 25, who is originally from China, but currently resides in New York, is also thrilled and grateful for the opportunity to show off her sci-fi designs at Rainbow Fashion Week, she says.
"It's a really great opportunity that she's offering to me to show [in] this fashion show," says Finn, says the recent graduate of Pratt Institute who plans on showing 13 to 15 looks from her personal line called Transform. "It's very glamorous."
"All of the designs, the way you look at it, it's really about androgynous," she says, pointing out that when the concept came to her she was thinking about robots, which don't really have a gender assigned to them. "I was thinking about a post-apocalyptic world and how people can use like limited material and wear it in a different kind of way."
"That's really what the collection is about and that has always been my aesthetic as a fashion designer," says the Chinese native, who came to New York to go to school and is now living and working in the Fashion Capital.
Finn has been designing for about five years, she says. During the day she works for another fashion company and by night she continues to design and create her futuristic fashions.
Details Matter
Rainbow Fashion Week is more than a fashion event. It is a movement reaching to the highest standards while protecting the environment and giving back to the fashion community.
"We work with our producers making sure that they go out and find resources and learn as much as they can in how they look to present the social message within the fashion event.
"We feel that there is a greater responsibility in how we produce a fashion show, so Rainbow Fashion Week pays attention to the small details of producing a fashion show," says Jag, explaining that this year's social mission is to be the first-ever carbon-free fashion show.
"Anyone can produce an event. We want to be an organization that is doing more with every event that we produce," says Jag, down to hand selecting the designers to ensure they fit with Rainbow Fashion Week's mission.
That means everything from the materials the designers use in the clothing, stylists use in the makeup and hair products, staging of the show and more needs to reduce the carbon footprint, which is a challenge considering that the textile industry is the second largest polluter of our global water system, said Jag. Furthermore, she works with the designers to help them find the resources to meet both their creative needs and the social mission of the show.
"Yes, it's extremely important to present fashion to our community, that is loved, but why not take advantage for us to do a little bit more?" asks Jag.
Jag's relationship with the designers doesn't end after the stages are dismantled and the designers and models go home. She's also developing a program, which is an offshoot of Rainbow Fashion Week called the Rainbow Fashion Week Dream Academy, to continue working with them on production of their lines and building their brand.
"Designers become a part of our family once they work with us," says Jag. "If they need resources they know they can pick up the phone and call, 'Jag can you recommend so and so?'" says Jag, who says even volunteers are offered something from makeup vouchers to travel stipends so they know they are valued at Rainbow Fashion Week. "We are really one of the fastest growing families. That's how we've been able to grow as fast as we have."
Designers in the Dream Academy will go to La Ceiba, Honduras to a new production facility to being producing their labels in a 20,000 square foot state of the art industrial building, says Jag. The program will also benefit the individuals, mostly women, who will produce the clothing lines by helping them with micro loans or starting cost along with equipment to being their small businesses as seamstresses.
"We actually now make these women small businesses that can become our producers of our products," says Jag, who isn't concerned about the homophobia that has gripped Honduras because of the relationships she's built with the mayor and local community members in the port town. "That's what's in the works for us."
Rainbow Fashion Week is June 17 – 24 at various venues throughout New York. Tickets are $10 – $60 to each show.
Book your next trip to New York with Girls That Roam Travel. Contact Heather Cassell at Girls That Roam Travel in association with Travel Advisors of Los Gatos at 415-517-7239 or at .
To contract an original article, purchase reprints or become a media partner, contact .
Comments
comments