GourmetFest Is A Social Affair To Feast On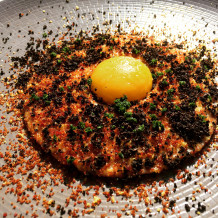 The Central California Coast Is Attempting To Make Its Mark With The Relais & Chateaux GourmetFest
by Heather Cassell
Beat the crowds and delight in a smaller festival that by no means skimps on international fan fare by attending the next GourmetFest in Carmel-by-the-Sea, California.
Girls That Roam had the pleasure of attending the third annual Relais & Chateaux GourmetFest, a foodies' feast that definitely dazzles the taste buds, February 25 – 28. This event should set off fireworks in your mouth with food and wines being prepared and served by Michelin rated chefs and sommeliers from Relais & Chateaux properties around the world and some of the California Central Coast to France's finest wineries.
The festival featured 15 events over a four-day period that range from tastings to sit-down dinners and lunches. Events that excited Girls That Roam about this year's festival were the Wild Mushroom Hunt & Lunch, for fish lovers the Rarities of the Sea & Champagne Taittinger Lunch, The Black Truffle Dinner, and the Taste of the World closing event that featured more than 50 exhibitors.
It all couldn't be set in a more perfect setting than charming Carmel, which treated the more than estimated 600 guests to a warm and sunny long weekend by the California coast.
We were impressed by the Father and Sons Lunch & Mark Lundaard Cooking Demo where the main course was a scrumptious sunchoke puree with black truffle mushrooms topped off by an egg at Seventh & Dolores. The dish like many others at this four-day feast was mind blowing delicious in the most unexpected way.
What we weren't impressed with was the serious lack of female chefs and sommeliers and winery owners present at the GourmetFest, not to mention there were minimal people of color in the culinary and wine industries that represented at the festival and when there were it was men.
Out of all of the events throughout the long weekend the number of women participants could be counted on less than two hands. The most prominent women featured at the event were Stephanie Prida a pastry chef at Manresa who created the desert at the Black Truffle Dinner and Bonnie Graves a sommelier who poured the wines at the Sunday Morning with Pierre-Emmanuel Taittinger event.
Melody Lewis, restaurant manager at Aubergine, was a featured participant at the Legendary Chateau Latour with Jean Garandeau event on Saturday.
Tastes of the World provided more opportunities for women chefs and winemakers to show what they had to offer, but it was still disappointing in its representation of women and once again women of color in the culinary and wine industries were invisible because they weren't there. Women who were featured at the Tastes of the World event included Lauren Ackerman of Ackerman Family Vineyards, Annette Hoff Danzer of Cima Collina Winery, and Dawn Galante of Dawn's Dreamy Winery. Women were also present in the husband and wife teams that were presenting at the event, such as Charles and Rose Ann Finkel of Pike Brewing Company out of Seattle, Washington, Nick Elliott & Hunter Lowder of Holman Ranch Vineyards & Winery and Will's Fargo Restaurant, and Alan & Sandra Silvestri, Silvestri Vineyards.
Other than a few attendees and staff working the event it was very much a whitewash food festival which makes Girls That Roam question, was the Tastes of the World truly "tastes of the world"?
Diversity was lacking overall, which makes Girls That Roam wonder if there is simply a lack of women chefs and sommeliers, not only at Relais & Chateaux, or is it an issue at smaller food festivals overall? Is it harder to find qualified women chefs, cicerone, and sommeliers? The assumption would be that smaller food festivals would be more diverse and a starting point for emerging chefs, women and people of color, but maybe not. This was only one small food festival Girls That Roam has attended. Many of the larger food festivals, we've attended are diverse to a certain degree, especially representing women chefs, cicerone, and sommeliers.
Diversity is our only complaint at GourmetFest, however we aren't inspired to believe this will change anytime in the near future, but we are hopeful. It didn't appear to us that guests were all that serious about food and wine. They enjoyed consuming it, but this festival to them seemed more like a social for the well-to-do of the California Central Coast and visitors to catch up with friends who were there to be seen and enjoy good food. A majority of the time, organizers and featured speakers at the event had a difficult time wrangling guests to listen to speakers informing them of what they were consuming and who prepared the fine foods and wines and one beer from famed Pike Brewing Company at Pike Place Market in Seattle, Washington that they were partaking.
This might bother serious foodies who are interested in the more cerebral aspects of dinning and who holds the chefs and sommeliers in high regard for delivering an exceptional meal and experience. This is especially true since wineries were serving rare wines with the meals that is difficult to access beyond high-end events such as GourmetFest.
In spite of this young festivals flaws it makes our list of events to return to again due to its warm and welcoming atmosphere and presentation of exceptional food and wines at a mixture of events all in one charming location.
Book your trip to Carmel-by-the-Sea, California contact Heather Cassell at Girls That Roam Travel in association with Travel Advisors of Los Gatos at 408-354-6531 or 415-517-7239 or at .
To contract an original article, purchase reprints or become a media partner, contact .
Comments
comments