This Year, Tel Aviv Pride Celebrates Queer Women
by Heather Cassell
This week Tel Aviv is going to be filled with pride as "The City that Never Stops" gets down for Tel Aviv Pride, May 29 – June 4.
The Pride Parade is Saturday, June 3.
This year's event's theme is Women For A Change, celebrating queer women and their role in the lesbian, gay, bisexual and transgender community.
This could be the biggest Tel Aviv Pride yet as the popular event continues to attract people to the dazzling shores of Israel's cosmopolitan moneyed and cultural center.
Last year more than 180,000 people, 30,000 of which were visitors, according to Tel Aviv Pride's website, painted the streets of Tel Aviv with rainbow colors throughout the week leading up to the parade. The parade starts with a gathering at 10 a.m. at Gan Meir Park then gets kicked off with the Dykes on Bikes & Dykes on Tel O'Fun leading the way through the western part of the city at 12 p.m. to the festival at Charles Clore Park, where the Mediterranean Sea is the celebration's backdrop. The party will continue until sunset then the celebration will spread out into the city at a variety of dance parties.
It's definitely an impressive way to celebrate with beach parties to parties that last all night in a country that proudly touts it's the only Middle Eastern nation that is queer-friendly, for better or for worse depending on who you talk to. Tel Aviv Pride, which is in its 19th year, is as much about politics as it is about being one big beach party.
This year is no exception for the most part, but the event is maturing and attempting to be more inclusive offering a variety of events that invite visitors to delve deeper into the culture.
There are parties for sure this year, but there's also art, fashion, food, and much more.
So where are the girls in Tel Aviv during Pride Week? Well, we are glad you asked.
Parties
June 1

Girls
A night only for the girls filled with beautiful women dancing to EMO and electronic techno beats. Entrance is free. 10:30 p.m. at Mini Club (Mi Zoti), Nahalat Binyamin 43.
Girls Night
Wednesday night Ladies Night with a host of different female DJs and artists at Shpagat Bar (Nahalat Binyamin 43). Open as a café at 10 a.m. and transforms into a bar in the evening. Free entrance.
June 2
During the day there are two options to cool off in Tel Aviv, hang out at Hilton Beach (the gay beach), or take a trip out to Shefayim Water Park (Kibbutz Shefayim) for a special Wet Pride Party on June 2. This mixed event is a splash.

At night, Be Proud is where the women will be. The official women's pride party these ladies get down with three blowout parties during Tel Aviv Pride Week starting with the Pre Pride Party, Women's Main Pride Party, and the Pride After Party.
DJ's Ami and Almog Lebar will get the women grooving at the Pre Pride Party at 10 p.m. on June 2 at Lima Lima Bar (Lilienblum 42). DJ's Shaked Dudovich, Keren Dotan, Dalit Rechester and Zohar Gababy will work the women up to a fevered sweat at the Women's Main Pride Party starting at 9 p.m. on June 4 at Clara Club (Dolphinarium). Pride might be over but these ladies will keep partying with DJ's Reut & Natasha and DJ Meytal Shevach at the Pride After Party on June 3 starting at 11:30 p.m. at the Hassa Club (23 Lilenblum Street).
Cover to get into the Pre Pride Party is $10 (40 shekels) before 11 p.m. and $13 (50 shekels) after; Women's Main Pride Party is $18 (70 shekels) before 10:30 p.m., $21 (80 shekels) after; and the Pride After Party is $8 (30 shekels).
Passes are available for the Be Proud Parties: Gold: $23.50 (90 shekels) and the Platinum Pass: $31 (120 shekels). For more information, contact .
Popcorn
Tel Aviv's newest lesbian bar, Amazona Lounge, hosts this weekly pop night with DJ Adi Dgani for the ladies every Wednesday. Get a sugar high and feel good for free at 10 p.m. at Amazona Lounge (Lilienblum 23).
Gum Bisexual Pride
DJs Tami Bibring, Meytal Shevach, Gili Bachar will get the women dancing into the night with a special performance by Live – Liat Atar starting at 10:30 p.m. at Tahat (Ibn Gavirol 106). Cover is $16 (60 shekels). For more information, visit www.facebook.com/events/1061307727277638/.
June 3
LIZI: Main Event
Just another girl party starting at 11 p.m. at ZiZi (7 Karlibach Street). Cover is $13 – $16.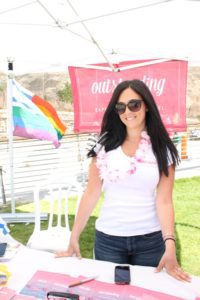 Art & Fashion
May 31 & June 2

Tel-Aviv Fashion and Pride Tour
"Hello, lover," those famous words from Carrie as she pressed herself against a store window admiring one pair of stilettos in the display of shoes in Sex and the City will echo throughout this 2-hour fashion tour led by stylist Nona Chalant. Go on a journey into the studios of local designers for an inside look at Israeli fashion and meet emerging designers to designers who have designed shoes for Lady Gaga. Cost $18 (70 shekels). Tour begins at tour at the famous Evita night club at 5 p.m. on May 31 and 12 p.m. on June 2. To RSVP, visit https://ticks.co.il/event.php?i=ekRsWykdts2.
June 4

Women's Arts Fair at Sarona
Queer women artists will put their work on display at the Women's Arts Fair at Sarona. Sarona is one of Tel Aviv's hottest new neighborhoods that is bustling with boutique stores, artist galleries, quaint cafes, and some of the city's hottest restaurants and bars. The free fair runs from 10 a.m. to 4 p.m.
Food
June 2

Mediterranean Food Parade in Old Jaffa
Chef Eilat will serve up a Mediterranean Food Parade in Old Jaffa along with her collogue a professional Pastry Chef Orr. Chef Eilat, who previously worked with Gordon Ramsay in London, plans to delight guests with an eclectic mix of gourmet Mediterranean fare. Together these women will make you feel like you are attending a royal feast, delicious and festive all at the same time at their table at Jarashi. Guests can find these ladies in the narrow alleys of ancient Jaffa serving up their creations at EatWith.com. The diner and the experience begins at 8 p.m. Cost is $55. To RSVP, visit www.eatwith.com/offering/13556/?eventId=23714.
June 3 and 5

Vegan Tasting Tour
Walk on the vegan side on this vegan tasting tour through Tel Aviv. A collaboration with TLVEG TOUR, the tour will introduce the "vast amount of rich and modern foods" available to vegans and non-vegans and discuss the "vegan way of life." Cost is $39 (150 shekels). The tour begins at 2 p.m. To RSVP, visit https://ticks.co.il/event.php?i=Wb09Lvxni42.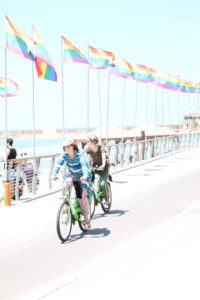 Power Dykes
After the L Word, the days of crunchy granola lesbians is well over for the most part … at least in major metropolitans. As the heart of Israel's commerce and culture, Tel Aviv is among the ranks with beautiful and fashionable women.
May 31
Lesbians Who Tech Conference – Tel Aviv
Techie queer girls will enjoy Tel Aviv's first ever Lesbians Who Tech Conference. The wildly popular conference, which launched in San Francisco and has since continued to travel the world will bring a posy of digital dykes to the Google Campus (Electra Tower, 34th Floor, 98 Yigal Alon Street; Campus.co/Tel-Aviv/en) on May 31, 9:30 a.m. – 5 p.m. For tickets, visit www.facebook.com/events/1422882144393127/.
The best way to hook up with local girls and find out where the ladies are partying during this hot, hot week is to download the Atraf Girls app.
To get your passes for Tel Aviv Pride head to Forever Tel Aviv Pride Week Pass for $195 (750 shekel) at http://gaytelaviv.atraf.com/events/event.aspx?eId=25764.
Book your next trip to Tel Aviv with Girls That Roam Travel. Contact Heather Cassell at Girls That Roam Travel in association with Travel Advisors of Los Gatos at 415-517-7239 or at
To contract an original article, purchase reprints or become a media partner, contact .
Comments
comments