Two Girls' Global Adventure Searching for the "Supergays"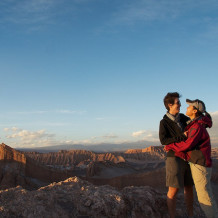 by Heather Cassell
If you had a year to travel around the world, what would you do?
If you are Jennifer "Jenni" Chang and Lisa Dazols, you would set out on a journey around the world to find the "Supergays," what they describe as lesbian, gay, bisexual, and transgender community leaders and individuals doing amazing things to advance LGBT rights, and record their adventures on their blog, Out and Around: Stories From A Not-So-Straight Journey.
One year ago, the San Francisco couple embarked on their global journey armed with no documentary or journalistic background, an inkling of operating a blog, but they had an idea and help from a dedicated group of friends and community, personal financing, and some donations from fundraising.
Aware of their fortune living in San Francisco, affectionately referred to as the "bubble," because they are allowed to live their lives openly as a couple and are protected by laws. The seasoned travelers decided they wanted to document LGBT rights emerging and progressing in developing and some industrial nations. The best way was to interview people they meet during their journey to give them "a voice to connect with others" through their blog, they told Girls That Roam before embarking on their adventure.
They mapped out their journey based on countries where struggles for queer rights have rapidly emerged into movements or progressed into legal protections, destinations on their bucket lists, and countries where they spoke the language fluently. Aside from English, Chang speaks Mandarin and Dazols speaks Spanish.
Their goal was simple.
"We wanted to show role models within the queer community so that people in the states and also people in these countries can kind of get a chance to meet some of the 'Supergays' who are doing extraordinary things," Dazols, 33, said at the couple's home before their worldwide adventure.
The couple trekked through Australia, South Africa, India, Nepal, Argentina, and San Francisco, stopping for about two weeks at each destination interviewing LGBT liberation leaders and movement makers along the way for Out and Around.
A year later the couple has a lot to celebrate.  A short documentary they created premiered at Kashish, Mumbai's international queer film festival and they have a column on the Huffington Post. The women climbed Mount Kilimanjaro in Tanzania and Machu Picchu in Peru, and ventured through the Amazon. The results of their adventure is an amazing story that has gained widespread notice.
Personally, the couple will celebrate their engagement with friends and the community. They got engaged on a beach in Boracay, Philippines during their journey.
They aren't done. The couple premiered a two-minute trailer of a new documentary about their global search for the Supergays at their homecoming celebration June 13 and they continue to update their blog.
"We hope that this film can inspire, educate, and build a community of LGBT people and allies across the world," wrote Lisa in an email after making it down from Machu Picchu in Peru, before venturing into the Amazon last month.
The couple hopes to bring the completed documentary to LGBT churches, film festivals, organizations, and schools.
Born Nomads
World travelers before they met, the two women, who have been together for more than three years, discovered "anytime we travel abroad we are always curious about gay life," says Lisa, a Bay Area native.
Unbeknownst to Lisa, Jenni, a Midwesterner born in Milwaukee and raised in Chicago, had long ago dreamed of taking off on a yearlong worldwide adventure.
In her 20s, while traveling in Asia, Jenni met a honeymooning couple in Thailand who were traveling around the world until they ran out of money, she says. The romantic gallivanting story shot an arrow into Jenni's heart and sparked a dream: to meet the love of her life and travel.
The dream didn't become reality until she met Lisa. Lisa began to catch Jenni's dream after various encounters and experiences during travels prior to their yearlong global journey.
Recalling one conversation she had with a straight Chinese woman during a flight to China in 2010 to meet Jenni, who was waiting for her in Beijing. Lisa says she whipped out a photo of Jenni to show the woman, who had never knowingly met a lesbian, and began talking about their lives together.
The woman "came away from that conversation educated and surprised because she could relate to [me] and that my partner was somewhat similar to her," says Lisa.
While the couple explored the Great Wall of China and the Forbidden City, they also sought out gay bars in Beijing. They found them meeting several Chinese gay men who shared stories about their lives and struggles.
Jenni chimed in with another experience traveling to Taiwan where she met queer Taiwanese that she later wrote about in Out and Around.
"For us, seeking community was one of the most meaningful parts of the trip," says Lisa, who had studied abroad in Italy and Spain prior to working and living in Chile after college.
Venturing Out
Inspired, Jenni, 30, who took a yearlong sabbatical from her position as a senior manager at eBay Motors, and Lisa, created Out and Around.
Any fears the women had about safety traveling as a lesbian couple, their financial futures (Lisa left her job as an HIV social worker at San Francisco General Hospital to embark on the journey), or family issues were outweighed by the excitement of the adventure and, at the time, leaving their ridged structures of American life behind to find themselves, the women say.
They never dreamed where their venture would take them or some of the heartbreak they witnessed.
Among the stories of 50 high profile leaders – haute couture fashion designers, CEOs, Indian princes, elected officials, and Olympic athletes – there are also posts about LGBT activists in Kenya who receive death threats and a couple in Indonesia that faced familial pressures to marry other people, they wrote in an email interview.
Returning home, the couple is grateful to return to the fog and comforts of home after a year of extreme climates and a bare minimum wardrobe. They are also hopeful about the future of LGBT rights around the world.
"This trip has really impressed upon me that one passionate, devoted individual can truly make a world of difference," writes Jenni in an email from the edge of the Amazon. "While we've met 'Supergay' celebrities, we've also interviewed extraordinary LGBT individuals who have quietly made tremendous impact on their community."
The people they met had far less resources and "sacrificed far more to help others," Jenni writes about their travels through the developing world.
Lisa was encouraged by Secretary of State Hillary Clinton, United Nations Secretary-General Ban Ki-moon, President Barack Obama, and other global leaders speaking out on behalf of LGBT human rights this year.
"When world leaders stand up for gay rights, sweeping changes can occur," Lisa says. "We feel very hopeful about the global gay movement."
Check out their adventures at OutandAround.com.
Note: A version of this article appeared in "Out in the World" in the Bay Area Reporter.
Comments
comments