Girl On Girl Kiss & Arrest In Paradise Delivers $80,000 Payout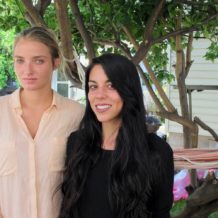 (adsbygoogle = window.adsbygoogle || []).push({
google_ad_client: "ca-pub-7616797031549559",
enable_page_level_ads: true
});
A Trip To Paradise Wasn't Paradise For Courtney Wilson and Taylor Guerrero Last Year
by Heather Cassell
Was this Hawaii 5-0? The danger: Two women holding hands and kissing in a grocery store in Honolulu, Hawaii.
They will receive an $80,000 settlement the federal court in Honolulu announced May 20.
The City Council still needs to approve the settlement. The item is expected to be on the council's agenda at the July 6 meeting, said Nicolette Winter, who is a Honolulu Deputy Corporate Council.
"The Department of the Corporation Counsel believes that the tentative settlement is in the best interests of the city," Corporation Counsel Donna Leong said in a statement.
The Rainbow State wasn't so filled with love and sunshine for Courtney Wilson and Taylor Guerrero during their vacation in March 2015, according to the women who alleged that they were wrongfully arrested for a little public display of affection.
The then-Los Angeles couple left one sun soaked destination to Honolulu, Hawaii on the island of Oahu for a little rest, relaxation and a little bit of surf. The last thing they expected was to allegedly be harassed and arrested by an off-duty Police Officer Bobby Harrison, who was in uniform and also shopping at a Foodland Pupukea on Oahu's North Shore. Bobby felt the couple's displays of affection were offensive, according to media reports.
"We were holding hands and I was kissing her cheek," Taylor tells Gay Star News. "He was like you girls, you girls can't do that in here."
Seeing the two women behaving romantically together he felt they were being "lewd" and "ordered the plaintiffs to stop and 'take it somewhere else,'" according to media reports.
An unidentified witness also felt that the two women were behaving inappropriately in the store's aisles, she tells Hawaii News Now.
"There was French kissing. Their shorts were really short. They were grabbing bottoms and lifting shirts," she says.
However, Courtney denies the allegation.
According to the lawsuit, Courtney and Taylor stopped being affectionate and continued shopping. However, they were right back at canoodling in another aisle and Bobby caught sight of them. He then threatened to have them thrown out of the store.
The harassment didn't stop there. Before Courtney knew it Bobby grabbed her wrist while the couple was in the check-out line. She started to call 911, but the situation quickly escalated. Courtney was allegedly punched in the face by Bobby, who had Taylor in a headlock at one point, reports Gephardt Daily.
However, the witness tells the newspaper that some profanities were exchanged and Courtney was the one who punched Bobby while they were wrestling with each other.
Courtney doesn't deny hitting Bobby or that Bobby hit her back.
"He was choking her out like this with his hand backwards," she tells the newspaper about how Bobby had Taylor in a headlock. "I came over and I tried to shove him off of her. He was a big man. He's not moving. The officer did get hit. I broke his sunglasses. He did get hit in the face. That's when I got hit in the face."
Bobby denies the allegations of choking or hitting either woman.
Bobby arrested Courtney and Taylor for a felony assault on a police officer. Instead of staying at their plush hotel and sipping cocktails on the beach, the two women spent three days in jail. The charges were eventually dismissed due to lack of evidence.
But that didn't change the fact that the women's vacation was ruined, their reputations damaged, and they had to use their vacation money to post their own bail. As a part of the condition of their release they had to remain on Oahu for an "extended vacation," which included sleeping in a park, says their lawyer Eric Seitz. They filed a lawsuit in October 2015.
Following the lawsuit, the Honolulu Police Department launched an internal investigation. The results of the investigation weren't immediately made available with the announcement of the settlement Friday.
However, Bobby had already retired at the end of 2015, says Michelle Yu, a spokesperson for the department.
It looks like Bobby won't be held responsible for his actions as he was dismissed in the settlement from the lawsuit and the department is standing its ground that the settlement isn't an admission of any wrongdoing, says Nicolette.
The incident didn't taint Taylor's perspective of Honolulu and island living. She stayed while Courtney returned to the mainland as soon as she could.
What the two women, who have remained friends, wanted was for Bobby to receive some sort of repercussion for his actions, but they are glad they are receiving some compensation.
"I'm glad it's over, but at the same time we wanted the officer to suffer some sort of repercussion," says Courtney.
Taylor agrees, "I'm happy with it. I'm just glad it's over with."
They plan to pay their lawyers and split the balance of the award, they say.
Book your next trip to Hawaii with Girls That Roam Travel. Contact Heather Cassell at Girls That Roam Travel in association with Travel Advisors of Los Gatos at 415-517-7239 or at .
To contract an original article, purchase reprints or become a media partner, contact .
Comments
comments