Gifts For The Wanderlust Gal In Your Life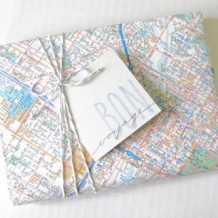 Girls That Roam Has Been Shopping And Found These 12 Gifts For The Wanderlust Woman In Your Life
by Heather Cassell
This is the best time of the year! It's the time for family and friends, gatherings, and sitting next to the fireplace sipping peppermint coco … of course presents and gift giving too!
We like to pride ourselves on being good gift givers here at Girls That Roam. At least that's what, Super G and I, have both been told over and over again by our friends. We are also gallivanting girls running through airports, kicking our feet up at hotels, and enjoying great food and drinks throughout the year. When we aren't traveling we are looking for our next adventure. There are some things that help make the trip comfortable and the journey feel more secure, make it special, and then help us the dream about our next escape.
So, without further ado let's get to unwrapping our 12 picks of the season!
1. Leather Tote
When wandering around the world a girl has to travel in style. Carry on what you need and look good doing it with the Polare Rustic Looking First Grain Cowhide Leather Tote Handbag Purse Everyday Bag,
$109.99.
2. External Battery Power Bank
I love this thing. I never worry about running out of power on my cell phone. I simply pull this out of my bag and bang, recharged. The Anker 2nd Gen Astro E3 Ultra Compact 10000mAh Portable Charger External Battery Power Bank with PowerIQ Technology for iPhone 6 Plus 5S 5C 5 4S, iPad Air 2 Mini 3, Samsung Galaxy S6 S5 S4 Note Tab, Nexus, HTC, Motorola, Nokia, PS Vita, Gopro, more Phones and Tablets and More (Black)
is the perfect gift for your girl on the go around town or around the globe, $23.99.
3. Bushnell BackTrack D-Tour Personal GPS Tracking Device
The best way to find your way or be found when your out on the trails. This digital GPS tracker tracks your course taken and marks up to five locations. It also has a compass. It records your trips and workouts and is social media and email-friendly. Give your outdoor enthusiast a sense of security with the Bushnell 360310 D-Tour GPS Receiver, Green
for $79.95.
4. Travel Photo Album
Remember your adventures and journey's with the Pioneer "Travel" Text Design Sewn Faux Suede Cover Photo Album, Brown
. This faux suede cover is filled with travel words of inspiration: "adventure," "journey," "relax," "vacation," and more and holds up to 200 photos (4-inch x 6-inch). It's a sweet souvenir for your wanderluster for only $13.49.
5. A Pink Suitcase: 22 Tales of Women's Travel
Sit back and enjoy the journey as these women scale mountains, trapeze through continents, change lives and are transformed, and bestow wisdom from their grand adventures in these 22 tales from around the world. A Pink Suitcase: 22 Tales of Women's Travel
will inspire your galivanter for her adventures in 2016. $7.99 Kindle and $15.21 paperback.
6. Chocolate Passport
Traveling couldn't be any sweeter with this Chocolate Passport. Enjoy this sweet journey through eight countries with Trader Joe's Chocolate Passport. $9.99.
7. Olloclip – Active Lens
Take your iPhone camera to the next level with the Olloclip Active Lens. Take panoramic landscapes with the ultra-wide lens or easily switch for up close and personal action shots with the telephoto lens' powerful 2x opticalzoom. The olloclip ACTIVE LENS for iPhone 6/6s and 6/6s Plus OC-0000126-EU
is the perfect accessory for your globetrotting photographer for $99.99.
8. The BullRest
Good bye bulky airplane pillow and uncomfortable, but compact blowup airplane pillow. Meet the BullRest. Compact, comfortable, and fashionable. It slips right into your bag without shoving, squishing, and stuffing. $50 – $60. 2-days left to get your hands on the first of these travel pillows of the future.
9. Passes to the Women's Travel Fest
Girls That Roam personally knows this is one gift that will, without a doubt inspire wanderlust. This festival of spunky, wise, and just downright amazing women is a must give gift for any traveling gal. The Fest is happening in New York, March 4 – 6, 2016. Passes are $75 – $175. Get wandering!
10. Morocco: An Adventure Mosaic by WomanTours
What other way to kick off the New Year than by taking a cycling trip through Morocco with a group of amazing women like yourself? I can't think of anything better. It's a perfect girlfriend getaway. Explore Marrakech to the lush Ouirgane Valley to the beautiful Moroccan coast by bike. This is your gallivanting gal's next great outdoor adventure. This tour peddles off in February and November 2016. Join this amazing adventure for $3,290. Get peddling at Girls That Roam Travel.
11. Local Living Italy—Amalfi Coast Winter by G Adventures
We love a sale! G Adventure's has a great "Local Living" 7-day trip to Italy's Amalfi Coast this winter. Save $350 off the original price and travel off season! You know that means? Italy will be all to you and to you only, except for the locals who will be showing you around the coast, countryside and towns, ruins, vineyards, and so much more only for $1,399, not including airfare. That's a gift worth giving and getting! But it's around for only 15 more days! Head to Girls That Roam Travel to get this gift for your favorite wanderluster.
12. Ireland Aboard the Shannon Princess by Abercrombie & Kent
Take an intimate adventure through the heart of Ireland down the River Shannon aboard the Shannon Princes. Cruise through idyllic landscapes, disembarking to visit a whiskey distillery and a reputedly haunted castle, and pausing for pints at a local pub and more. This journey through the Ireland's enchanting culture and history is unforgettable and only $4,400. Get on board at Girls That Roam Travel to get this gift for your precious traveling soul.
To book your trip to dream destination, contact Heather Cassell at Girls That Roam Travel at Travel Advisors of Los Gatos at 408-354-6531at or .
To contract an original article, purchase reprints or become a media partner, contact .
Comments
comments