Girls That Roam Has Selected Some Gifts Surely To Inspire Some Traveling Women
by Heather Cassell
We here at Girls That Roam love to travel. But just as much as we will hop on a plane or train or simply drive down an open road we love to have our wanderlust inspired during the days when we are reminiscing about our adventures and planning new ones.
Girl Roamers are no different. To tickle your wanderlust this holiday season we selected some travel-inspired gifts to go under your Christmas tree.
"Wine Country Women of Napa Valley"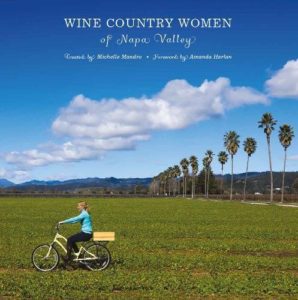 Meet the women of Napa Valley in this coffee table book, "Wine Country Women of Napa Valley
". This picture book celebrates 65 iconic women of California's famed wine country – such as Stephanie Honig of Honig Vineyards, Leslie Frank of Frank Family Vineyards, Violet Grgich of Grgich Hills Estate, and more – who shaped the picturesque towns touting culinary delights paired with the wines that come from the vines that cover the hillsides and mountains. The women share stories about their lives including treasured family recipes along with their favorite wines and pairings and more all showcased by beautiful photographs of the women and the landscape.
Price: $34.35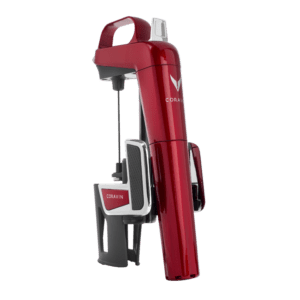 Coravin + Aerator
This is the gift for wine lovers. Sporty and outdoorsy travelers will like the Coravin Model One Wine System, Blue/White
while sophisticated entertainers will like the Coravin Model Two Wine System
and fashionistas will like the Model 2 Elite.
Explore wine by the glass at the end of the day or for wine tastings or turn your wine collection into a wine bar when entertaining your friends with the Coravin.
The Model 2 Elite comes in a variety of colors like Candy Apple Red, Rose Gold, Matte Black, Silver, and more.
Give the ultimate Coravin gift with the Coravin Elite Pro, Silver
that comes with the Coravin color of your choice, cute clutch to take your Coravin to everywhere, stand to model it on your bar, and four premium Argon gas capsules*.
The new Coravin Aerator, Black
attachment is the perfect stocking stuffer.
Price: $199.95 – $399.95 + $69.95
(The premium Argon capsules cannot travel by plane. Coravin is based in more than 50 countries around the world and capsules can be shipped from any of these locations to your destination.) 
[Full Disclosure: Heather Cassell, Girls That Roam's publisher and editor is a brand ambassador for Coravin.]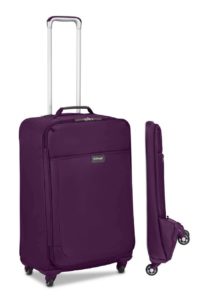 Biaggi Leggero 26″ Spinner Upright
This fashionable luggage is also practical. You can pack everything you want in it and fold it up to store it away when you've reached your destination. Can a traveling girl ask for more? The suitcase comes in purple, blue, and pink.
Price: $129.99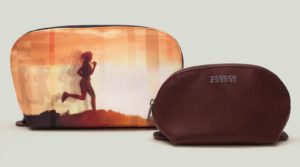 Rule #5 Women's Travel Case Set
For the sporty girl who wants to look her best after testing her metal on a bike, on the surf, in a 5k, or a triathlon this two-bag set will hold everything she needs. The durable vegan leather is available in four themes – running, cycling, triathlon, and sailing.
Price: $70
Rifle Paper Co.'s Bon Voyage 2018 Calendar
How retro, how now. This calendar will inspire you to travel the world, including to some of Girls That Roam's favorite cities and dream destinations.
Price: $16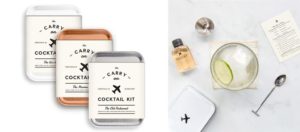 Carry-On Cocktail Kits
We would like the Champaign Cocktail at 30,000 feet in the air please. No tip required. Just tuck one of these flavors – Old Fashioned, Margarita, Gin and Tonic, or the Moscow Mule – in your carry-on and mix for two.
Price: $24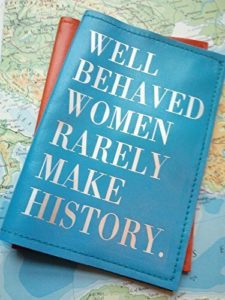 Leather Passport Cover "Well Behaved Women Rarely Make History"
Make a statement while collecting stamps with the "Leather Passport Cover "Well Behaved Women Rarely Make History"
. This lamb's leather passport cover will hold up through safaris in Africa to adventures through Paris. Fly high in your favorite color from a selection of more than 25 colors including: hot pink, purple, coral, orange, lavender, navy, turquoise, celeste, sunrise yellow, lime green, danube, black, and other colors.
Price: $25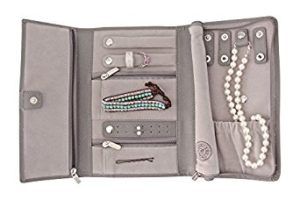 Saffiano Leather Travel Jewelry Case
Saffiano Leather Travel Jewelry Case – Jewelry Organizer [Petite] by Case Elegance
is a sophisticated stylish way to pack your jewelry for your world travels. This leather case folds up like a clutch easily slipping into your tote or carry-on taking up very little space.
Price: $37.77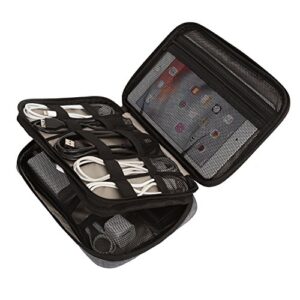 Bagsmart Double-layer Travel Cable Organizer
For the gadget travel girl in your life, help them keep their smartphone, table, exercise tracker and other electronic devices wires, chargers, and memory cards neatly organized with the BAGSMART Double-layer Travel Cable Organizer Electronics Accessories Cases for cables, iphone, kindle charge, camera charger, macbook charger, Black
.
Price: $25.99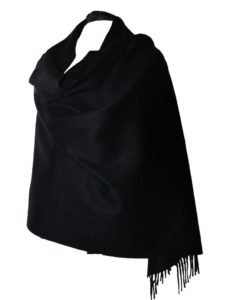 Gate Girl's Travel Wrap
Gate Girl's 100% Cashmere Wrap Shawl Stole Grande 4-ply Travel Wrap (Camel)
is soft and fashionable. This shawl stole grande 4-ply is made of 100% cashmere and comes in a variety of colors such as pink, hot pink, camel, tapestry gold, and wheat. Wrap yourself during your journeys around the world.
Price: $79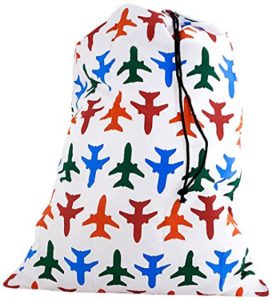 Kikkerland Travel-Size Laundry Bag
If you're anything like me, you like to keep your dirty clothes away from your clean clothes. Do it easily with this Kikkerland Travel-Size Laundry Bag, Airplanes
or Kikkerland Travel-Size Laundry Bag, World Map
keeps your soiled cloths in style while you keep traveling.
Price: $4.99 – $9.54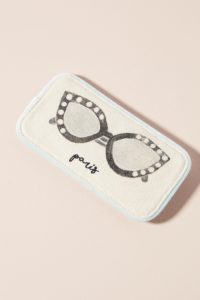 Anthropology's City-Themed Glasses Case
Keep your eyewear in traveling style in these world city themed glass cases.
Price: $18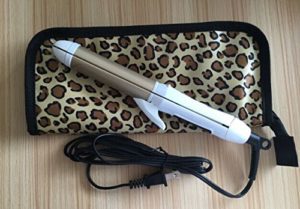 2-in-1 Mini Hair Straightener Travel Curling Iron Flat Iron
For all the curling and straightening needed on the road the 2-in-1 Mini Hair Straightener Travel Curling Iron Flat Iron Dual Voltage 374 Degree Temperature Nano Titanium – Insulated Carry Bag Included
packs a curl and it comes with its own carrying case.
Price: $25.99
Book your next adventure with Girls That Roam Travel. Contact Heather Cassell at Girls That Roam Travel at 415-517-7239 or at .
To contract an original article, purchase reprints or become a media partner, contact .
Comments
comments