Oh So Fresh: Urban Fresh Day Spa Rejuvenates Albuquerque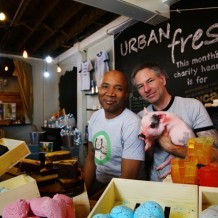 Urban Grit Never Looked This Fresh Before Urban Fresh Hit Albuquerque's Mean Streets
by Heather Cassell
Life is an adventure for Andre and Dr. Keith West-Harrison, the duo masterminds behind the newly launched Urban Fresh Cosmetics (123 Broadway Boulevard Southeast, 505-404-6670, , UrbanFreshCosmetics.com), organic bathing and cosmetics line, in Albuquerque, New Mexico.
They've made a habit of turning a vacation into a home and building several successful businesses during their 24-year adventure together. First, it was a bed and breakfast in New Orleans. Then it was an eco-friendly cosmetics, skin care, and spa consulting business that they started in Louisiana and took on the road to California and finally to New Mexico … at least for the moment.
Albuquerque has been good to these boys and they champion their city, which has suffered from a poor image. However, people's minds are starting to change due to some of the cool businesses, like Urban Fresh, that are redefining the streets of the Southwestern city.
Together, they built a rock star award-winning day spa that attracts A-listers from Hollywood to local VIPs looking for their handcrafted skin care products and unique spa services in Albuquerque's historic East Downtown neighborhood, or as locals call it EDOW. They also got a little boost from the TV show "Breaking Bad," which ended in 2013, that inspired their attention grabbing Bathing Bad Bath Salts.
The couple is known for some of their unusual marketing. Sony Pictures contacted them about their Bathing Bad Bath Salts inspired by the show and more recently Louis Vuitton – Moet Hennessy asked them to stop using the word "fresh" in their new brand. Both cases settled out of court, but the couple took it as a complement that they were on these big corporations' radar and capitalized on the legal tussle.
In 2014, their spa landed on Inc.'s 5000 fastest growing companies list.
It was also the year the serial entrepreneurs built upon their success by moving to bring their handcrafted cosmetics, skin care and spa products normally only available to well-to-do clientele to the wider public under a new label, Urban Fresh.
They retired the spa's former name Great Face and Body and rebranded it under the new name, which operates under the couple's parent company Spa Enrichment Strategies.
Girls That Roam fell in love with these boys when we popped into their spa when it was still operating under the name, Great Faces during a trip to New Mexico. Aside from their shear fabulousness, we were endeared to them for their love of us girls. Yes, these boys love not only making us relax and feel beautiful on the outside, but they also care about our spiritual and financial well-being. Andre is a bona fide spiritualist. It just runs in his family bloodline. They are both healers. They also support women's entrepreneurial endeavors. They had just returned from South Africa and were pricing hand-woven bags and scarves made by women they met during their travels to sell in their store.
So, Fresh And Urban
The couple softly launched Urban Fresh, which organically grew out of their day spa located in a renovated historic 1920's adobe building along the famed Route 66, in November. Like Andre, 49, and Keith, 44, the building has had many uses from being a tire store in the front of the building to being expanded in 1941 and accommodating a dance and music school before falling out of grace for two decades.
So, where did these guys come from? Who are they? Super heroes? No, they will humbly tell you that they are two guys from the Midwest following their hearts and dreams.
Andre was born and raised in Evansville, Indiana. This is where he met Keith while he was attending the University of Evansville majoring in journalism. It was the early 1990s. They were young, fell in love, and had a vision for their future. Well, Andre did. He wanted his church wedding, a family and pretty much a traditional life and laid it all out to Keith on their first couple of dates. Keith pondered Andre's life plan for a day and a half before taking the plunge. Andre got his church wedding to Keith, but his life hasn't been traditional nor has raising a family come along quite yet. Instead the couple has been raising businesses.
The bed and breakfast was their first entrepreneurial adventure together. They found it during their second honeymoon to New Orleans. Reading a simple book on how to own a bed and breakfast that they bought at Barns and Noble, the couple built an award-winning business off the French Quarter for nearly a decade.
A year and a half before Hurricane Katrina hit in 2005, the couple appeared on America Online's "The Startup." They were already successfully building their spa and skin care business and had opened up a café. But they also had already set their sights on moving on from the bed and breakfast. Katrina really handed them the opportunity and pushed them onto their next adventure.
They didn't sell it before the hurricane devastated New Orleans, but they and their bed and breakfast escaped it relatively unscathed with a few repairs. It sold to investors who rushed in to buy up properties in the French Quarter. Shortly after and the couple took their adventure and their eco-friendly spa consulting business, and story on another season of "The Startup" on the road touring the West Coast looking for their next home in 2005.
They stopped off for a year in the Santa Cruz Mountains in California before going on vacation in Santa Fe, upon the suggestion of one of their favorite New Orleans' chefs who owned a restaurant in the Southwest city, Keith said. The couple checked out Santa Fe, which is about an hour north of Albuquerque, and within five days bought a house. But after two years in New Mexico's super polished capital city they realized they needed and preferred the urban grittiness of Albuquerque.
The couple moved to the city in 2009 where they spotted the dilapidated adobe building off of Route 66. It wasn't their plan to open another spa, but they couldn't resist the opportunity before them. The building sat vacant in a rundown neighborhood targeted for redevelopment for 20 years before the two men bought it and their new spa business was born.
The couple believes "if you if you treat people the way you want to be treated and you offer that exceptional [service]" people will find you and come, says Andre.
Creating An Empire
Six people – three full-time and three contractors, not including themselves – help the two men provide spa services to running the store to creating their handmade goods made right there at the spa. Two of the staff members are working at the spa full-time as trainees thanks to the couple securing an $18,000 grant from Albuquerque's Job Training Incentive Program for Keith's private label skin care line, My Sacred Fig, Andre tells Girls That Roam.
All of the products from the new bath bombs to shaving creams to shampoo soaps are made from local organic ingredients on site from their special recipes created by Keith, who has been a skin care expert since 1989. During his career he has been appointed esthetics director at several leading wellness facilities.
Keith holds a Doctor of Divinity degree from his studies of world wellness rituals, and he blends of ancient Native America, African, and Auyervedic beliefs into his systems to promote wellness.
The two men are eco-friendly practicing green practices throughout their spa to their products.
"We trick people into being green," says Andre, who says they incorporate green ideas and metaphysical services into their spa treatments to introduce people to them in a non-threatening way. "We introduce people who wouldn't even blink or raise an eyebrow at the thought of wanting energy work or any of those things."
"Once they see the results afterwards they are a little bit more open," he continues.
Both men are socially conscious promoting environmental issues and human rights. They give back to Albuquerque to countries around the world donating to causes to end childhood hunger, the protecting the environment, and women's issues. They are also active in fair trade.
"Our rule is if you take from a community you have to give back," says Andre. "Everything that we do there is some sort of charitable association."
Heading to Albuquerque? Schedule a spa or stop in and pick up one of their organic skin products.
Urban Fresh Cosmetics, 123 Broadway Boulevard Southeast, Albuquerque, New Mexico 87102. Book your spa appointment or drop in to buy their fresh products at 505-404-6670 or . Open Monday – Friday, 11 a.m. – 5 p.m., and Saturdays, 12 – 5 p.m. Visit www.urbanfreshcosmetics.com.
Book your adventure to the Land of Enchantment (New Mexico) contact Heather Cassell at Girls That Roam Travel in association with Travel Advisors of Los Gatos at 408-354-6531 or 415-517-7239 or at .
To contract an original article, purchase reprints or become a media partner, contact .
Comments
comments