Frankfurt Airport Toasts To Its 2nd Annual International Wine Fair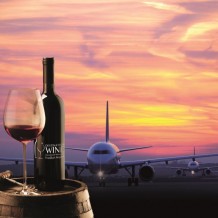 Frankfurt Airport Serves Up An Elegant Affair With Its 2nd Annual International Wine Fair
by Super G
Girls That Roam has to love Frankfurt Airport. Why love an airport? They are hosting an international wine fair inside the airport. That's right. A wine fair right in the middle of the airport.
This is the second year the German airport is hosting its wildly successful International Wine Fair, themed "Destination: Wine," on November 7 and 8.
Travelers passing through Frankfurt Airport this weekend will get to taste 40 exhibiters presenting 500 selected wines from more than 100 vintners around the globe who will be serving up their wines in the public area on the departures level of Terminal 1. The terminal is accessible through Concourses A, B, and C.
Participants will be able to taste varietals from 15 countries, including established and emerging wine from established wine regions, such as, France, Italy, Spain, South Africa, and the U.S.A. and discover hidden treasures from unknown corners of the wine world, like Moldova and Israel, according to the October 30 news release from the Frankfurt Airport.
Oenophiles will also have the opportunity to learn more about their favorite and new wines from roaming wine connoisseurs and experts who will stroll from booth to booth giving 15-minute seminars on the wine assortment at each stand.
Wine tasters will also be treated to other tastings of delicacies that pair well with wine and enjoy special events during the fair.
What is wine without food? Attendees will learn about the perfect combination of pairing cheese with wine from a cheese expert. Pair Balik salmon and caviar with great wines presented by Caviar House. Enjoy fresh oysters with champagne and crémant will be served at Nordsee's seafood bar. Indulge in truffle season courtesy of Käfer, which will be showing off various "truffle variations," including specialties like the white Alba truffle, and head over to Guido Giovo's truffle bar to sample a full selection of black and white truffles.
This makes Girls That Roam just want to fly to Frankfurt!
Wines tasted by attendees will only be available for sale at the fair. Wine orders valued at more than $55 (50€) will receive an $11 (10€) discount and will be delivered to attendees' homes.
International Wine Fair, 2 – 8 p.m. (14:00 to 20:00 UTC) on November 7 and 12 – 6 p.m. (12:00 to 18:00 UTC) on November 8 on the departures level of Terminal 1 at Frankfurt Airport in Germany. The event is open free to the public at the departures hall A and B, but tastings are about $20 (15€, plus 5€ refundable deposit for the wine-tasting glass).
To book your trip to Frankfurt, Germany, contact Heather Cassell at Girls That Roam Travel at Travel Advisors of Los Gatos at 408-354-6531at or .
To contract an original article, purchase reprints or become a media partner, contact .
Comments
comments