Don't Call It Crunchy Granola, Although Girls That Roam Is Sure Churn Urban Creamery Ice Cream Maker Rica Sunga-Kwan Will Come Up With That Flavor Too For Her Sustainable Organic And Vegan Ice Creams
by Heather Cassell
Ice cream is always called for in the summer. Who can forget the delight of licking the creamy goodness of your flavor or flavors of choice while holding it all in a crunchy graham cracker cone as fast as you can before it begins to drip onto your hand as a kid or an adult?
I mean, there's a reason why ice cream is everyone's favorite treat. It certainly is Rica Sunga-Kwan, 31, owner and ice cream maker of Churn Urban Creamery, a boutique pop-up ice cream cart that has been appearing around San Francisco and San Mateo since April, favorite food.
"I've loved ice cream since I was born," says Rica, who creates an assortment of unique flavors for her organic and vegan ice creams. "Ice cream has always been one of my favorite foods."
Rica's cart first appeared at Beach Cottage Urban Farm in San Francisco's Outer Sunset neighborhood where she grows many of her ingredients that she doesn't pick up at local farmers markets. Her ice cream cart can also be found at different locations around San Francisco and in San Mateo.
All of her ingredients are fresh and inspired by the seasons.
On August 10, she introduced her latest creation, Farmer's Peach Cobbler, into her collection of 16 flavors.
Girls That Roam caught up with Rica and her husband, Christopher Kwan, on Ice Alley in downtown San Francisco recently to enjoy the Chai Chocolate Cardamom and other tasty flavors she's scooping up, to find out what inspired her to follow her love of ice cream.
Passion & Fruition
Seven years ago the San Francisco native escaped to New York for seven years with Christopher, who is a travel agent, in tow, to follow her passion for fashion as an apparel designer. That chapter of her life closed last summer when their family brought the couple, who have been together for more than a decade and married for four years, back to the City by the Bay.
Rica's heart had left the fashion industry behind in New York and she was searching for the next thing that would grab her heart and soul. It started with San Francisco's urban gardening trend that took off during the economic downturn and has thrived since then that captured her interest.
She took a permaculture course, the study of sustainability with a social justice and ecological perspective and principles in modern life, at the Urban Permaculture Institute of San Francisco.
"I wanted to create a product that I grew on my own," says Rica, who began gardening at the local community garden.
Rica originally toyed with the idea of making popsicles with the ingredients grown in the garden, but ice cream was where it was at for her.
"There is something even more special about ice cream that really connects to consumers," says Rica, who taught herself how to make ice cream while her mother, mother-in-law, and husband became her taste testers.
The ice cream flavors she came up with are inspired by other deserts, she says.
"The flavors are just taken from inspirations from of my life and what I like and what I've eaten," says Rica, whose husband's favorite flavor is Chai Chocolate Cardamom.
Rica's current favorite flavors are Strawberries 'N Cream and Rosemary and Olive Oil, she says.
She uses organic cows' milk from the Straus Family Creamery and the cream from Clover Stornetta Farms and the vegan ice creams using coconut milk and cream and she doesn't use eggs and she cuts back on the sugar in her recipes.
"You can eat it without feeling guilt," says Rica. "It's not too sweet and it's not overwhelm[ing] you after a scoop. That's why I've seen people eat a whole pint of this."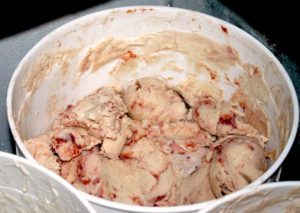 Really, Rica's goal while scooping out one ice cream cone at a time is to inspire people to reconnect with their food and the environment. Ice cream is the way that she's getting the conversation started. That's one of the reasons why the cart is so special to her. The cart allows her to get out into the community to get to know people to talk to them about the ingredients she uses and to get information in a way that she wouldn't be able to do with a regular ice cream shop.
"I want to inspire people to grow their own food and make things out of that," says Rica who wants people to make dinner with the broccoli they grew themselves or make ice cream with the strawberries from their personal gardens. "One of my main goals [is] to start the conversation. It starts at the source. That's the conversation that I like to have with regard to growing food."
For example, it's kumquats (which grow very well in the Bay Area), peach, and stone fruit season right now, so she's been playing with these fruits that are currently readily available and super fresh, she says.
Always in a creative state of mind, Rica is already considering playing with goats' milk and cheese with her ice creams in the future.
"Whenever I see something at the farmers market that I've never tried before that's abundant and in peak season I will pick it up and play with it," says Rica, who likes meeting her customers at the cart.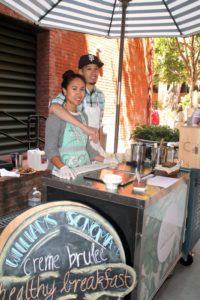 "It really brings a face and personality to the brand," she adds, pointing out that the cart is also the most economical way to get her ice cream out to her customers in a competitive market.
Branding and Rica's vision for Churn Urban Creamery was influenced by her fashion background, but she also tapped into small business resources offered by the City and County of San Francisco, she says. Once she had the perfect recipes to make a healthier treat she opened up her ice cream cart with a little bit of help from her family and investing her own savings.
Her passion for her ice cream and customers helps her get through the day where she's doing it all administration, creating the products, delivery, and interfacing with her customers.
By October she anticipates that she will have scooped more than 200 tubs of ice cream for customers. Not bad for her first six months in business.
"The most important part of the business is the face-to-face with the customers," says Rica, who is receiving nearly a 100% return customer rate wherever she pops-up and is starting to get calls for corporate events and weddings.
Rica currently pop-ups up in different locations around San Francisco and San Mateo three times a week, usually on Saturday, Sunday, and one weekday, she says. Recently, she has started doing deliveries only in San Francisco and Daly City.
Eventually she hopes to have more carts around the Bay Area.
Book your next trip to San Francisco with Girls That Roam Travel. Contact Heather Cassell at Girls That Roam Travel in association with Travel Advisors of Los Gatos at 415-517-7239 or at .
To contract an original article, purchase reprints or become a media partner, contact .
Comments
comments