by Heather Cassell
It was a great idea. Rent out your car while you're away on vacation or a business trip rather than allow your car to collect dust and rack up parking fees at the airport. When you returned from your trip your car was detailed, filled up with gas, and you made a little chump change.
That was FightCar's business model. Alas, FightCar failed after a little more than three years and $40 million in venture capital investments. Rujul Zaparde, CEO and co-founder of FlightCar, announced the shuttering of all 12 of FlightCar's locations immediately in an email to members and on its blog July 14. All reservations have been halted.
FlightCar renters for forthcoming trips bookings were immediately cancelled and will be reimbursed and current car renters and owners were going to receive a separate email detailing instructions following the news.
In the same message, Rujul also announced the sale of its technology platform to Mercedes-Benz Research & Development North America, Inc. and the team joining the ranks of Mercedes-Benz's Business Innovation division.
"We are excited to be part of Mercedes-Benz's future shared mobility projects," he wrote in the announcement.
Surviving the shared economy or gig economy is proving to be just as challenging as any other startup business venture as FlightCar shows and echoes the gold rush of the late 1990s dot com bubble and bust. Could this be a sign, or simply a bump in the road for the shared economy?
Last year, homeowners using Way.com, a concierge service marketplace based in Fremont, California, got into hot water with San Bruno city officials for renting out their empty driveway spots to travelers out of San Francisco International Airport through the online platform for under $6 a day. It was a huge savings to travelers and a big pinch for SFO's pocket book.
San Bruno resident and Way.com user Linda Harrington, along with 25 other driveway renters, got the city's wagging finger for violating business and zone codes in a letter, reported ABC 7 News.
Fourteen individuals agreed to halt all airport rentals of their driveway, reported ABC 7 News. Way.com still offers airport parking to travelers departing out of SFO and other Bay Area airports, but not by residents. It appears the compromise found by Way.com founder Patrick Murray and the City of San Bruno was to offer alternative airport parking  by nearby commercial businesses, such as Aloft Hotel.
However, FlightCar's issues might have stem from being the poor cousin of more lucrative shared economy ventures, such as Airbnb, Lyft, and Uber.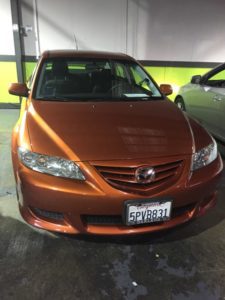 When Girls That Roam checked out FlightCar late last year it appeared that the car share rental company was still suffering operating on a shoestring budget, not a $40 million investment. The rental San Bruno rental space was dirty, the process of dropping off our car wasn't completely smooth, but it wasn't completely horrible either.
The line was short and the staff was friendly enough, however we noticed that the van that we took to drop us off at SFO wasn't clearly marked, it was a used vehicle, and the driver didn't use the airport shuttle van lanes and drop-off and pick-up points. It was a signal to us that the company was flying under the radar and penny pinching, which made us slightly uncomfortable.
We chatted up another girl in the van with us. She told us that she used the service several times, but they didn't have the car she rented the last time. Disappointed she complained, so representatives of the company promised her a Mercedes rental during this trip. We don't know if she got her Mercedes or not when she got to her destination.
What we did notice upon our return was that it took forever to be picked up from the airport and it was difficult to know which van was ours due to them not being marked. Once back at the FlightCar office the process to retrieve our car was easy. We checked out our car and everything was fine. We were pleased that our car was fully detailed, the tank was full, and we made a whopping $8 for a weeklong trip.
Really, the value was in the benefits of allowing FlightCar to rent out our car to customers. It was not a money maker.
Overall, we were underwhelmed and didn't use the service again, especially after the company's new policy that nixed older cars in favor of newer cars. Ah, we weren't handing over our newer car to allow someone else to drive it and we didn't know anyone else who would either.
So, in this battle between the traditional and shared economies the verdict is still out, but FlightCar is one of the first casualties.
Book your next trip to San Francisco with Girls That Roam Travel. Contact Heather Cassell at Girls That Roam Travel in association with Travel Advisors of Los Gatos at 415-517-7239 or at .
To contract an original article, purchase reprints or become a media partner, contact .
Comments
comments