Exhibit Of Rare Womynist Posters Opens In San Francisco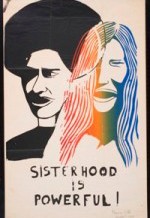 "Feminists to Feministas: Women Of Color In Prints And Posters" Showcases Political Activism And Art From the 1970s through the 1990s
by Heather Cassell
Second to third wave feminists (womynists) of color are being celebrated with an exhibit "Feminists to Feministas: Women of Color in Prints and Posters" in San Francisco, California.
The exhibit opens with a reception, 7 to 9 p.m., at the San Francisco GLBT History Museum (4127 18th Street; 415-621-1107; GLBTHistory.org/Museum) tomorrow in the Castro.
The exhibit co-curated by Amy Sueyoshi and Lisbet Tellefsen will run through July 4.
Amy is an associate dean of the College of Ethnic Studies at San Francisco State University and Lisbet Tellefsen is an archivist and poster collector.
"The GLBT Historical Society's poster collection represents a remarkable time capsule of our communities' history," says Lisbet. "The collection is vast in both depth and scope and visually chronicles much of our history: from arts & culture to sex, politics and beyond. I look forward to mining this rich collection for years to come and am excited to offer this small glimpse into the collection with our initial exhibit, 'Feminists to Feministas.'"
The exhibit will display 29 rare posters spanning three decades of feminist activism and art. The posters "visually traces the power" of lesbian, bisexual and trans women of color's fight for economic justice and sexual freedom against imperialism, racism, and sexism from the 1970s – 1990s.
The show "traces both the changing aesthetic of posters and their significance for queer women of color" and includes images of lesbian icons such as Audre Lorde, Kitty Tsui, and Pepper from BurLEZk. Audiences will also delight in seeing the "dyke version of the seductive Calvin Klein underwear advertisements of the 1990s," according to the society's news release announcing the exhibit.
"So invisible are queer women of color in gay scenes of the Castro, in marriage equality, and in the countless shows that are cropping up with queer characters. Yet so tirelessly do queer women of color work for justice, scrubbing on their hands and knees until their knuckles become raw," says Amy in the release. "I wanted to put together a show that underscored the tremendous cultural and political work that they do without recognition or reward. To them – to us – I dedicate this exhibition."
The opening reception for "Feminists to Feministas: Women of Color in Prints and Posters" is Friday, March 4, 7 – 9 p.m. at the San Francisco GLBT History Museum, 4127 18th Street, San Francisco. A $5 donation is requested to attend the reception. For more information, call 415-621-1107 or visit GLBTHistory.org/Museum.
Book you're trip to San Francisco today. Contact Heather Cassell at Girls That Roam Travel in association with Travel Advisors of Los Gatos at 408-354-6531 or 415-517-7239 or at .
To contract an original article, purchase reprints or become a media partner, contact .
Comments
comments