Ellen Page's 'Gaycation' Explores The Big Wide Gay World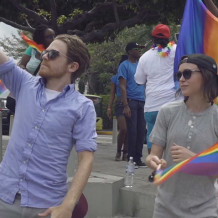 The Oscar-Nominated Star Hits The Road With Her Best Friend To Discover Gay Life Around The World In New Viceland TV Show Premiering March 2
by Heather Cassell
Acclaimed Canadian actress Ellen Page's most recent venture "Gaycation," takes a camera crew on a global adventure checking out lesbian, gay, bisexual, transgender and queer culture and lives around the globe as they follow her best friend, Ian Daniel, and her on a unique social political adventure.
"The goal is to go and look at the LGBT culture, at the joy and the liberation," says Ellen, about the show where Ian, whom she met while taking a break from Hollywood following wrapping the film "Whip It
," directed and co-produced by Drew Barrymore, by checking out of the limelight at an eco-village in Oregon.
Ellen affectionately calls Ian, a gay man from Indiana who drove to Oregon in an old school bus powered by vegetable oil, her "soul twin," she tells The Guardian.
In the show, their modes of transportation aren't as hippiesh, but Ellen and Ian's adventures have a social justice flavor. The duo come face-to-face with a dangerous homophobe in Brazil, witness a gay man coming out to his mother, confront presidential candidate Ted Cruz in Iowa, explore Tokyo's gay district, and that's just a taste of what's to come in this first season of "Gaycation."
"Gaycation" premieres on the brand new TV channel, Viceland, at 10 p.m. starting March 2.
Ellen describes the moment the gayivanting duo come face-to-face with a gay killing homophobe in Brazil.
"The moment he walked into the room, it felt like a black hole sucking something out of me. I haven't experienced anything like it," Ellen tells The Guardian.
The man told Ian and her, "If I'm in my car and I see a gay person, I run them over," she says.
"He didn't know that we were gay," she adds. She was so stunned by the man's brazenness he was gone before the anger hit her to respond.
However, that wasn't the most aggressive situation Ian and she experienced during their journeys to Brazil, Jamaica, Japan, and around the US, she tells the United Kingdom newspaper. There were moments when people have screamed in her face and then as soon as the cameras are off "they hit on the lesbian," Ellen says.
"They're like, 'You don't know what you're missing.' Fuck off!" she says.
In Iowa, Ellen hunts down and confronts Ted on the campaign trail after he turns her down for an interview. She climbed over a fence to get into his face asking questions about LGBTQ employment and anti-discrimination in the workplace among other issues while he stands over a barbeque grilling pork.
Then there is the moment when Ellen, who came out as a lesbian two years ago during her speech at the Human Rights Campaign gala in Las Vegas, coaches and witnesses a young gay man coming out to his mother.
The series is raw, real, and compelling, which is what Viceland is aiming for.
Ellen proposed the travel series to her friend Oscar award-winning writer and director Spike Jonze, who serves as creative director of Viceland, a brand new TV channel that launches February 29, reported The Guardian.
Viceland, a new 24-hour channel has a lineup of engaging, cross-cultural content with original shows featuring Ellen and others exploring "worlds of culture, food, sex, fashion, music, sports, and much more," according to the January 26 news release from the TV channel.
The TV channel is developed and produced by Emmy and Peabody Award-winning youth media brand and content studio Vice in a unique venture with A+E Networks. Spike, a longtime Vice partner, works with and Eddy Moretti, the chief content officer of Viceland, and a team of filmmakers to develop the network's programming.
A Bit About Ellen
Ellen, who was born Ellen Philpot's-Page, in Halifax in the Canadian province Nova Scotia spent her childhood biking in the woods, jumping into and swimming in lakes, playing soccer and basically being a tomboy. However, today, she isn't as good as her girlfriend, artist Samantha Thomas, at reading the Southern California waves with her surfboard, she says admiringly of Samantha, whom she lives with in her modernist house in the Hollywood Hills with their dog Patter.
Back then, Ellen traveled between her French teaching mother's and her graphic designer father's houses. They divorced when she was a baby. It was an average life, until a trip to Toronto with her mother to see a production of "Phantom of the Opera." She hadn't even stepped onto a stage, but the acting bug bit her.
She returned home and joined the drama club. A casting director discovered her and placed her in a TV movie that turned into a series, Pit Pony. More Canadian TV and movie roles came including a shot in Europe. Independent, she was focused. She knew what she wanted. Eventually, she made her way to Hollywood and appearing in by "Hard Candy
," and finally her breakout movie, "Juno
" in 2007. She followed that with "Whip It!," and stepped out into her first lesbian role in "Freeheld [DVD + Digital]
" in October. The film will be widely released this month. She also helped produce the bitter sweet lesbian love story in which she co-stars alongside Julianne Moore.
Right now, Ellen is promoting the forthcoming dramedy "Tallulah," at the Sundance Film Festival in Park City, Utah and getting ready for the premier of "Gaycation."
Watch "Gaycation" on Viceland at 10 p.m. on March 2. Check local listings for cable or satellite TV or stream live on your laptop, tablet, or smartphone by logging into Vice.com or onto your TV with Roku, Apple TV, and similar internet streaming devices. For more information, visit www.vice.com/tag/viceland.
Book your next adventure with Girls That Roam Travel. Contact Heather Cassell at Girls That Roam Travel at Travel Advisors of Los Gatos at 408-354-6531 or 415-517-7239 or at .
To contract an original article, purchase reprints or become a media partner, contact .
Comments
comments