What If We Didn't See If/Then?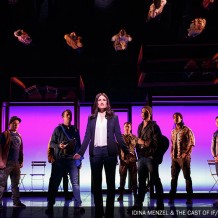 The Broadway Musical Staring Tony Award-Winning Idina Menzel Explores The Questions: What Would My Life Be Like If I Chose This or Took This Call or Said Yes To This Love Interest?
by Heather Cassell and Super G
If/Then is a pensive musical that explores the choices we make, missed opportunities, and perhaps a bit of fate. What if we could see the divergent paths that our lives go on based on a single pivotal or little decision we make and a chance meeting that happens?
Through the musical, audiences get to indulge this philosophical question in the Sliding Doors
for the stage exploring two different paths taken by Elizabeth, going by Beth in one life and Liz in another life, played by Tony award-winning Idina Menzel. A complete chick musical with double the processing!
Sliding Doors, is the 1998 movie starring Gwyneth Paltrow, which uses the same parallel universe conceit based on a plot of timing, decisions and chance meetings. An interesting trick, especially to play out before a live audience in If/Then, however the story line or parallel story lines were lacking a little something, something or a little je ne sais quoi that left us a little bit starved inspirationally and hopefully. We didn't even get to leave the theater with a memorable ditty playing in our heads.
Pay attention! Audience members need to focus on the sometimes quick and subtle transitions between Beth and Liz from clothing style and eye glasses or not that can easily be missed, therefore the musical can become confusing.
The story is about Elizabeth, an urban planner, who returns to New York to pick up where she left off before a decade-long bad marriage that took her to Phoenix. She reunites with old friends, including her Rent
co-star Anthony Rapp, who plays a low-income housing advocate (interestingly enough not a far cry from Rent, at least this time he gets to play a friend with benefits in one scenario with Beth), Lucas, and Daren A. Herbert, who plays Stephen, who works in New York's Mayor's office and offers her a job to re-envision the Big Apple. Idina is also joined by fellow Tony award-winning actor LaChanze, of The Color Purple, who plays her lesbian neighbor Kate, and up-and-comer James Snyder, who plays Josh, her happenchance love interest.
Rent was the Tony award-winning runaway Broadway hit about life in the former Mayor Rudy Giuliani's mid-1990s New York. The musical brought to stage rock-style music setting the tone of the struggles of artists and activists squatting in a rundown building on Avenue A in New York's East Village. A modern day La Boheme, the musical brought the issues of the day – HIV/AIDS, drugs and addiction, and gentrification – to the stage.
However, in If/Then, Idina has grown up, gotten a Ph.D. in urban planning and is teaching city planning as Liz and drawing the future of New York City as Beth, while Anthony, is still fighting the good fight. Nothing wrong with that, it's just that their fling in the musical didn't resonate like when they were coupled or uncoupled as the lovelorn Mark Cohen and Maureen Johnson in Rent. It was awkward and contrived. It didn't work.
New York is also clean in If/Then, unlike the gritty Rent. The set is shiny with elegant lines reflecting a clean cut, a fresh start to a bright new future, which is what Elizabeth is hoping for in the beginning after she arrives in New York City and meets friends in Madison Square Park. It is probably the best part of the musical and as Ben Brantley of the New York Times pointed out New York City "has never looked cleaner than it does in If/Then," a reflection of Rudy's "Disneyfying" of Times Square and the rest of the city during the 1990s and early 2000s.
The musical is written by Tony Award and Pulitzer Prize-winning Next to Normal writers Tom Kitt and Brian Yorkey.
Unfortunately, we couldn't hear the songs, titled "What if?," "You Never Know," "It's a Sign," "Surprise," "Some Other Me," and "What Would You Do?" no matter how pure Idina's voice or how she belted out the tunes. Good hearing couldn't trump the horrible sound system that was muffled at the Orpheum Theater in San Francisco. It left us wondering if the only time we could get the full effect of Broadway is on Broadway or in Las Vegas. Oh, darn! Another excuse to go to New York City or Vegas!
What we could tell was that the songs were trying to be upbeat while introspective, but they fell flat (and not just because of the poor sound quality) or was it the parallel stories that were over the top contrived, especially toward the end of the second act? The musical pretty much is categorized as one of those so-so romantic comedies that you watch and forget. It's a surprise that the musical even lasted a year (March 30, 2014 – March 22, 2015) on Broadway before going out on its national tour. Clearly, Idina and LaChanze, who give stellar performances and are worth simply going to the theater to see, carry the show and perhaps helped it stay on Broadway as long as it lasted.
We left the theater underwhelmed and unlike Rent, Babe's favorite musical, and Wicked, Super G's favorite musical, it didn't leave a memorable impression. We weren't humming the songs that we could hear, don't even ask us what the words were because we don't know … well, except for "What the F*ck?!," which we've asked ourselves, and "Let it Go," which we have already done like with the so-so romantic comedy. (We only know the titles, don't ask us to sing the chorus or one line of these or any of If/Then's songs.)
Lastly, we wonder, what our evening could have been if we didn't see If/Then. Dinner with our friends before the show was memorable and the best part of the night.
If/Then is on tour for the next year. Its run in San Francisco ends December 6.
To book your Broadway adventure, contact Heather Cassell at Girls That Roam Travel at Travel Advisors of Los Gatos at 408-354-6531at or .
To contract an original article, purchase reprints or become a media partner, contact .
Comments
comments