Derogatory Words Against Women Explored By Anna Friemoth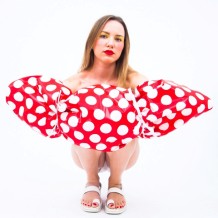 Anna Friemoth's First Solo Show Words for Women Breaks Down And Depicts Common Terms Directed At Women
by Heather Cassell
Have you ever thought about the words used to describe certain women?
Fine Art Photographer Anna Friemoth has. The result is Words for Women her first solo show in New York at the Gallery 151 (132 West 18th Street; ; Gallery151.com) in New York's Chelsea neighborhood on display until March 18.
The images of colorfully dresses women pop behind the glass with the words Words for Women at Gallery 151, the city's premiere pop-up gallery run by Anna Gritsevich, who is the gallery manager of Gallery 151.
That's what caught Girls That Roam's eye when Publisher and Editor Heather Cassell walked down West 18th Street recently in New York. The millisecond image out of the corner of my eye was arresting. I stopped. I turned. I walked into the gallery and began examining the photos.
Each one of the eight overtly stylized images of women and Anna herself posing in the physical embodiment of absurd phrases: "Trophy Wife," "Arm Candy," "Golddigger," and more targeted at women pop with color against the matted silver background. They are cheeky, seductive with their boldness in color and pose and clean lines and the women's gazes challenge the audience.
"I started thinking about labels people use for women and the idea for the photos came from there," Anna told Time Magazine. "Arm candy, sugar tits, butterface—people throw these words around all the time. But when you break them down and take them literally, these words turn the female body into an object of consumption."
"Criticism in satire is implied and not overstated. It sneaks up on you and makes you look closer," she told Slate.
The photos are perfectly juxtaposed opposite another series by Anna, "10 Commandments," where Anna satirically stylizes herself breaking each commandment and entices the viewer to do so too. The photos are colorful, but with deep rich textured colors and a dark background.
Separating the series' from each other on the back wall are two random photos "Amelia, 2013" and "Jae-Hee and Clementine, 2013" that are stark and muted by the filter of blue light.
I was immediately attracted to the feminist tone running beneath the sticky sweet pop-art surface. I immediately fell in love with the highly stylized images and color schemes. Anna, a 26-year old New York-based photographer has a background in design, which she skillfully utilizes in staging her work using costumes and props for the frame of the image which is her stage.
It is Anna's unique style that has set her apart from other photographers and catapulted her to international acclaim. Her work has been published in China, France, London, New York, Turkey, and South Korea as well as exhibited at the Brooklyn Museum of Art in New York and Toledo Museum of Art in Ohio among other museums. Her work has also been acquired by the Museum of Modern Art's periodicals collection, according to her biography.
Anna hails from Toledo, Ohio, where she's the fourth generation of an artistic family. Her mother is photographer Penny Gentieu and her; her grandmother, Audrey Gentieu, a portrait painter; and her great-great-great grandfather, Pierre Gentieu, who drew civil war encampments while he was a soldier, reported the New York Times.
In 2015, she participated in an exhibit, 4 Generation Gentieu, Friemoth Art Exhibition at the Paula Brown Gallery in downtown Toledo, reported the Toledo Blade. Two years earlier her photography was featured in the Toledo Museum of Art's 94th annual Toledo Area Artists Exhibition in 2013.
Anna earned her BFA from Maryland Institute College of Art and studied photography abroad at Central Saint Martin's in London.
Mike Namer and Alfa Development and Anna Gritsevich of Wallplay sponsored the Words for Women exhibit.
Book your artistic adventure to New York City contact Heather Cassell at Girls That Roam Travel in association with Travel Advisors of Los Gatos at 408-354-6531 or 415-517-7239 or at .
To contract an original article, purchase reprints or become a media partner, contact .
Comments
comments