Dana Goldberg Will Fill The Emerald City With Women's Laughter At Seattle Women's Pride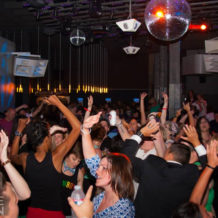 (adsbygoogle = window.adsbygoogle || []).push({
google_ad_client: "ca-pub-7616797031549559",
enable_page_level_ads: true
});
The Emerald City's Party For Women, Seattle Women's Pride, Kicks Off Seattle's Pride Week
by Heather Cassell
Comedian Dana Goldberg is going to get the women all riled up with laugher headlining the third annual Seattle Women's Pride on June 18.
The sellout all-girl party is the event of the year bringing out more than 500 women to Capitol Hill to kick off the Emerald City's Pride Week.
"Seattle Women's Pride 2016 is bigger and better than ever before," says Sarah Toce, founder and producer of Seattle Women's Pride.
The event which is in its third year also honors key women community leaders with the Seattle Women's Pride awards.
"I can't wait to get back up to Seattle to perform for Seattle Women's Pride! Something amazing always happens with the Seattle crowd, they are irreverent and smart," says Dana. "Usually someone gets me laughing just as hard as I get the audience going. It's going to be another amazing show!"
"Seattle is one of my favorite cities to perform in! Plus I get my REI fix…win-win," adds Dana, about the Seattle-based outdoor adventure store REI.
Sarah is excited to bring Dana back to Seattle.
"The ladies out here love her for her humor and compassion, and I feel the same," says Sarah, who is also founder of the award-winning The Seattle Lesbian.
Attendees of Seattle Women's Pride will also see the addition of new music and fashion, Sarah hints.
Seattle Women's Pride attendee Aretha Alexander felt a sense of community she had not experienced in some time during last year's event.
"I had an amazing time mingling with some great women," Aretha says. "This event brings together lesbians from different walks of life and the community. It is definitely girl power at its best."
"Seattle Women's Pride is a women's event where everyone is welcome," adds Sarah, who is proud of the women who are receiving this year's Seattle Women's Pride awards.
Awards & Honors
This year's recipients of the Seattle Women's Pride Awards are Washington State Supreme Court Justice Mary Yu and Puget Sound Birth Center's Ali Tromblay.
Mary will receive the Luminary Award and Ali will receive the inaugural Community Award.
The award-winning justice is the State Supreme Court's first Asian, the first woman of color, and the first out lesbian to serve on the bench. The daughter of immigrants who was the first to attend college, Mary has received accolades from The Washington State Association for Justice, Washington State Bar Association, King County  Women Lawyers, Asian Bar Association of Washington, and the Washington Chapter of the American Board of Trial Advocates all named Mary "Judge of the Year" in 2014. She also received the Municipal League Foundation's "Public Official of the Year" award in 2013.
Mary is currently co-chair of the Washington State Minority and Justice Commission.
"The success of Seattle Women's Pride is in large part due to the women in the lesbian community working together," says Sarah.
"Mary's energy is infectious – she changes the world just by being a part of it. We could not think of anyone more deserving of this award. May her light continue to shine for generations to follow," she adds.
Bastyr University Adjunct Professor Ali Tromblay will receive the inaugural Community Champion Award for her 16 years. As a licensed midwife, Ali has helped birth more than 900 babies and leading the next generation of midwives at Bastyr since 2007.
Ali currently serves on the Department of Health Midwifery Advisory Committee at Bastyr.
"She is a community advocate for new families in Western Washington," said Jennifer Jimenez, owner of Eastside Women's Health Center, which has teamed up with the Seattle Women's Pride. "She has been instrumental in changing legislature pertaining to Midwifery care and women's health. We could not imagine anyone more deserving of this award."
The center owned by Jennifer Jimenez and Kristina Chamberlain provides quality health care to women.
"All in all, it's going to be one to remember, that's for sure."
Seattle Women's Pride starts at 6 p.m. at Q Nightclub, 1426 Broadway in Seattle. Advanced tickets are general: $30 and VIP: $45.
Full Disclosure: Girls That Roam is a sponsor of Seattle Women's Pride and The Seattle Lesbian is a media partner.
Book your next trip to Seattle with Girls That Roam Travel. Contact Heather Cassell at Girls That Roam Travel in association with Travel Advisors of Los Gatos at 408-354-6531 or 415-517-7239 or at .
To contract an original article, purchase reprints or become a media partner, contact .
Comments
comments