Get A Crush On Napa
by
It was time for another romantic weekend getaway to wine country, so Super G and I packed up our convertible, turned the radio up, and zipped up the freeway toward the Napa Valley.
It was a beautiful day that turned into perfection as soon as we saw the familiar rows of vines sloping along the hills filled with clusters of plump grapes glimmering in the bright sun against the blue sky.
Wineries continue to recover from last month's magnitude 6.0 earthquake in Napa. While most of the dramatic damage centered in the heart of downtown Napa, wineries are expected to suffer about $50 million in damages, according to a report from Napa Valley Vintners, a trade group with 500 members. Vintners are carrying on, hosting wine tastings and prepping for harvest and crush season. Some wineries made light of the bit of damage they received by selling wine-soaked labeled bottles as "earthquake vintage."
This year is shaping up to be a great harvest, the pourers in the tasting rooms told us as we stopped at Peju Winery (8466 St. Helena Highway, Rutherford; 707-963-3600; Peju.com) and Whitehall Lane Winery (1563 St. Helena Highway South, St Helena; 707-963-9454; WhiteHallLane.com) on our way to the Harvest Inn (1 Main Street; 707-963-9463; HarvestInn.com) in St. Helena. The drought has been good to the grapes, stressing the vines just right to produce what vintners anticipate will be a memorable vintage that oenophiles will put on their collector lists.
My girlfriend and I have been coming up to Napa for the past couple of years for the annual Tri, Girl, Tri women's triathlon, which is October 4; a fall wine tasting bike ride through the vineyards; and the Big Gay Wine Train event in the spring. Napa is not the "snooty too-big-for-its-britches" wine country we once thought it was. It's actually confident and proud, a little bit hip and risque in an intellectual and quietly passionate way, and very open and accepting of the LGBT community.
There are great reasons why LGBT travelers should come to the Napa Valley, local gays and lesbians say.
"Napa has really become … a gay destination," says Susan "Sue" Steirer, the lesbian owner and tour guide of Absolutely Fabulous Tours.
Depending on what type of experience you are looking for you can get casual wine country and spas in Calistoga, classic romance in St. Helena, tony boutiques in Yountville, or country urban in Napa.
The wine country is on the cusp of booming again. Picking up the Napa Valley Register and the St. Helena Star, I learned that Calistoga and St. Helena are both on the verge of becoming major destinations by offering more hotel options soon. Napa recently added the Andaz Napa, which is currently being repaired after the earthquake.
With this wealth of beauty and options, you bet Napa has a large and growing LGBT community and is attracting queer travelers. The community is largely matured and coupled, but over the last several years, Napa has also gained younger residents, infusing a youthful spirit into the region.
"There's quite a vibrant community here," says gay restaurateur Mark Young, who co-owns a string of fine dining restaurants in Calistoga.
Calistoga boutique and doggie daycare owner Margaret Law agrees.
"The gay and lesbian life down in Napa is booming," says Margaret.
Wayne Armstrong, who with his husband, Marcus Robbins, co-owns two jewelry stores – Palladium Fine Jewelry and Patina Estate and Fine Jewelry – and a gift and stationery store, Pennyweight, in St. Helena, believes LGBT travelers should visit the Napa Valley, "because of its extraordinary scenic beauty," and also because "there are absolutely world-class restaurants here that are unequaled to anywhere in the world, including New York City."
Aside from wining and dining in Napa, Wayne points out that, "There are lots of great things to do when you are not eating delicious food and tasting wine."
In particular for LGBT travelers, Napa offers the sense that you can come and "feel comfortable, feel safe and feel relaxed," says Wayne.
Romance Beacons In St. Helena
During this trip, Super G and I settled in the quaint and charming town of St. Helena. It was perfectly situated for our weekend adventures and is a 15-minute drive to Calistoga and about a 30-minute drive to Napa.
It's also very close to Peju Winery, where the second annual Big Gay Grape Stomp and Harvest Party will be held October 18, from noon to 4 p.m.
Last year, the event attracted about 150 people, says Gary Saperstein, 54, who, with Mark Volger, 48, founded Out in the Vineyard, an LGBT wine country event company.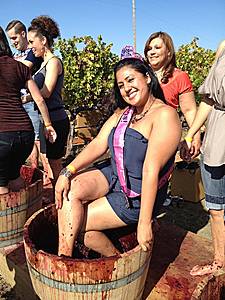 "It was very fun," says Gary, who suggests participants wear good underwear as many of the guests ended up stripping down to their skivvies last year. "It was even more fun than Mark and I thought it was going to be."
"When we say 'out in the vineyards' we are truly out in the vineyards," says Gary, laughing and talking excitedly about the winery run by sisters Ariana and Lisa Peju that features winemaker Sara Fowler.
About a mile from the heart of St. Helena is the Harvest Inn, where we were guests for the weekend. The inn is tucked away in a grove of trees just off of Highway 29.
Our room, the Vineyard Room, spoke of romance with its spectacular view out onto one of Whitehall Lane's vineyards with the Mayacamas Mountain Range in the background. Inside there was a huge brick fireplace and cozy leather chairs. It was too warm to light a fire, but we were quite comfortable in the spacious room. The Harvest Inn is an AAA four diamond rated resort that was recently taken over by celebrity chef Charlie Palmer. It offers 74 rooms that range from romantic to more modern apartment-style options for small conferences and wedding parties, a spa and fitness center, and adult-only and family pools.
We didn't check out the spa at the inn, but my girlfriend and I enjoyed a couples' massage at Health Spa Napa Valley (1030 Main Street, St. Helena; 707-967-8800; NapaValleySpa.com). My deep tissue massage was excellent and Super G relaxed with a simple Swedish massage.
Later that evening after more wine tasting and art at Charter Oak Winery (831 Charter Oak Avenue, St. Helena; 707-963-2298; CharterOakWine.com), my girlfriend and I enjoyed a romantic dinner at Wine Spectator's Greystone Restaurant at the Culinary Institute of America (2555 Main St., St. Helena; CIARestaurantGroup.com). We also enjoyed a Southwestern dinner at trendy La Condesa (1320 Main Street, St. Helena; 707-967-8111; LCNapa.com), which served up Cochinita Pibil, an anchiote braised pork that was out of this world. Both restaurants served top quality gourmet meals that were amazing, but we were really blown away by a personal lunch crafted by Chef Timothy Mosblech at the end of our Full Circle Wine Experience tour at Long Meadow Ranch (738 Main Street, St. Helena; 877-NAPA-OIL or 707-963-4555; LongMeadowRanch.com).
Harvest Fun
To experience wine country Super G and I went on two adventures that brought us up close and personal with the land, vines, and wine: a wine tour at Long Meadow Ranch in St. Helena and Judd's Hill Winery and MicroCrush (2332 Silverado Trail; 707-255-2332; JuddsHill.com) in Napa, where we crafted our own unique Bordeaux blend at Bottle Blending Day Camp.
For a broader experience of Napa's wines, guests might want to go on the aforementioned Absolutely Fabulous Tours led by Sue, who like many LGBT Napa Valley locals is a visitor turned resident. Launched a little more than a year ago, the former Oakland and San Francisco resident decided to set up tours specifically for LGBT visitors to put a gay flavor into her wine tours. She and her guests don colorful feather boas, fake mustaches, and wigs while they hop from winery to winery.
Sue, 39, launched her company after working for Platypus Wine Tours for about three and a half years, simply because she saw LGBT visitors come to wine country and go back into the closet.
"I would get gay and lesbian couples on my tour buses … and they could not come out in the group they just wouldn't do it," says Sue. "Being a gay person myself, it just really started to hurt me. I just thought to myself, 'You know, how can we be in the backyard of San Francisco, the largest gay mecca on the planet, and nobody is catering to these people?'"
Saddened, she decided to create tours that highlighted queer people in wine country.
"My tours are definitely geared toward the gay community, but mostly it's just geared toward people that want to have fun," says Sue, who also gets a lot of non-LGBT guests on her tours.
Sue also runs the popular meet up group, Absolutely Fabulous Napa Valley that attracts upward of 200 members monthly to wine and dine around the valley, she says.
In addition to the aforementioned Big Gay Wine Train and the gay grape stomp, Napa reaches out to LGBT audiences during the Napa Valley Film Festival, November 12-16. Since its launch in 2011, the festival has always included LGBT films. This year is no different, as filmgoers will enjoy An Honest Liar, Compared to What: The Improbable Journey of Barney Frank, and States of Grace.
"We are film, food, and wine people. We just love films. We love good stories and characters," says Brenda Lhormer, who founded and runs the Napa Valley Film Festival with her husband, Marc Lhormer.
Calistoga
I still have fond memories of the mud baths in Calistoga when my auntie and I spent Christmas there many years ago. Unfortunately, my girlfriend and I didn't have time to venture into Calistoga this time, but we have been invited back for the crab festival in February.
Calistoga is known for its natural springs and spas. It is also the most casual town and the farthest north in Napa Valley. It's also the place in the valley where many gays have settled, creating a handful of bed and breakfasts, restaurants, and shops. Calistoga is also pet-friendly and the home to the newly opened Calistoga Doggie Daycare, owned by Margaret, a longtime Calistoga businesswoman, who also owns the Chateau Ste. Shirts boutique.
Mark, who owns three restaurants – Barolo Italian Kitchen and Cocktails, Brannan's Restaurant and Checkers Restaurant – with his business partner Ron Goldin, opened his first restaurant in Calistoga nearly 30 years ago. The 59-year old gay men, who were once life partners but are now just friends and business partners, owned up to eight restaurants in Napa and Sonoma at one time, Young says.
"I've always loved it here and always knew that this is where I belonged," says Mark, who was born in Pinole and raised in Sonoma on an Arabian horse ranch. "I mean, it's just such a beautiful and special part of the planet."
Margaret agrees and says that when she was searching to set up her first business she settled on Calistoga 25 years ago.
"Calistoga is so unique," Margaret says. "We are casual. We are unassuming. We don't try to put on airs. We are friendly. We are not judgmental. I think that comes off in our warmth when we greet you when you come into town and you feel that."
Napa
On our final day in Napa, we stopped downtown for lunch at Tarla Mediterranean Grill (1480 1st Street; 707-255-5599; Tarlagrill.com).
My girlfriend and I were terribly sad to see the sign of Carpe Diem Wine Bar (1001 2nd Street; 707-224-0800; CarpeDiemWineBar.com), one of our favorite restaurants, amidst the rubble after the August 24 earthquake as we watched television coverage of the temblor. The restaurant was still closed a couple of weeks later when we walked around the downtown to see what was open. According to Carpe Diem's website, it is holding an "Under the Stars" earthquake relief dinner ($125) Saturday, September 27 at Copia Gardens, 500 1st Street as it works to reopen.
Napa is open and ready for business despite some yellow caution tape and red-tagged buildings.
The Inn on First (1938 1st Street; 707-253-1331; TheInnOnFirst.com) was slightly damaged, but the gay owners were happily checking people in when we stopped by and toured the charming historic inn with its heart-shaped bathtubs. Owners Jamie Cherry, 59, and Jim Gunther, 56, bought the bed and breakfast that is walking distance from the heart of downtown in 2007. The couple has been busy making it a foodie inn and offer wine tours for guests, creating a truly unique experience.
Other lodging options in Napa where my girlfriend and I have been guests recently are the historic Napa River Inn (500 Main Street; 707-251-8500; NapaRiverInn.com), another romantic hotel along the Napa River downtown, and the Best Western Plus Inn At the Vines (100 Soscol Avenue; 800-780-7234; InnAtTheVines.com), a great choice for budget travelers to Napa.
If resorts are your thing the Meritage Resort and Spa (875 Bordeaux Way; 707-251-1900; MeritageResort.com) is an excellent option that also provides nightlife such as bowling, dancing, and other activities.
To book your Crush on Wine Country Adventure, contact Heather Cassell at Girls That Roam Travel at Travel Advisors of Los Gatos at 408-354-6531at or .
Originally published by the Bay Area Reporter.
To contract an original article, purchase reprints or become a media partner, contact .
Comments
comments