Interdisciplinary Arts And Global Festival Maven Corinne Erni Plans To Work Her Climatic And Worldly Magic In Long Island
by Heather Cassell
Corinne Erni was appointed as curator of special projects at the Parrish Art Museum announced in Long Island's East End.
Corinne takes over from her predecessor, Andrea Grover September 1.
Andrea starts her new role as executive director of Guild Hall in East Hampton, on the same day, reports 27East.com.
Corinne's role will be to act as a "catalyst for energized thinking, both within the museum and throughout the community," says Terrie Sultan, director of the Parrish Art Museum (279 Montauk Highway, 631-283-2118, parrishart.org) in Water Mill, New York. Corinne's role will also involve "developing cross disciplinary and collaborative projects and programs that create fresh approaches to our work," that are in line with the museum's core values, reports Artnet.
The museum that is dedicated to illuminating the creative process and how art and artists transform our experiences and understanding of the world and how we live in it through connecting individuals, art, and artists, according to the Parrish Art Museum's website.
Corinne says she's "passionate about the exploration of creative processes that transcend boundaries between disciplines but also between art and its audiences…I hope to expand these concepts and establish the Parrish as an ever-stronger voice in this global community," she tells Artnet.
Corinne has already delved into her role at the museum working on the project Artists Choose Artists, which is a "survey of the richness and diversity of artistic talent in the East End," she tells Artnet. The exhibit opens October 30.
The multimedia exhibit working with 21 artists at various stages of their artistic careers represents a diverse array of artists involved in the exhibit.
"It is total immersion into my new community, as I am meeting everyone for the first time," says Corinne. "Longer term I'd like to create a platform, some kind of a lab to facilitate collaborations between local and international artists as well as practitioners of different disciplines at the Parrish."
However, Corinne has bigger plans for the Parrish. She's deft in creating interdisciplinary arts programs and large scale events that have become her hallmark for nearly two decades in New York and around the world. She started taking the art world by storm as project manager at the New Museum in 2010. She was later promoted to senior producer of the museum's Ideas City, the biannual arts festival and global conference that focus on art and culture's role in the future vitality of cities. The conference has been hosted in Istanbul, Turkey and Sao Paulo, Brazil.
The Switzerland native who is fluent in six languages co-curated and produced three contemporary arts and cultural festivals – the yearlong Extremely Hungary, European Dream, and the Swiss Peaks Festival – that took over New York and even Washington, DC. Extremely Hungary, was a yearlong contemporary Hungarian arts festival in New York and Washington, DC in 2009/2010. European Dream, was a pan-European performing arts – that featured dance, music, theater, film, and literary productions – festival celebrating Eastern European countries that joined the European Union, reports Artforum Magazine.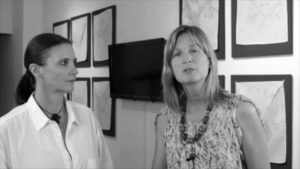 Then a decade ago she co-founded ARTPORT_making waves, the global curatorial platform on art and climate change, which saw key projects such as artist interventions with Olafur Eliasson at the United Nations Climate Change Conferences in Copenhagen and Mexico, and "Cool Stories for When the Planet Gets Hot," a biennial competition for short videos on global warming. She remains co-director of organization, reports Artnet.
"Curating large arts festivals means immersing yourself into an endless array of ideas, themes, participants, audiences, and locations, and finding a way to make sense of it all," Corinne tells 27East.com. "It requires a sensibility to connect the dots, and an intuition to understand synergies when they happen to create a whole that tells a story. That's what I intend to do at the Parrish: immerse myself in the possibilities of the arts and other creative communities of the East End, create synergies, and connect them within a larger international discourse."
Corinne is attracted to Parrish for its excellent exhibitions, innovative programs, beautiful location, and great architecture, she tells 27East.com.
"I believe this is a pivotal time for the Parrish to connect the East End to an international arts community, and I am thrilled to be a part of shaping this momentum," she tells 27East.com, adding that being a "Swiss" she feels "right at home in this Herzog & de Meuron building."
One of the things that she's interested in exploring is the "premise of The Parrish's relationship to New York City: 'urban versus non-urban,'" she adds.
Corinne's "high level of expertise in engaging multiple and diverse audiences and fomenting interdisciplinary collaborations will enable the Parrish Museum to fully embrace its mission as a center for cultural engagement," says Terrie, reports Artforum.
"We are thrilled to welcome Corinne Erni to the curatorial team at the Parrish," she adds, noting her expertise in "engaging multiple, diverse audiences and fomenting interdisciplinary collaborations."
Book your next trip to Long Island with Girls That Roam Travel. Contact Heather Cassell at Girls That Roam Travel in association with Travel Advisors of Los Gatos at 415-517-7239 or at .
To contract an original article, purchase reprints or become a media partner, contact .
Comments
comments