by Sarah Toce, The Seattle Lesbian
Chef Lucais Syme delivers an unmatched and irresistible meal at La Pentola (350 Davie Street, 604-642-0557, or , LaPentola.ca/menus) in Vancouver, British Columbia's Yaletown neighborhood. Situated inside the OPUS Vancouver Hotel, this rustic Northern Italian restaurant is an experience to be had – and not forgotten.
Simple, handmade pasta and traditional nose-to-tail meat and fish dishes served family style are the focus of this award-winning Vancouver restaurant. Guests are asked to trust the chef to create an unforgettable dining experience where each table enjoys a carefully crafted, shared menu tailored to their individual tastes.
Not the adventurous type, have a food allergy or dietary restrictions? Revert back to the menu where you'll find an array of delicate inspirations to savor.
If the olive oil and prosciutto taste like they've just come from their homeland, it's because they are imported directly from Italy to Chef Syme's well-coiffed eatery and onto your plate.
Wine pairings and/or cocktails are generously offered throughout the meal – and you should accept or risk missing out on a truly special experience. Allowing your host to select a comparable drink per course is most appropriate in this situation and the rewards are satisfying.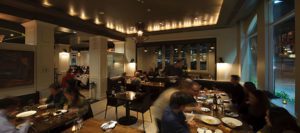 "Our happiest – and haziest – Italian travel memories involve great farm-to-table food, fantastic friends and carafe after carafe of good wine. We wanted to bring back La Dolce Vita of Northern Italian life to Vancouver and focus on accessible wines that we ourselves love to drink," La Pentola's website states. "We enlisted expert sommelier Kevin V.Hullebush as consulting wine director to put together a program that highlights the diversity of Northern Italian varietals, from Barola and Barbaresco in the Northwestern Piedmont region to Pinot Grigio, Pinot Blanco, Valpolicella and Amarone from the Northeastern Veneto area. Our unique wine list also showcases the best of British Columbia's wineries – the perfect complement to our kitchen's philosophy of using fresh local ingredients and the perfect accompaniment to our family style dining experience."
Heading up the bar is Martin Corriveau, who works in collaboration with the kitchen to create an imaginative menu of house-made bitters, syrups and creative cocktails. "Echoing the restaurant's ethos of combining fun with flavor to create an unforgettable experience, the focus is on handcrafted ingredients this season: from brandied organic Montmorency sour cherries from the Fraser Valley to a deconstructed house made gin and tonic. Warming spirit-forward cocktails make the most of seasonal produce, including Okanagan apples and peaches, and Italian-influenced ingredients appear in drinks such as a shandy that showcases a locally-made cider," the website adds.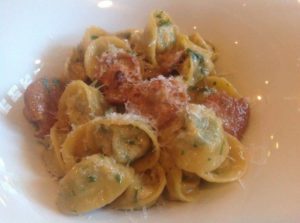 General Manager Ricardo Ferreira took care of us during our visit and ensured that all of our culinary needs were met without delay. The dining experience was made even more positive by the sheer commitment of Ferreira. Our evening started with an antipasti of Burratta with Zucchini Flowers, a dish not even on the menu as it was quite seasonal – and out of this world scrumptious! The Pacific Octopus Carpaccio with Potatoes, Tomato and Sorrel followed. Then it was onto the house made Spaghetti Bolognese with Chestnut Pasta. All of the ingredients in these dishes floated on the tongue.
The main course took 36 hours to prepare and was worth every moment. The 36-Hour Sous Vide Short Rib was rich and savory, but not overwhelming with one spice or another. Simply put: it was delicate with a full taste profile you'd literally have to try yourself to even attempt description. Grilled Asparagus and Parmesan accompanied the meal, along with Kale, Porcini Mushrooms and Pecorino.
Dolci consisted of the creamy Almond Panacotta and the rich Dark Chocolate Torte. Had we the room to indulge deeper into the list, we would have also selected the Formaggi – three cheeses served with nuts, fruit and crackers.
Reserve your Italian culinary getaway at La Pentola seven days/week. The restaurant is currently offering a three-course "Power Lunch" for $25. Breakfast, lunch, dinner, and weekend brunch are also on the table for exploring with prices ranging from $60-75 for a seven or 10 course meal, respectively. La Pentola offers a "Family Supper Series" once/month where patrons dine with their neighbors and friends over a 10-course extravaganza. Hosted by Chef Syme on the last Sunday of each month, reservations are required and may be obtained by calling 604-642-0557.
As in true Italian tradition, La Pentola closes daily between 3 – 5 p.m. and there is no real closing time after dinner. The table is yours for the evening – and it's already been set.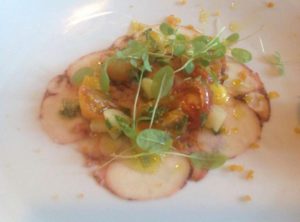 THE DIRTY DISH
La Pentola, 350 Davie Street; Vancouver, British Columbia, Canada. 604-642-0557. or . LaPentola.ca/menus.
TYPE OF RESTAURANT: Italian, Farm-to-Table

RATING:– color code: 4 = black
(0 – 5, 0 = worst; 5 = great)
AMBIANCE: Get to know your neighbors at this Northern Italian-influenced eatery as its family style eating and sitting.
SCENE: Expect a comfortable and casual and fun evening filled with good conversation and an adventure in Italian cuisine that is as easy as eating in Italy.
SERVICE: Attentive and friendly without being overbearing.

NOISE LEVEL: It can get noisy because of all of the great conversation and the clinking of glasses but you can always hear the conversation that you are having with your dining partner and your new friends.

RECOMMENDED DISHES: We can't recommend a dish because the menu is pretty much different every night. However, from the more stable menu we suggest the Veal Osso Buco for meat lovers and the Grilled Cauliflower Steak for vegetarians. Overall, what we can tell you is that the food is so good you won't regret making your reservation.
SIP: Excellent wine list with carefully selected award-winning wines.
CHECK, PLEASE: $$$$ = Over $30
(price of average dinner/lunch/breakfast/brunch bill for an individual dinner)

THE EAT: The food and atmosphere is excellent making for a great evening out on the town. You can't go wrong with that.

WORTH THE NIGHT OUT?: This was delicious!
Originally published by The Seattle Lesbian.
To book your Vancouver, BC vacation, contact Heather Cassell at Girls That Roam Travel at Travel Advisors of Los Gatos at 408-354-6531at or .
To contract an original article, purchase reprints or become a media partner, contact .
Comments
comments